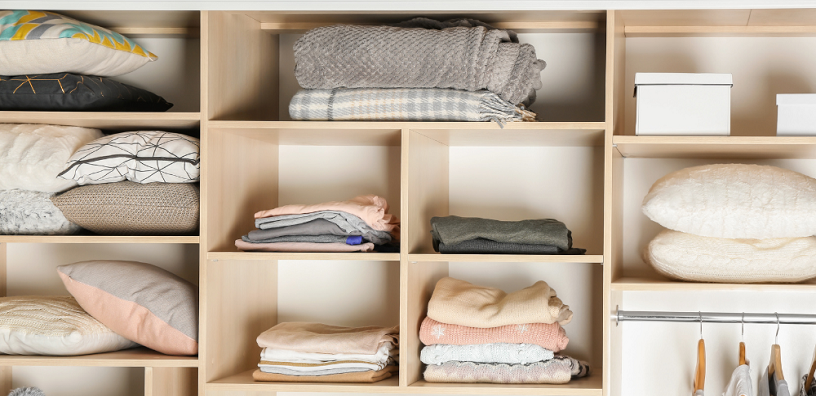 Tips & Tricks for Storing Extra Bedding
There are many reasons why one may have extra bedding in their home, whether it's to fit the seasons or you tend to redecorate often. But as your bedding collection grows, storage space becomes sparse. This is especially true if you live in a small space.
Wondering where and how you should store all that extra bedding? Keep reading for a full guide on how to prep, fold, and store your bedding and some tips to keep your bedding looking and feeling fresh.
Washing Bedding for Long-Term Storage
Ideally, you should wash all bedding items before storing them away. Even if they haven't been used in a while, bedding can store buildup, and cleaning before storing is important for sanitary reasons. Freshly washed bedding that's being stored prevents damage to the fabric. As an added bonus, your stored bedding is ready for use whenever you need it in a pinch!
At a minimum, fully wash your sheets, pillowcases, and blankets. Duvets are up to you. Here are a couple of things to keep in mind when deciding on if you should wash those items:
Are they being stored short-term or long-term?

Are they washing machine friendly? Or can they even fit in your washer, if so?

Do you have access to a laundromat or a dry cleaner?

Have they been used for a while? Have they been cleaned somewhat recently?
If your duvets don't need to be fully cleaned, you can opt to shake out the fabric odours and fluff them up before storing them. If it has been a while since they have been cleaned or have been used for a while, it is probably best to fully clean them before storing them away. 
It is important to make sure that all of your bedding is completely dry before storing. Damp fabric can encourage mildew and mould, which could lead to odours and damaged fabric. 
Follow these guidelines for washing and drying your bedding before storing:
Wash on a cold, delicate cycle.

Ample amounts of hot water can reduce the quality of the fabric.

Use gentle detergent.

And use a small amount of it. If you use too much detergent, your bedding can become stiff.

Use a large enough dryer.

And dry on medium heat. If you overstuff your dryer or don't allow enough room for your bedding, you may need to run multiple cycles to completely dry everything. We recommend using dryer balls when drying your bedding to keep it from bunching.

Dryer balls

can also help reduce drying time.

Remove bedding from the dryer right away, if possible.

Try your best not to push this off, but it's also not the end of the world if you don't. This just helps you get things done in a timely manner and helps you from storing overly wrinkled bedding.
*Note: Not all bedding is machine- and dryer-friendly. You may need to do dry-clean only or air dry certain fabrics. Always be sure to check the care label.
Keeping Bedding Fresh & Clean While in Storage
Linen closets, under-bed storage, or other dry and clean places are some of your best options for storing your bedding. However, if you have limited space or storage options, you may need to try something else. Basements, attics, and storage in apartment complexes aren't always ideal, because they're often damp environments. However, there are ways to still keep your bedding fresh and clean if those are your only options.
There are great short-term hacks you can try. If storing in your basement, opt to run a dehumidifier to help keep humidity levels down. Use storage container bags to protect your linens and block out moisture. 
For longer-term storage, however, fabric should be stored in fresh air spaces, if possible.
How to Store Bedding - The Basics
Not every storage spot in your home is created equal. Need some guidance? Check out these tips to help you pick the right storage spot for your bedding:
Fold to Maximise Space.

Some linens can be tedious to fold (looking at you,

fitted sheets

), but properly folding your bedding allows you to store them away without taking up more space than necessary. There are plenty of tutorial videos out there if you need more guidance or see more tips below.

Store in an Ideal Environment.

Temperature and fresh air are key. This allows for fibres, like wool, to keep from getting damaged. Make sure the space is cool and dry, as moisture is the biggest offender to damaging fabrics. If you can, avoid storing bedding in your basement, garage, or other humid areas of your home.
Bedding Storage How-To's
So your linens are cleaned, fresh, and ready to be stored, and you have spaces picked out. Now comes folding and putting them away. Check out these tips to learn how to fold and store each piece of bedding:
Bed Sheets
Bed sheets are probably the easiest linens to store. They're relatively easy to fold, don't take up a ton of space, and lie pretty flat on a shelf. You can even go a step further and store your sheets inside their corresponding pillowcases. This allows you to keep bed sets together and keeps your linen closet organised, uniform, and looking sleek.
Duvets
Duvets tend to be bulky, but there are some easy tips you can do to properly store them. Since compressing or stacking these bedding items can cause damage to the fabric and stuffing, try rolling the bedding and then securing it with a ribbon. This keeps them accessible and allows them to keep their quality. If you do opt to fold and store on a shelf, keep the heavier blankets on the bottom. 
When storing a duvet, take it out of its cover first (if you use one). This allows for accessibility and keeps the duvet insert from bunching. You can fold and store the duvet cover like you would any other sheet. 
Blankets
You can never have too many cosy, comfortable blankets. However, finding storage for all of your couch companions can be tricky. If you're low on space, or don't want to take away space in your linen closet, there are plenty of other ideas to try:
Under the bed

Armoire, dresser, or other large-scale pieces of furniture

Blanket ladders, hooks, or baskets

Hang them in a closet
Pillows
Pillows are another bulky bedding item that can be difficult to store if you're limited on space. If you're storing them in a linen closet, try to dedicate an entire shelf for them, so they can be stacked horizontally without getting weighed down by anything else. If you're looking for other storage options, you can try a trunk or chest, under the bed, or—if you're storing throw pillows—put them in a basket so they're still displayed when not in use.
Bedding Storage Container Options
If you're looking for efficient, space-saving storage container options, there are plenty to choose from. Here are a few that help you store your bedding, without causing damage to their fabric or quality:
Comforter Hangers.

These are perfect for quilts. In fact, vintage pieces like heirloom quilts should be hung up to allow air to pass through the fabric.

Cotton Storage Bags.

These allow for enough airflow, all while acting as a shield to protect your linens from dust and bugs. 

Vacuum-Sealed Bags.

These are great for synthetic, wool, or cotton fabrics. If possible, leave some air inside the bag to not damage the fabric or stuffing and allow the fabric to somewhat breathe. 

Storage Ottomans.

These multi-purpose furniture pieces work great for blankets. They keep them organised, out of sight, and easily accessible.

Storage Baskets.

Closets can have some awkward spots that tend to be wasted storage space. Baskets can be placed in your closet underneath a shelf to easily add extra space.
Needing to Start Fresh?
When working on storing your bedding, some items you might just need to say goodbye to if they're well-loved and worn. Which means, now is the perfect time to upgrade your bedding! Click here to shop all things Cosy House and to start turning your bedroom into a luxurious oasis.
We've gone ahead & enclosed a 10% off coupon below for you to use if you'd like to take the plunge and try out our sheets for yourself! To shop our collection & get 10% OFF Use the code 'BLOG10' at checkout.
Do you have any creative ideas to store your extra linens and blankets? Let us know in the comments! We love hearing from our Cosy Community!