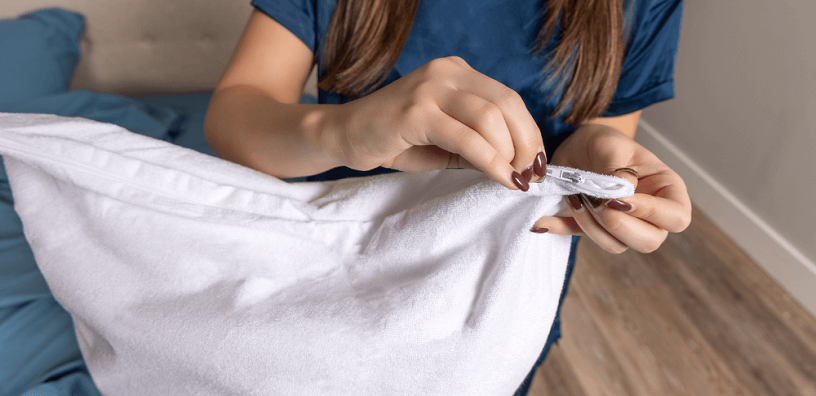 Why You NEED a Pillow Protector
Your sleep environment shouldn't just be comfy and cosy. It should be healthy, too. An easy and convenient way to ensure you have the best sleep environment for the best sleep hygiene is by investing in a pillow protector. 
Wondering why and how? Keep reading to find out. 
What is a pillow protector?
Pillow protectors are a necessity for a fresh and clean bedroom environment. But, what are they? We cut it down to the basics. 
Pillow protectors are similar to pillowcases but crafted with unique dual-layer protection technology that absorbs liquids and shields your pillows from dust, odours, and other nasties. This fabric technology offers enhanced features for your comfort and, ultimately, your health, and is placed between your pillow and pillowcase.
Are pillow protectors really necessary? 
Washing your pillowcases isn't enough to keep your pillows clean. A standard pillow cover may add some layer of protection against light wear and tear, but pillow protectors take that layer of protection to a whole new level. How?  
Your dirty pillow is a breeding ground for lots of unwelcome guests, and most of it you can't see—thousands of dead skin cells, bodily secretions, sweat, animal dander, and dust, among other bacteria.[

1

,

2

] However, quality pillow protectors are hypoallergenic and naturally ward off common household non-living allergens to keep those nasties at bay. 

If you're not one to wash your pillow regularly (the common recommendation is every six months), a pillow protector can prolong the necessity for a good, thorough cleaning. This ensures that your pillow is staying fresh and clean for much longer. 

Pillow protectors not only protect you and your sleep hygiene from the icky stuff, but they also extend the life of your pillow. This saves you both time and money!
What makes a "good" pillow protector? 
A "good" pillow protector doesn't just protect your pillow from dust and odours. A high-quality pillow protector should also accomplish the following: 
Help You Sleep Better & Sweat Less.

A quality pillow protector should have a smooth and breathable design to allow for maximum airflow from the pillow to your skin. This ensures you stay cool and comfortable all through the night.

Help You Stay Fresh & Clean.

The best pillow protectors are crafted with a premium bamboo viscose blend that naturally resists dust and odours, increasing the longevity of your pillow. The hypoallergenic material repels common household non-living allergens, protecting you and your skin, all while shielding your pillow.

Easy & Convenient Care.

Should be easy to care for (machine washable and dryer-friendly) and 100% stain-resistant.
Snuggle Soft Fabric. You shouldn't have to sacrifice the plushness of your pillow, and you shouldn't be stuck with a crinkly protector. Choose a pillow protector that enhances the comfort of your soft pillow, not diminishes it. 
Resistant to Spills. Pillow protectors should be 100% waterproof, crafted with unique dual-layer protection technology that absorbs liquids and shields your pillows. This is especially beneficial for those with children or pets, or just love snacking and binging TV shows in bed. 
Helps You Get Noise-Free Sleep. Crinkly, noisy pillow protectors should be a thing of the past. Get a pillow protector that has a bamboo viscose outer layer that is crafted to silently stay in place all through the night to ensure restful and peaceful sleep.
Made to Last. The whole point of a pillow protector is to extend the life of your pillow and keep it clean. So it should be crafted with a durable zipper that ensures your pillows stay safely secured inside while adding extra protection.
Where can you find a protector that does all this and more? We have the only pillow protector you'll ever need right here. Enter: The Cosy House Bamboo Waterproof Zippered Pillow Protector.
Our snuggle soft fabric slips over your pillow, providing an invisible layer of security that stays quietly in place. Its breathable design encourages maximum airflow between your pillow, pillowcase, and skin. This hypoallergenic bamboo viscose blend is specially made to act as a shield against common non-living household allergens and dust—protecting you while extending the life of your pillow. 
What are some other healthy sleeping environment necessities? 
We're so glad you asked! Check it out: 
Mattress Protector or Encasement. A mattress protector is like a durable fitted sheet for your mattress, designed to protect against accidental spills, common non-living household allergens, and messes. A mattress encasement is a six-sided barrier that completely covers every part of your mattress for protection against everyday contaminants.
Moisture-Wicking Bed Sheets

. High-quality moisture-wicking bed sheets are generally made from bamboo viscose, a naturally odour-resistant and hypoallergenic textile blend. Moisture-wicking sheets keep your sheets cleaner for longer by circulating airflow, warding off common non-living allergens, and whisking away excess body heat. 
Searching for more ways to create the best environment for good sleep hygiene? Pair your pillow protector with our Luxury Bamboo Pillow and Luxury Bamboo Pillowcases. You can also find even more luxury essentials in our Cosy House Collection here. 
We've gone ahead & enclosed a 10% off coupon below for you to use if you'd like to take the plunge and try out our sheets for yourself! To shop our collection & get 10% OFF Use the code 'BLOG10' at checkout.
Resources: 
Santos-Longhurst, A. (2019, June 24). How often should you change your sheets? plus, why it matters. Healthline. Retrieved from

https://www.healthline.com/health/how-often-should-you-change-your-sheets#how-often

 

Woodcock, AA & Steel, N & Moore, Caroline & Howard, Susan & Custovic, Adnan & Denning, David. (2006). Fungal contamination of bedding. Allergy. 61. 140-2. 10.1111/j.1398-9995.2005.00941.x.