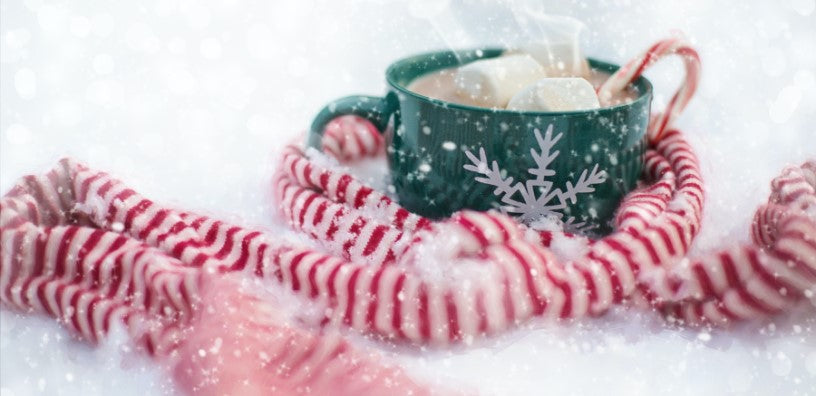 Stuck Indoors on a Snowy Day? Make it a Cosy Day!
When you're stuck inside because of a snowstorm, it's best practice to make your home as inviting, warm, and enjoyable as possible so you're not wishing you were outside doing something else instead. 
Wondering how you can transform snow days into the days you can't wait to be stuck inside for? Keep reading to find out more. 
Your Guide to All Things Cosy (and Snowy)
It's snowing, you're stuck inside, it's chilly, and you're incredibly bored. What to do? First things first, don't let the boredom blues ruin your day—fill the time with fun (and super cosy) activities. 
Check it out:
Curl up with a good book and a weighted blanket.
We know you've heard this one before, but we're serious about it—because the science behind it is undeniable. Scientists tell us that reading benefits both your physical and mental wellness by strengthening your brain, increasing your ability to empathise, building your vocabulary, helping to prevent age-related cognitive decline, preparing your body for quality sleep, and even helping to alleviate stress and symptoms of depression.[1] 
The same goes for blankets, specifically weighted blankets. According to research, the pressure from the extra weight in weighted blankets mimics a therapeutic technique called deep pressure stimulation, which uses pressure to relax the nervous system and model being held or hugged.[2] So, next time you're trapped indoors, grab a Cosy House Luxury Bamboo Weighted Blanket and a good book you've been itching to get to. 
If you're a gaming connoisseur, look for 'cosy' games to relax with.
Ever heard of this wholesome trend? It's called cosy gaming. Popular games like Stardew Valley, Animal Crossing, or Unpacking are among the many in this category. Cosy games are celebrated for their combination of inviting colours, atmospheric music, and easy playability. They're fun, relaxing, and simply put, they make you feel cosy. 
Grab your gaming device, a warm cup of your favourite tea or hot cocoa, and your go-to Cosy House lounging essentials (we recommend our Cosy House Everyday Fleece Blanket for this activity), and pick a cosy game to unwind with. If you don't want to get lost for hours in your game, set yourself a timer for 30 minutes to an hour so you know when it's time to turn it off (your cosy game may make you want to take a nap afterwards—lucky for you, this is just the day to do it. Don't snooze for too long!). 
Chase the chill away with temperature-regulating bedding. 
If your bedroom just isn't cutting it when it comes to keeping you comfy and warm this season, you need Cosy House Luxury Bedding. Here are some of our personal faves to get you started: 
Luxury Bamboo Down Alternative Duvet paired with our Luxury Bamboo Duvet Cover

. The duo made for snuggling up and staying awhile. Both are made with our coveted hypoallergenic bamboo viscose blend to keep you warm and comfortable. Plus, our duvet is stuffed with a fluffy polyester fill that resembles the airy, cuddly-softness of traditional feather down, and our duvet cover makes cleaning and maintaining your bedding a breeze. 

Luxury Bamboo Bed Sheets.

Our bed sheets are next level. They're not stuffy like traditional cotton sheets, and they carry thermal-regulating properties that balance your body's temperature. You'll wake up feeling refreshed and clean in sheets that also resist wrinkling, stains, and bobbles!

Luxury Bamboo Pillowcases.

Pillowcases are just as important as your other bedding, folks. So, invest in quality. Our bamboo viscose fabric's breathable and moisture-wicking properties help circulate airflow, whisking away excess body heat so you can keep warm without overheating. 
Did we mention that all our products are stored and shipped right here in the UK? We manufacture our line of quality home essentials in the United Kingdom and ship them straight to your door with no hassle, fuss, or sneaky extra shipping charges. We even offer a Cosy House VIP Club so you can get information on the newest products, offers, updates, and giveaways—just sign up with your email and boom! You're subscribed. 
Recharge and treat yourself to a spa day. 
A spa day is so much more than just stretching out in a warm bathtub with a glass of wine and a few candles. Your spa day can also include relaxation goodies like a pampering manicure and pedicure, hair deep conditioning, gentle exfoliators and facials, essential oil aromatherapy, or a much-needed massage. 
We suggest making sure to moisturise your skin and hair as a part of your spa day to beat that inevitable snowy weather dryness. We also highly recommend including our Cosy House Luxury Bamboo Towel Set in your routine—crafted with 55% hypoallergenic bamboo and 45% cotton, our luxury towels are designed to feel silky smooth and dry quickly for regular, repeated use. 
If you're thinking a massage sounds super, but it's just you in the house, don't worry—you can give yourself the massage! Start at the base of your head with your left hand massaging your right side. Work your way down, then switch. Use your fingers to get the small areas of your spine. You can also easily massage your hands and feet, too. 
Want even more cosiness? Add meditation and mindfulness to your snowed-in spa day. This can look like: 
Gratitude lists.

Be as specific as possible in your list, and don't shy away from getting personal. Go for depth over breadth, and consider all facets of your life—who are you grateful for? What are you grateful for? Why? 

Mindful breathing.

Breathe in deeply through your nose for at least three seconds and hold it in for a further two seconds. Next, exhale for at least four seconds through the mouth. Repeat several times, slowly, until you feel calm and relaxed.

Music appreciation.

Grab your headphones and your favourite music, and pick a space where you won't be interrupted. All you have to do is listen to your tunes, and ask yourself—How does it feel in my body as I listen? What different sounds can I hear that I haven't noticed before? How does my breath change with the rhythm of the music? 

Mindful movement.

When you're stuck inside, it's still important to keep your body moving. Discharge pent-up energy and let loose by doing a physical activity that you enjoy. This can look like walking room to room, yoga, dancing, tidying up, lunges, squats, or even jumping rope - whatever you enjoy doing the most. 
Host a snow-day soup swap. 
You'll have to plan this one ahead of time, so keep your eyes peeled on the weather forecast. Invite your friends over for a snow day in, but with a twist. Tell them to bring their best homemade soups or chilis (make a large pot of your own, too). Make sure you have herbs, cheeses, breads, and crackers laid out for your guests. To really set the cosy tone, spread out some super soft, fluffy pillows and blankets around a small table on the floor so you can all snuggle up as you feast on your warming, hearty soups. 
Get into the festive snowy spirit with baking. 
Baking is a great way to not only chase the boredom blues away, but to possibly try something new or simply keep your hands and mind busy. Baking engages four of your five senses - taste, touch, smell, and sight. In fact, studies have even shown that baking is beneficial for your mental health.[3] 
Want to give it a try? Take a look at this easy Fluffy Cinnamon Ripple Muffin recipe below: 
INGREDIENTS
Paper muffin liners or cooking spray

1 cup packed light brown sugar, divided

4 teaspoons ground cinnamon, divided

1 cup whole or 2% milk

2 cups all-purpose flour

2 teaspoons baking powder

1/2 teaspoon kosher salt

1/4 teaspoon ground nutmeg

1/2 cup canola oil

2 large eggs

1 teaspoon vanilla extract
INSTRUCTIONS
Arrange a rack in the middle of the oven and heat the oven to 375°F. Line a standard 12-well muffin pan with paper liners or coat the wells with cooking spray.

Place 1/4 packed cups of light brown sugar and 2 teaspoons of ground cinnamon in a small bowl and stir to combine, breaking up any lumps of sugar.

Place 2 cups all-purpose flour, 2 teaspoons baking powder, the remaining 2 teaspoons ground cinnamon, 1/2 teaspoon kosher salt, and 1/4 teaspoon ground nutmeg in a large bowl and whisk to combine.

Place 1 cup whole or 2% milk, the remaining 3/4 packed cup light brown sugar, 1/2 cup canola oil, 2 large eggs, and 1 teaspoon vanilla extract in a medium bowl and whisk until well-combined and no lumps of sugar remain.

Pour the milk mixture into the flour mixture and stir until just incorporated and no dry spots remain.

Divide the half batter between the muffin wells, about 2 tablespoons of batter per well. Sprinkle 1 teaspoon of the cinnamon sugar evenly over each muffin. Divide the remaining batter between the muffin wells. Sprinkle each muffin with the remaining cinnamon sugar, about 1 scant teaspoon per muffin.

Bake until the muffins are golden brown and if a toothpick inserted into the centre of a muffin comes out clean, 18 to 20 minutes. Let cool for 5 minutes before removing the muffins from the pan.
STORAGE
Store muffins at room temperature in an airtight container for up to 5 days or in the freezer for up to 3 months. Thaw frozen muffins at room temperature.
Anything else? 
We've got one more idea for you on this snowy day. Investing in airy, cuddly-soft luxury bedding that isn't just breathable, but moisture-wicking, hypoallergenic, and seriously heaven-sent. 
Where can you find that kind of high-quality bedding, though? Right here. 
Shop Cosy and discover just what you need to stay comfy and warm this winter season. 
What are your favourite things to do on a snow day? Let us know in the comments below. The Cosy community always loves hearing from each and every one of you!
We've gone ahead & enclosed a 10% off coupon below for you to use if you'd like to take the plunge and try out our sheets for yourself! To shop our collection & get 10% OFF Use the code 'BLOG10' at checkout.
Resources:
Stanborough, R. J. (2019, October 15). Benefits of reading books: For your physical and mental health. Healthline. Retrieved from

https://www.healthline.com/health/benefits-of-reading-books#alleviates-depression

 

Lockett, E. (2021, October 26). Weighted blankets: Benefits, do they work, and more. Healthline. Retrieved from

https://www.healthline.com/health/anxiety/do-weighted-blankets-work#benefits

 

Utter J, Denny S, Lucassen M, Dyson B. Adolescent Cooking Abilities and Behaviors: Associations With Nutrition and Emotional Well-Being. J Nutr Educ Behav. 2016 Jan;48(1):35-41.e1. doi: 10.1016/j.jneb.2015.08.016. Epub 2015 Sep 26. PMID: 26411900.

https://pubmed.ncbi.nlm.nih.gov/26411900/