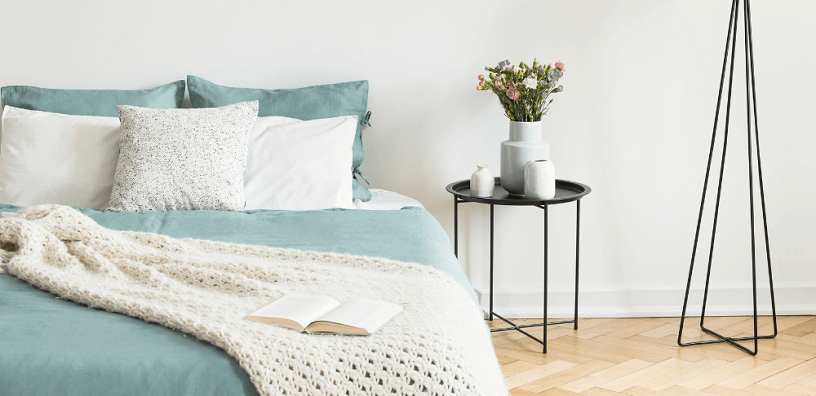 Spring Bedding Trends to Try in 2023
There is nothing better than coming home after a long day and feeling at peace in your cosy, inviting bedroom. Designing your personal space may seem overwhelming. No fear! We're here to help!
Get your bedding ready for the upcoming spring and make your bedroom truly an oasis you'll never want to leave.
Here are some trends to look out for in spring 2023 (hint: we're focusing on comfort, relaxation, and overall well-being). 
Comfort
First and foremost, comfort is a priority. 
The past few years have set a tone in terms of comfort. During this time, we discovered what makes us feel at home, safe, and comfortable. But how does 'comfort' apply to a trend? 
When freshening up your bedroom for the upcoming spring, focus on quality materials and pieces that make you feel at home. This is your bedroom, after all. It should fit you and make you never want to leave (even though, sometimes you have to).
Incorporate fluffy pillows and plush bedding, like a super comfortable Luxury Bamboo Down Alternative Duvet so your bed has the cloud-like softness of your dreams. 
Pro tip: To add even more fluff, stuff two duvet inserts into a duvet cover. It will add more loft so your bed truly looks like a cloud.
Now, let's dive into more specifics…
Styles
Biophilic Bedrooms
"Biophilic bedroom design" searches are up roughly 100% according to Pinterest's latest reports, and it doesn't seem to be slowing down any time soon.
Biophilia - noun - \ bī-ō-ˈfi-lē-ə \ 
: a hypothetical human tendency to interact or be closely associated with other forms of life in nature; a desire or tendency to commune with nature.
Biophilia comes from bio-, meaning "life," and philia, meaning "friendly feeling toward." This term was coined by Harvard naturalist Doctor Edward O. Wilson. He used it to describe humanity's tendency to be drawn towards nature, and how they feel an affinity, love, and craving for it.
Nature plays a huge role in how a person can feel. According to science, just even looking at nature calms and relaxes the mind and helps recharge, making it conducive for a good night's rest. There are longer-term benefits in terms of incorporating nature into your space. Those who connect with nature are oftentimes happier and feel like life is worthwhile.[1,2] 
Pure Opulence
Want something a little extra than just the simplicities of nature? Or do you want to add a little spice to your biophilic bedroom? The ultimate luxury is coming back in style.
Simple and minimal living is for some people, and it's been a trend for years. However, maximalist is making its comeback, featuring various luxurious features with it.
You can easily combine biophilic trends with opulence trends. Opulence trends can enhance the vibe of a biophilic bedroom by turning nature into lavishness, while also keeping the comfortable and natural aesthetics. 
Materials
Mindful Materials
It's safe to say that if we're going with the nature vibe, what materials we choose plays a role in that. Choosing mindful materials not only helps nature but helps out your well-being as well.
So what material combines the desire to connect with nature while also being ultra comfortable? The answer: bamboo viscose. Bamboo is one of the fastest-growing renewable sources on the planet and uses less water than cotton. 
Using bamboo viscose material is not only mindful but smart, too. Typically, this material is produced without chemicals and is extremely durable, allowing your bedding to last years of comfort to come. 
Luxurious, Rich Fabrics
If you're leaning toward the opulence vibe, you can bring it to life by incorporating deep, rich fabrics and inspiring textures.
Go with bold bedding, made with luxurious, quality fabrics. Go all out!
Cosy House Does Both
Cosy House's Luxury Line includes various bedding necessities—such as bed sheets, pillowcases and pillows, duvet covers, and more—crafted from bamboo viscose. We love it because it is not only mindfully crafted, but it's a luxuriously soft material that offers a heap of benefits, too. 
Bamboo viscose bedding can regulate temperature and cool the body. Its soft, yet durable fibres allow air to pass through easily, wicking away moisture and excess body heat. This is a lifesaver for anyone who becomes overheated easily or experiences hot flashes during sleep. 
Additionally, bamboo viscose is hypoallergenic. It resists odours, stains, fading, and wards off common household non-living allergens. You'll save time and money with less washing, too.
Colours
Warmer, Bolder Hues
Bring the warmth and earthy tones of nature indoors. 
Think cosy, natural colours—earthy clay, terracotta, caramel, and supporting neutrals. Add a little moss green for another pop of colour. 
We love these colours because they are welcoming and make you feel at home, while also embracing the calming feelings of nature.
Lively Lavender
For those who are looking for a bit more pizazz, this might be the route for you.
Following the suit of Pantone's 2022 Colour of the Year 'Very Peri', the colour of the year in 2023, according to WGSN, is going to be 'Digital Lavender.' 
What does lavender do for the mind? It sets two emotions: calmness and cheerfulness. It's relaxing, yet can liven up your mood at the same time. It is believed that colours with a shorter wavelength (i.e. light purples) bring forth feelings of serenity. 
But purple can bring about more than just that. It radiates luxury, sophistication, and inclusion. On the other hand, purple also has some connections with nature, allowing it to be a very 'grounding' colour. 
Simple Neutrals
Neutrals will (most likely) never go out of style. This is because you can easily incorporate them into any season. 
Favourites include white, greys, creams, tans, teals, and greiges. You can pair these with any of the colours mentioned above, or opt to keep it simple and only use neutral colours for your bedding. 
Remember—these are just trends. Do whatever fits your style!
However you choose to decorate your bedroom, pick bedding that fits your aesthetic. Invest in pieces that last in a style you enjoy. Your bedroom is your haven, so it's important that no matter the trend, you decorate it in a way that makes you happy. 
Ready to get started? Click here to start shopping!
We've gone ahead & enclosed a 10% off coupon below for you to use if you'd like to take the plunge and try out our sheets for yourself! To shop our collection & get 10% OFF Use the code 'BLOG10' at checkout.
What trends will you be following this upcoming spring? What are your favourite looks? Let us know in the comments! We love hearing from our Cosy Community!
Resources:
Jimenez MP, DeVille NV, Elliott EG, Schiff JE, Wilt GE, Hart JE, James P. Associations between Nature Exposure and Health: A Review of the Evidence. Int J Environ Res Public Health. 2021 Apr 30;18(9):4790. DOI: 10.3390/ijerph18094790. PMID: 33946197; PMCID: PMC8125471.

Bratman GN, Anderson CB, Berman MG, Cochran B, de Vries S, Flanders J, Folke C, Frumkin H, Gross JJ, Hartig T, Kahn PH Jr, Kuo M, Lawler JJ, Levin PS, Lindahl T, Meyer-Lindenberg A, Mitchell R, Ouyang Z, Roe J, Scarlett L, Smith JR, van den Bosch M, Wheeler BW, White MP, Zheng H, Daily GC. Nature and mental health: An ecosystem service perspective. Sci Adv. 2019 Jul 24;5(7):eaax0903. doi: 10.1126/sciadv.aax0903. PMID: 31355340; PMCID: PMC6656547.