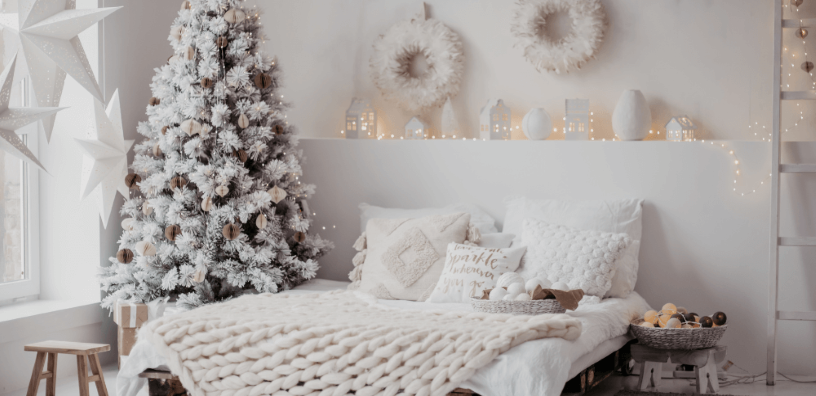 Sleep Comfortably, No Matter Which Season
As we enter the winter season, you might be looking into investing in bedding that will keep you warmer through the barren months. You might ask yourself: is this worth it to spend the money? Could you just layer several blankets and endure the cold for a little longer? Oftentimes, thicker bedding might seem like the perfect idea to keep you warm throughout the winter, but it will become useless once the hotter months roll around. So what exactly can you do? 
Get the most bang for your buck—Quality bedding can offer a variety of benefits and features that not only prioritize your comfort but are also practical. For year-round use, your bedding should ideally be made with materials that will both keep you warm during the winter months and prevent night sweats during the summer. 
We've gathered a list of our favourite products to not only help you survive this season but can also be used throughout the entire year. Keep reading to find out our picks! 
Winter
When the winter months approach, you always try to be the warmest and cosiest at night. Cosy House's Luxury Weighted Blanket provides warmth and comfort, giving you the most peaceful sleep you've ever had. It is made with protective pockets, premium glass beads, a blanket topper, and a bamboo viscose cover, with technology designed to help reduce feelings of anxiety and depression. This is perfect for those who are affected by the shorter, darker days of fall and winter.
The Luxury Weighted Blanket also has a ventilation system, keeping you warm throughout the night while preventing you from overheating. Additionally, its hypoallergenic material can ward off common household non-living allergens, perfectly designed for those with sensitive skin and noses. The Luxury Weighted Blanket stays cleaner for longer, its cover is machine washable, and it provides all the comfort you need throughout this barren-cold season! 
Spring
Picture the perfect day of spring: you're having fun and enjoying the weather, only to be interrupted by a sneeze every two minutes. All of a sudden, the day is ruined. We all know it—with springtime comes the inevitable seasonal sniffles. Your bedding can be one of the biggest contributors to those sensitive noses. 
So, how can you enjoy the festivities of spring without flaring up your sensitive nose even more? One way to keep the irritants at bay is with our very own Bamboo Zippered Mattress Encasement.
Our hypoallergenic blend is crafted with 70% bamboo viscose and 30% polyester to ensure protection against common non-living household allergens, all while staying comfortably thin. It acts as a physical barrier to prevent bed bugs and other common irritants. That means you get all the protection without the bulky, uncomfortable material. The Bamboo Zippered Mattress Encasement even makes spring cleaning your bed easy and hassle-free since it's machine washable. Get ready for a cleaner, more quality night's rest this spring!
Summer
Summer is the season of fun, travel, and chilling by the pool, but can feel extremely frustrating when it comes to sleep. It's the year's hottest season by far, and sometimes even the air conditioning falls short of keeping the heat away—not to mention the night sweats. But Cosy House's Luxury Bed Sheets provide the light comfort needed to survive this season without losing any sleep. 
Available in 13 colours, our Luxury Bed Sheets are made with our unique bamboo viscose and polyester blend, for endless comfort all night long. Its lightweight fabric has thermal-regulating properties that help balance your body's temperature throughout the night, so you can say goodbye to night sweats! Now you can wake up feeling refreshed and well-rested during the year's hottest time. 
Fall
To many people, fall is the season of festivities and great food: Halloween and candy, pumpkin patches, gatherings around the fire, pies, and lattes, and the way every colour ceases to exist except for orange, yellow, and red. To others, it's a season for staying in and cuddling with a warm blanket, a hot chocolate or cider in hand, and a movie on the television. No matter if you're out enjoying the chilly fall weather or cuddling up inside for a movie marathon, the Cosy House's Everyday Fleece Blanket is the ideal cosy companion.
Not only is this blanket designed to provide ultimate comfort, but it also wards off common household non-living allergens, perfect for your sensitive nose during the change in weather. Available in 7 colours, the Everyday Fleece Blanket can match the colours of the season, as well as those in your home. Its polyester fabric is ultra-soft and machine washable, so you can enjoy all the perks of the extra-plush blanket with the most minimal effort. Coming in a variety of sizes to fit your needs, you're able to cuddle up and stay warm no matter where you may be. 
Whether it's the hottest season of the year, or you're escaping from the freezing snow, Cosy House has the products to give you the most pleasant sleep you've ever had all year round. Balancing your temperature throughout the night keeps you comfortably warm while preventing night sweats. The right bedding and quality sleep can provide you with the mental and physical well-being you need to go about your day, to your fullest potential. 
Ready to try our Cosy Products for the upcoming season? Click here to find out more! 
We've gone ahead & enclosed a 10% off coupon below for you to use if you'd like to take the plunge and try out our sheets for yourself! To shop our collection & get 10% OFF Use the code 'BLOG10' at checkout.