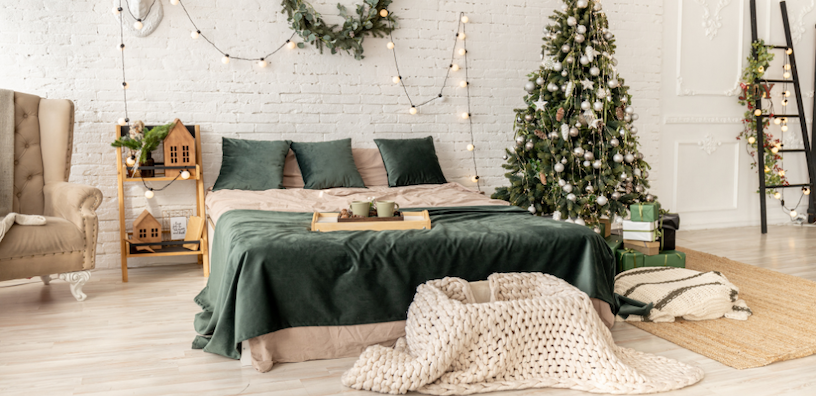 Preparing Your Home for the Holiday Season: 5 Essential Steps
The holiday season is approaching, and with it comes the joy of transforming your home into a festive wonderland. From changing your decor to gathering your cherished holiday decorations, deciding when to start the festivities, getting ready for guests, and making those all-important shopping lists, there's no shortage of tasks. Regardless of whether you're a "deck the halls early" enthusiast or prefer to wait, it's never too early to begin your holiday preparations.
Here are five invaluable tips to help you prep your home for the upcoming holiday season:
1. Clean & Declutter
Before you embark on the exciting journey of holiday decorating, it's essential to start with a clean slate. Grab your cleaning supplies and dedicate some time to freshening up your home. A well-maintained, clutter-free space will make the transition to seasonal decor much smoother. 
To streamline your cleaning process, consider creating a room-by-room checklist. This is also an ideal time to bid farewell to any "summer" decor or items you no longer need. Donate or discard what's no longer useful and neatly organize and store the essentials, labelling them for easy retrieval when spring and summer roll back around.
2. Plan & Decorate
The fun part of holiday preparation involves planning your festive decor. This stage can be broken down into several steps:
Setting a Theme:

Start by selecting a theme that reflects your style and the ambience you want to create. Whether it's a traditional, rustic, modern, or whimsical theme, your chosen motif will be the foundation for your holiday decor. Remember to establish a colour scheme as well, as it sets the tone for your entire space.
Gathering Decorations:

Assemble your holiday decorations well in advance. Retrieve your cherished ornaments, wreaths, lights, stockings, garlands, and the tree topper. If you're adding new pieces to your collection, explore holiday shops and craft stores for unique and inspiring finds. Remember, your decorations are more than mere objects; they are sentimental pieces that breathe life into your holiday memories.
Timing:

The perennial question of

when

to start decorating can be a source of debate. Some prefer to embrace the holiday spirit early, while others wait until the holidays are in full swing. Early decorating has its advantages, including reduced stress, creative freedom, ample time for inspiration, and extended joy! However, the timing of your decorations is ultimately a matter of personal preference, so

do what feels right for you

.
3. Create a Cosy Ambience
The changing weather calls for a cosy home, and even small touches can significantly enhance your home's atmosphere. Here are some ideas to inspire you:
Lighting:

The right lighting is crucial for setting the mood. Consider soft, warm lighting from lamps, candles, and string lights to transform your space into a cosy haven.
Holiday Scents:

Scent has a remarkable impact on creating a warm holiday atmosphere. Infuse your home with seasonal scents like cinnamon, pine, and vanilla. You can achieve this with scented candles, essential oil diffusers, or simmering pots filled with spices and citrus peels to fill your home with the delightful fragrance of the holidays.
Cosy Seating & Relaxation Areas:

Create comfortable seating areas for gatherings, where family and friends can unwind and create cherished memories. Provide

soft, plush blankets

for added cosiness.
Music & Entertainment:

Music is an integral part of holiday traditions. Create a playlist of your favourite holiday tunes, and have entertainment options ready, such as movie marathons, board game nights, or a craft corner for the little ones. These elements work together to create a warm, inviting, and enchanting environment that fosters togetherness and celebration.
4. Plan & Prep for Guests
If you'll be hosting guests during the holiday season, make sure your home is ready to welcome them with open arms. Here are some easy tips to prepare for your guests:
Guest Bedrooms

: Upgrade your guest bedrooms with resort-quality bed sheets. Opt for sheets that are soft, comfortable, temperature-regulating, hypoallergenic, and easy to clean, ensuring that all your guests feel like they're on a holiday vacation. Enter

Cosy House's Luxury Bamboo Bed Sheets

. They check every box and are affordable to boot.
Guest Bathrooms

: Enhance your guest bathrooms by replacing everyday towels with fresh, luxurious ones. Soft, absorbent, quick-drying towels can make your bathroom feel like a spa. Cosy House also offers a

Luxury Bamboo Towel Set

to meet these needs!
Having everything ready ahead of time also saves you from the last-minute madness that comes with the arrival of unexpected guests.
5. Create a Wrapping Station
To streamline your holiday preparations and maintain order, set up a dedicated space for gift wrapping. This will be especially helpful when you discover that last-minute gift you forgot to wrap. Whether it's a corner of your home, an unused table, or an empty closet, designate a space to store all your wrapping supplies and ensure you have enough room to wrap gifts of any size. Don't forget to stock up on essentials like tape to avoid any mid-wrapping mishaps.
- - - 
From extending the joy of the season to getting creative with your decor, starting your holiday preparations early offers a host of advantages. These preparations are about more than just decking the halls; they're about creating the perfect backdrop for unforgettable moments and heartwarming experiences.
For those looking to add an extra layer of comfort and elegance to their holiday preparations, consider exploring the Cosy House Collection. Discover a range of home essentials designed to enhance your holiday experience, from luxurious bedding to soft throws to plush pillows and so much more; Cosy House has you covered!
We've gone ahead & enclosed a 10% off coupon below for you to use if you'd like to take the plunge and try out our sheets for yourself! To shop our collection & get 10% OFF Use the code 'BLOG10' at checkout.
Let the holiday preparations begin, and may your home radiate cheer, warmth, and delight throughout the festive season. Here's to a truly memorable and magical holiday ahead!