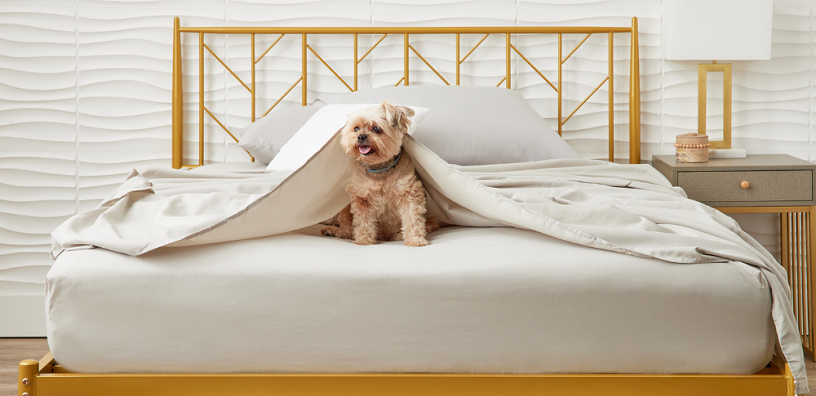 Pet Parent? 9 Things You Need to Help Keep Your Home Fresh
If you share your home with your furry best friend, sometimes it can be hard to keep it looking and feeling fresh and clean. You know the drill—pet hair, weird smells, accidents, that random slime stain from when Fido shook his head. You want to keep cuddling your pet in bed, but it's often an uphill battle.
Luckily, having pets in the house doesn't mean it has to be dirty like them. We put together a list of items that make it easy to keep your home and bedroom looking clean and fresh without much maintenance. Keep reading!
How To Keep Your Bedroom From Smelling Like Your Pets
You've got a stinky woofer and we've got solutions. Instead of dealing with the dirt and smell later on, why not protect your bed before the issues even begin to unfold? We've got the products to help you do just that. Take a look. 
If you're a lover of cuddling up to your furry friend in bed, you know all too well that accidents happen. Your mattress is one of your biggest investments and it's important to protect it, even from Fido. Cosy House's Bamboo Mattress Protector is the game changer you need. Crafted with 70% bamboo viscose and 30% polyester, the hypoallergenic blend ensures strong and durable protection that eliminates common non-living household allergens. It protects your mattress from sweat, liquid spills, stains, and urine from pets because it's 100% waterproof, too.
Your pillow can be a vector for nasties, and so can your pet. Keep your pillow fresh with the hypoallergenic Pillow Protector, crafted with a durable zipper. The snuggle-soft fabric slips over your pillow, providing an invisible layer of security that stays quietly in place. Its breathable design encourages maximum airflow between your pillow, pillowcase, and skin so you stay cool and comfortable. This bamboo viscose blend is specially made to act as a shield against irritants and dust—protecting you while extending the life of your pillow.
Just like your mattress and pillows, your duvet is susceptible to unwanted ickies and mess tracked in by your pet. To keep your bed cleaner for longer, check out Cosy House's Duvet Cover. This bamboo viscose blended cover protects your duvet by repelling dirt and debris while you sleep and while your pet is burrowing into your blankets. All you have to do is slip the cover over your duvet insert and zip it closed. This also makes for a just-as-easy removal when you need to shake off the pet hair and throw your duvet into the washing machine (compare that to taking your pet hair-infested traditional duvet to a laundromat - yeah, we think the duvet cover is worth it, too).
When it comes to your furry friend snoozing in your bed, sheets that can stand the test of time are going to be your new neat-and-tidy bedtime go-to. Cosy House Luxury Bed Sheets are hypoallergenic, keeping your sheets cleaner for longer. Not to mention, if your pet is notorious for radiating tons of heat, these sheets carry thermal-regulating properties that balance your body's temperature as you sleep. Even with your beloved pet in bed, you can still wake up feeling refreshed knowing that your sheets will withstand nail scratching, icky pet staining, and other pet mishaps that would otherwise ruin your bed. 
Cleaning Hacks For The Natural Pet Parent
You don't have to get used to the dirty wet dog smell, and you don't have to opt for over-priced cleaning solutions filled with fluff (pun intended) that isn't safe for your pets. If you're worried about pet safety that won't break the bank, check out these gentle products perfect for maintaining freshness in your pet-friendly home.
Your doggos went running in the rain? And now they look like goofy, soaked rats? Oh boy. 
Don't fret, we've got just the thing you need—Cosy House Luxury Towels. Why not give your pets the spa experience they deserve? With these cotton-bamboo viscose blended towels, you can dry off wet dogs AND wet dog smell. Cosy House Luxury Towels are tightly woven to deliver ultimate absorption and warmth. They're also hypoallergenic so they stay naturally fresh, drying quickly for regular, repeated use. Plus, they're OEKO-TEX certified and free of harsh chemicals, so you don't need to worry about unnecessary irritants. When you're done, simply toss the towels in the washing machine (if only your pup were that easy to clean). 
Say goodbye to smelly dander and banish pet hair to the lint trap. If you've got a seriously fluffy fluffer, All Natural Wool Dryer Balls are calling your name. Unlike synthetic one-time-use fabric softeners, Cosy House's Wool Dryer Balls are hand-felted, biodegradable, and free of dyes, chemicals, and fragrances. So, when you're done drying off your pet after their rain fiasco and doing a load of wet-dog towels, you can use Cosy House's Wool Dryer Balls to make sure all that pesky pet hair is removed and you don't have to spend hours lint-rolling your clean laundry afterwards. These dryer balls also reduce static, wrinkling, tangling, and drying time by 30%. 
Looking for more pet-friendly goodies to keep the house looking and feeling fresh? Click here to find a huge selection of home good essentials to make your life, and your home, that much cosier.
We've gone ahead & enclosed a 10% off coupon below for you to use if you'd like to take the plunge and try out our sheets for yourself! To shop our collection & get 10% OFF Use the code 'BLOG10' at checkout.
What are your favourite Cosy House items to keep the house clean? Let us know in the comments below. The Cosy community loves hearing from you.