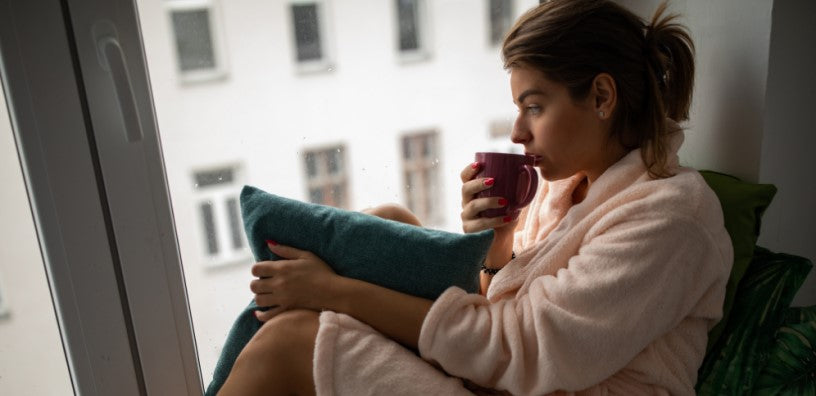 How to Stay Productive on Rainy Days
Did you know that rainy days can make you feel more sleepy? The lack of light due to grey skies and rain clouds affects our brains, making us feel drowsy and even a little blue.[1] So, how can you resist the urge to snooze when it's raining and instead be productive with the cloudy day ahead? 
Keep reading to find out!
It's Not All About Getting Cosy (Getting 'Cosy' Is Another Story)
Don't slip into a rainy-day coma! Get up out of bed and get moving. Even if you're stuck inside today, it doesn't mean you can't do something productive and useful with your free time. 
What should you do first? Great question! 
Get Up & Get Dressed.

Getting ready and putting on an outfit you feel comfortable in sets the tone for the rest of your day. We recommend silky smooth loungewear for your productive day indoors, so you can sport some style around your home but still be oh-so-comfy.

Get Rid of Potential Distractions

. This can look like storing your phone somewhere it won't disturb you or hiding the TV remote so you won't feel tempted to binge that new Netflix show. 

Make a To-Do List

. Writing down your goals makes it easier to attain them. 

Calm Your Mind

. Try some breathing exercises and meditation before you get started on productive tasks for the day.

Treat Yourself

. Start your rainy day with your favourite cup of coffee. If you're a spa connoisseur, do a face mask in the morning. Write in a gratitude journal. The better you feel, the better the rest of your day can go. 
Not sure what to do now? Below is just a few ideas you can do on your productive rainy day: 
Catch Up With An Old Friend
Think about who you haven't spoken to in a while. Is it an old colleague, past roommate, or family member? Whomever it might be, give them a ring today. You might be surprised to see how much there is to catch up on (not to mention the positive feelings that can come from a good, friendly conversation). 
Catch Up On That Old Hobby
Much like that old friend, there might be an old hobby you've left sitting on the shelf. Take this rainy day as an opportunity to dust off your sewing machine, your paint brushes, your yoga pants, your book collection, or whatever it may be. This is the best day to do it!
Open Your Blinds & Get Organised
Trust us, we get it—the first thing you probably want to do today is curl up and shut the blinds. However, letting in some natural sunlight is helpful for small boosts of motivation to get productive. So, open up the blinds (no matter how minimal the light is) and take inventory of what needs some sprucing and cleaning in your home. Is it the clothes piled up in your closet? Maybe you can donate some of them to a local charity. Is it the mess of dishes in the sink? Turn on some tunes and start washing. 
Bring Your Workout Indoors
Here's where you can turn the telly on—for some at-home workout routines. Whether you have a workout videotape or love that one super athletic YouTuber, you can still get your blood pumping and those endorphins flowing on a rainy day. This is an especially great option for those of us who struggle with rainy day slumps. If you are one of these people, start your day with an indoor workout so you can remain productive and motivated for the rest of the day.
Okay, Now You Can Get 'Cosy'
Is your rainy day winding down and you've completed multiple productive tasks? Good for you! Now it's time to pamper yourself and wind down for the evening. Or, in other words, it's time to bundle up and get cosy.
Here's how: 
Take A Bubble Bath
Bring the spa to your house with a relaxing bubble bath. Fill the tub with warm water and essential oils, light some candles, pour yourself a glass of wine or relaxing tea, and slip into some well-deserved 'you' time. When you're finished soaking, complete the spa experience with the Luxury Towel Set. Wrap yourself up in luxury with these silky smooth and ultra-absorbent towels. Since they're hypoallergenic and soft, they're gentle enough to use on your skin and wrap your hair up in, too.
Turn On Your Favourite Show
Yes, the time has come for a sweet, sweet Netflix binge session. To make sure you're really getting into the 'wind-down spirit,' snuggle up on the couch with a Luxury Weighted Blanket. Reducing anxiety and promoting relaxation are the main goals of this weighted blanket, providing the perfect end to a long day! Make yourself a mug of hot chocolate or another favourite beverage and reward yourself for a super productive day. If you're just looking for a simple, everyday couch companion, a premium fleece blanket that is generously sized and extra plush is the perfect way to go. 
Spend More Time On A Bedtime Ritual
There are some pretty negative side effects when you lose sleep. When you're getting ready for bed, experts recommend giving yourself ample time to invest in a pre-bedtime routine. So, go ahead and relish your skincare routine. Go on a short, slow, and quiet walk, or do some gentle yoga or meditation. Drink a cooling glass of water.
Most importantly, set your bed up for success. Fluff your pillows and blankets. Make sure you have bedding that is soft and cooling for optimum comfort like a Luxury Down Alternative Duvet and Luxury Bed Sheets. 
Looking for more ways to keep warm when it's cold and rainy outside? Click here to find a huge selection of home good essentials to make your life, and your home, that much cosier.
We've gone ahead & enclosed a 10% off coupon below for you to use if you'd like to take the plunge and try out our sheets for yourself! To shop our collection & get 10% OFF Use the code 'BLOG10' at checkout.
What are your favourite ways to stay productive on a rainy day? Let us know in the comments below. The Cosy community loves hearing from you. 
Stay dry and warm from all of us here at Cosy! 
Resources:
JOUR. Lambert, Gavin, Reid, Christopher, Kaye, D, Jennings, Garry, Esler, Murray. 2003/01/01, 1840, 2. Effect of sunlight and season on serotonin turnover in the brain, 360, 10.1016/S0140-6736(02)11737-5, Lancet.