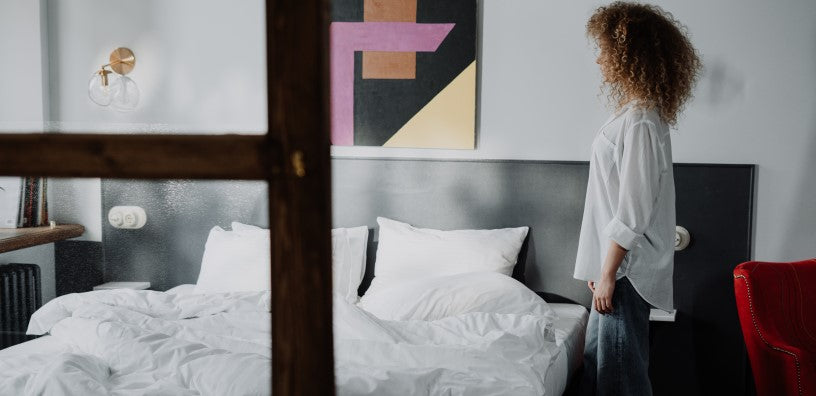 How to Put on a Duvet Cover
Duvet Covers are Confusing...We Can Help!
If you own a duvet, you might already know that putting on a duvet cover can be somewhat of a nightmare. But do not fret! With our visual guide, we are here to help you put on your duvet cover with ease for the cosiest night of sleep. 
Step 1
Begin by laying your duvet cover flat on the bed, inside out. 
Step 2
Place the duvet on top of the duvet cover so all sides line up evenly. 
Step 3
In each corner of the duvet cover, you will find ties. Additionally, there will be loops in each corner of the duvet itself. You will tie the duvet cover strings to the duvet loops in order to attach the two pieces of bedding. This will prevent the duvet from moving inside the cover. 
Step 4
Find the open end of the duvet cover. Once you've found it, reach inside to pull the two far end corners inside out, resulting in the duvet inside the cover. 
Step 5
Once again, find the open end of the duvet cover and zip or button it closed. The type of clasp will vary depending on which type of duvet cover you own. 
Step 6
Spread and fluff your duvet cover to ensure the duvet is evenly spread. Once fluffed, place back down on the bed and enjoy a cosy night of sleep. 
Learning how to put on a duvet cover may take loads of practice, but with these steps, you will be an expert in no time. Just try it! Shop our Luxury Down Alternative Duvet and Luxury Duvet Cover today.
Interested in more Cosy House products? Click here to find out more!
We've gone ahead & enclosed a 10% off coupon below for you to use if you'd like to take the plunge and try out our sheets for yourself! To shop our collection & get 10% OFF Use the code 'BLOG10' at checkout.