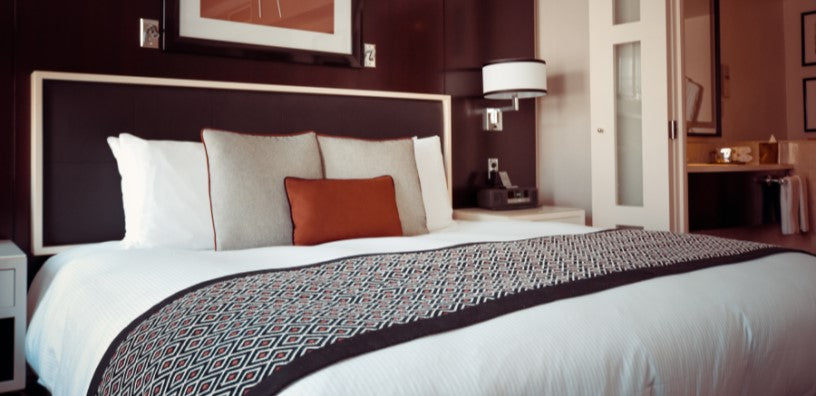 How to Properly Layer Your Bedding
In interior design, layering is an art. Luckily, it's a super simple art—the balancing of different shapes, patterns, textures, colours, and materials to add depth and dimension to any given space (like a painting). Designers use this technique to give rooms a unique personalized touch, whether it be the layering of artwork on a wall or the layering of statement pieces alongside each other.
When it comes to your bedroom, layering your bed can make the space cosier, more inviting, and comfier, and give your bedscape an elegance that will look as good as it feels.
So, you loved the layered look, but you don't know where to start? Keep reading!
Cosy's How To: Layering Your Bed
We won't leave you hanging. Wondering what you need to customize your perfect sleep oasis? We've got the essentials right here to get you started. 
The Foundation 
Your first layer is your bed's base, and the foundation of any great night's sleep begins with—you guessed it—the mattress. 
Start with a Bamboo Zippered Mattress Encasement to ensure protection against common non-living household allergens (all while staying comfortably thin and crinkle-free). Not only does an encasement extend the life of your mattress, but it also makes cleaning your bed easy and hassle-free because it's machine washable. This will help you receive a cleaner, more quality night's rest. 
You can also upgrade with a mattress topper to add an extra layer of comfort and support. 
The Sheeting Layer
Your second layer is one of the (if not the) most essential. Bed sheets! 
Your bed sheets need to be breathable, lightweight, and easy to maintain. Enter: Luxury Bamboo Bed Sheets. You're not only getting a duvet cover, a fitted sheet, and 1-2 standard pillowcases in this Cosy House set, but you're also getting all the benefits of our unique extra-plush bamboo viscose blended fabric. Like what, you ask? Check it out: 
One of the most breathable and lightweight fabrics on the market. 

Stays cooler than cotton and carries thermal-regulating properties that balance your body's temperature as you sleep.

Resists wrinkles, stains, bobbles, and common non-living allergens.

Fits all mattress types, from thin to thick (up to 35 cm).

Easy to clean, machine washable, and dryer-friendly.
The Fluffy Layer
Who doesn't want to sleep on a marshmallow-stuffed cloud? If you're a sucker for that extra soft, extra plush, extra indulgent kind of feeling, this layer was made for you. 
All you will need is a Luxury Bamboo Down Alternative Duvet and a Luxury Bamboo Duvet Cover. The Down Alternative Duvet helps you create that fluffy, cloud-like feel thanks to its plush polyester fill that resembles the same softness of traditional feather down. The Duvet Cover enhances that comfort and brings you bedtime zen, while also protecting your duvet and adding flair to your bedroom.
Our Down Alternative Duvet and Duvet Cover are both crafted with the same unique bamboo viscose blend that our sheets are made with. This means they're blissfully soft, cooling, breathable, and hypoallergenic so your bed looks fresh and you can wake up refreshed.
Who knew sleeping on a cloud could be so easy-peasy?
*Pro-Tip: This one's for those plush cloud lovers. Use two duvet inserts in your duvet cover to add even
more
fluff and comfort.* 
The Styled Layer 
Your final layer—the pillows and the throws. Why are the pillows and throws the styled layer? These final pieces add the last je ne sais quoi—bits of extra colour, volume, dimension, style, and comfort. The best part? The number of pillows and throws you add is totally up to you. 
There are two types of pillows you'll need for your bed—decorative and the ones you sleep on. 
Standard Pillows:

When it comes to plush comfort and support, the

Luxury Bamboo Pillow

is your best friend. The Luxury Pillow is made to give you extra support, while also keeping you cool and cosy. It cradles the head and neck just right, to promote spinal alignment and create a better breathing path for all kinds of sleepers. Pair with a

Luxury Bamboo Pillowcase

for hypoallergenic, buttery-smooth softness to benefit your overall sleep hygiene (that includes skin and hair!). 

Decorative Pillows:

When it comes to decorative pillows, the sky's the limit. You can go small and simple, patterned and printed, extra colourful, or super-duper plush with an extra-long body pillow. 
Throws depend upon your personal preferences. Looking for something a little heavier? The Luxury Bamboo Weighted Blanket is not only aesthetic but is crafted with a weighted insert that has an even distribution of premium-grade glass beads, designed to simulate the feeling of a hug to relax the nervous system. Want something lighter? The hypoallergenic Everyday Fleece Blanket is made with 100% microfiber polyester and a fleece finish for superior softness and cleanliness.
Cosy's How To: Making Your Bed 
Alright, so now you know what you need. But how on earth do you incorporate these essentials into your bedroom and really start the layering process? 
No need to fret. We laid out some simple steps for you below.
Remove the mattress from the bed frame and lean it upright (we recommend getting another helping hand for this step). 

Unzip the encasement on all three sides and wrap the short, unzippered side over the top of the standing mattress. 

Gently pull the encasement down so that both sides of the mattress are covered and close the zipper. 

Set the mattress back down on the bed and finish closing the zipper. Use the 360-degree Secure Velcro Enclosure to seal off the end of the zipper, and

voila

! 
Your fitted sheet should be snug on your mattress.

Cosy House sheets

are clinched 360 degrees around the opening. They even include elastic corner straps to ensure extra security throughout the night, preventing your sheet from riding up and disrupting your sleep.

Once the sheet is set in place, flatten out any creases and wrinkles left on the sheet. 
Assemble and Layer Your Duvet
.
Place the

duvet

inside the

duvet cover

.

Before placing the duvet on your bed, shake it out to ensure maximum fluff and volume.

Lay the duvet on top of your bed sheets, making sure both sides are even. 
*Pro-Tip: Try 'hospital corners' to make sure the duvet doesn't drape on the floor. Fold any leftover duvet into a triangle form on both lower corners of the bed. Once you have formed the triangles, you will be tucking those in between the mattress and its base. This keeps the sheet set in place, helping the bed look tidier—like a cosy wrapped package!*
Whether you opted for a plush

Luxury Bamboo Pillow

, lots of decorative pillows, or both, you have a lot of options for how you want to lay them all out. 
What's the key to unifying and balancing the look of your layered pillows? 
Gradually decrease the size of the decorative pillows from back to front. For example, start with two pillows in standard pillowcases propped up against the headboard. 

Next, add two pillows in standard shams, then a longer body pillow or a longer lumbar pillow. Finish with a square decorative pillow in the front. 
Lay on The Throws.
Your final step is your throw blankets! You have lots of options here, too. You can fold your throw straight across the foot of the bed, you can fold it horizontally and align it with the end of your bed, or drape it over a corner. You can roll up several

lighter throws

into a basket on the floor near your bed for easy access. You can layer your

heavier throws

on top of each other. It's all up to you! 
Curious to know where you can get even more quality essentials for your bedroom? Right here! Treat yourself to affordable luxury without breaking the budget today. 
We've gone ahead & enclosed a 10% off coupon below for you to use if you'd like to take the plunge and try out our sheets for yourself! To shop our collection & get 10% OFF Use the code 'BLOG10' at checkout.
What are your favourite bedding essentials to layer? Let us know in the comments below. The Cosy community always loves hearing from each of you!