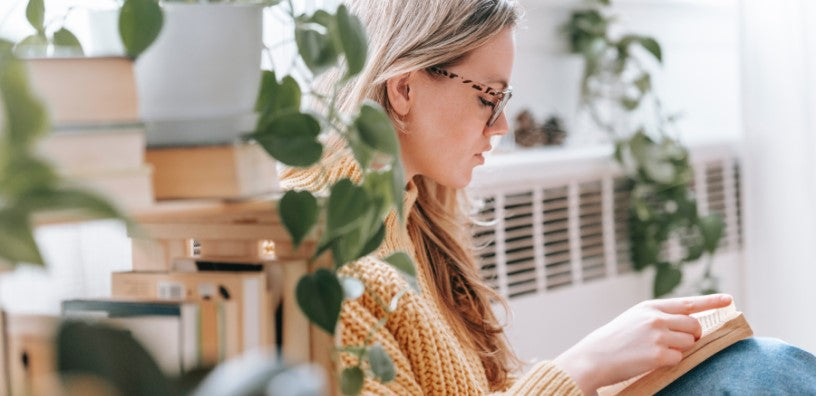 How to Enjoy Quiet Time at Home
The holiday season has come to a bittersweet close. We know it all too well—the hustle and bustle of the holidays, the stress and chaos. You need a break! With the hectic season passing us by, it's time to wind down and focus on yourself—and we made it easy for you to do just that.
Keep reading to see our guide on enjoying some TLC right in the comfort of your own home. 
Why Do I Need Quiet Time? 
It may be a cliche, but silence truly is golden.
According to a 2013 study, researchers discovered that silence is associated with the development of new cells in the hippocampus, the critical brain region that has to do with learning and memory.[1] Recent research has even shown that 'quiet time' can condition our minds to be more adaptive and responsive to the noisy environments we work and live in.[2,3]
In conclusion: don't underestimate the power of silence. Being silent and present is an important factor in calm and clarity, and is super helpful for your wellness. 
Silence can help to: [4]
lower blood pressure

improve concentration and focus

calm racing thoughts

stimulate brain growth

reduce levels of cortisol

stimulate creativity

improve insomnia

encourage mindfulness
Quiet time isn't only about getting away from the chatter at work or from the noise of social media, and it isn't just for kids. We're talking sustained silence that quiets your inner chatter AND the outer gab so you can get to feeling more at peace. 
Wondering how to get started? Keep reading. 
Cosy's Guide to Quiet Time
Now to the nitty gritty—let's get quiet. With a bit of intentionality, you can bring a bit more stillness into your everyday life. 
It's time to plan your escape from the noise. Check it out:
How to Prep for Your Quiet Time
Ask for it and plan for it. Don't be shy! Express your needs and set boundaries. Put your phone on 'do not disturb,' silence your notifications, or shut it off. If you live with others, make them aware that you'll need an allotted amount of time for personal space to detox and decompress. Set aside this time during the day and make a plan around it. It is best practice to give yourself this quiet space daily, whether it be 30 minutes, an hour, or more.
Make it a priority and a habit. Setting aside time for peace is a discipline. Make silence a regular habit by, first, being realistic with your schedule. How do you do that?
Create a list of your day-to-day tasks from high priority to low, and divide the time requirements for each of those tasks. You can put each of your tasks into one of four categories:

Urgent and important  

Important, but not urgent  

Urgent, but not important 

Neither urgent nor important

When you have your daily schedule in front of you, you can then find tasks that may need to be removed from your to-do list, as well as plan around your tasks to make the necessary room for a daily period of silence. 
If you have kids—teach them about quiet time. To make sure your kids know not to disturb you during your quiet time, let them in on it, too. Teach your children about having periods of silence for themselves and the importance of it. How to do this?
Talk to your kiddos about why you are doing your own quiet time—"Everyone needs some time and space for themselves to relax," "I enjoy being alone for some quiet time to reset and recharge," etc. Ask your child to come up with some reasons why

they

think some personal quiet time may be good for

them

, too.

Start with 15- to 20-minute increments. Kids do great with consistent and predictable routines. Allow your child to play quietly with timed check-ins. Pop your head in and acknowledge when they're doing well with their quiet playtime. If there is no resistance from your child, you can work your way up to anywhere from 45 minutes to 2 hours.
Find a space where you won't be disturbed. Your quiet time should look intentional and with little distraction. We're looking at you, electronics. Put away your phone, turn off the computer, resist checking your email, and keep far from loud places. Quiet time gives your brain the chance to refresh itself and recharge—it should be relaxing and peaceful. Your quiet space could look like sitting in a warm bathtub or standing in the shower, lying in bed with a good book, on a silent walk during your work break, or wherever you find the most peaceful silence.
Ways to Escape the Noise & Enjoy the Quiet
Disappear in a book. What better way to escape the noise than to slip into the world of a good book? Plus, science tells us that reading can even help to ease stress and symptoms of depression.[5] Find a story you've been itching to pick up, grab your favourite Cosy House Luxury Bedding, and disappear to a quiet space for a few hours. 
Meditate. Meditation is an easy way to tune into your body. Being aware of your body starts you on a path to mindfulness, and when combined with intentional silence, the benefits are plentiful. Meditation can look like gentle stretching, slow yoga, concentrated breathing exercises, gratitude journaling, or even personal prayer.
Nap. Taking a nap is another easy-peasy way to escape the noise. But be careful—aim to nap for only 20 to 30 minutes. The longer you nap, the more likely you are to feel groggy when you wake up and the more likely it could interfere with your nighttime sleep. To get the most out of your nap, invest in durable, high-quality bedding to make your space as comfortable and calming as possible.
Get outside in the sunshine. Combine sun, silence, and nature to not only reap the benefits of sunlight and fresh air but to boost serotonin in your brain, giving you more energy and promoting calm, focus, and positivity.[6] You can do this by having a picnic with yourself in an open field (make sure it is away from loud, excessive noise), going for a brisk walk (a local nature preserve is a great spot to go), sitting on a quiet bench, gardening in your yard, or even just standing on the porch silently when it's sunny out. 
Turn down the noise where you can. This one's a given, but sometimes you don't have the time in your day to get in long periods of quiet time. Yet, there are areas in everyone's life where we allow the noise to seep through. Step back and take stock of those areas in your own life. Here are a few starter suggestions for you:
Make your vehicle a noise-free zone

. Have a long commute? Instead of plugging in the aux, make your car a sanctuary of silence. 

Turn off background noise during household tasks

. Need to have a soundtrack playing every time you're getting ready in the morning? Take a break from the tunes and instead tap into quiet stillness. 

Remove your earbuds

. Always walking around with your earbuds in? Don't go into audio autopilot. Instead, break the habit of constant stimulation and just be present in the here and the now. 

Start your day before the rest of the house wakes up

. If you're a parent, live with a significant other, or have roommates, quiet time can be hard to come by. Get up before the rest of the house and savour a quiet home.

Start with small, incremental changes

. If silence sounds uncomfortable, you're not alone. To start your journey of peace, begin with just 2 minutes of silence at a time. 
With a little practice, quiet time can become something you can't live without. What are some ways you take time for yourself? Let us know in the comments below. The Cosy community loves hearing from each one of you!
Looking for more ways to find peace, relaxation, and comfort in your home? Click here. With Cosy House, you'll find heaven-sent home essentials designed to not only help you sleep blissfully throughout the night but to promote the ultimate calm, too. 
We've gone ahead & enclosed a 10% off coupon below for you to use if you'd like to take the plunge and try out our sheets for yourself! To shop our collection & get 10% OFF Use the code 'BLOG10' at checkout.
Resources: