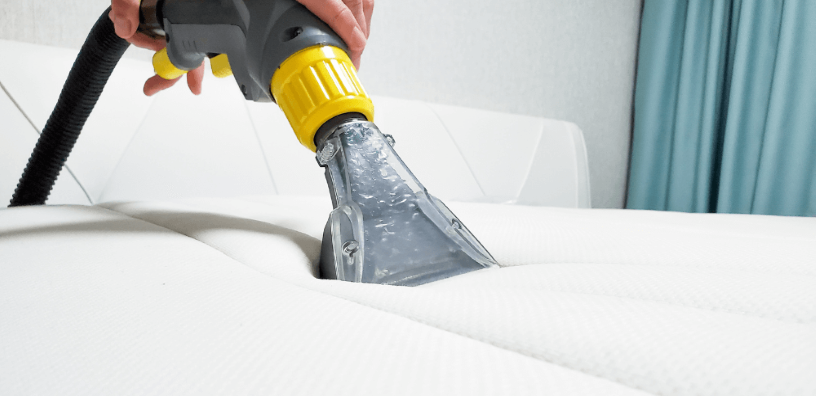 How to Clean Your Mattress
The mattress is the foundation of a good night's sleep—literally! But how well are you caring for your mattress? Chances are you've never given your mattress a second thought when it comes to cleanliness. Just like your sheets and pillows, your mattress needs to be cared for as well. That's why we've broken down an easy step-by-step guide to cleaning your mattress!
Cleaning Supplies 
Before you get started, it's important to have the proper tools for the job. You may have never cleaned a mattress before, but you may be surprised to learn that you more than likely have all the tools you need in your cleaning arsenal. 
A vacuum with a hose and upholstery attachment if possible

Dish soap or your favourite detergent

Baking soda

Unused cleaning cloths

Cold water
Cleaning Your Mattress
Step 1: Strip the Bed
The first step in cleaning your mattress is to remove all bedding, pillows, and mattress protectors or encasements. This is the time to get them looking, feeling, and smelling fresh. If washing your Cosy House bedding, wash with warm water on a gentle cycle, with a cold water rinse. Dry on low heat to preserve the integrity and softness of the fibre. Do not use bleach on or iron your bedding. 
Step 2: Vacuum the Mattress
While your bedding is getting freshened up, it's time to start on the mattress. The last thing you want is to leave any dust or dirt sitting on the surface of your mattress. Using the hose and/or upholstery attachment of your vacuum, comb up and down the mattress. Don't forget to go over the crevices of the mattress, as well as the sides. 
Step 3: Spot Clean the Mattress
Stains on your mattress are not uncommon. Mattresses stain with age or with the accident your toddler had the other night. No matter the cause, it's important to clean stains as much as possible. The better you can pinpoint the type of stain, the easier it will be to clean.
Now, it's important to never fully soak your mattress with water or cleaning solution. This is especially true if cleaning a memory foam mattress. Letting liquid seep into your mattress could result in mould, so it's essential to be careful. Spay or spot cleaner onto the stain, blotting with a clean cloth. With a secondary cloth, blot the stain with cold water. 
Step 4: Sprinkle Baking Soda on the Mattress
Baking soda is a lifesaver when it comes to cleaning. Sprinkle a generous amount over your entire mattress and let sit for several hours. In addition to drawing away any leftover moisture from the stain removal process, the baking soda will remove any lingering odour. We recommend you leave the baking soda on for as many hours as possible, but a minimum of 3-5. If you can, open a window and allow sunlight to aid in the process. 
Step 5: Vacuum the Mattress Again
Once you've let the mattress sit in baking soda, it's time to vacuum again. Using the same method as before, suck up all the baking soda and any other crumbs and dust left behind. 
Step 6: Flip and Repeat
Now that one side of your mattress is spotless, it's time to clean the opposite side. Flip the mattress over and complete steps 2 through 5. Before you flip, ensure that your mattress is dry, as you may not want to flip again. 
To keep the health of your mattress strong, it is recommended that you flip your mattress every 3 months or so. This is traditionally instructed for spring mattresses, but speciality mattresses have flipping instructions as well. Please refer to the manufacturer for a more detailed regimen. 
Invest in Mattress Protection
Want to extend the life of your mattress? Invest in high-quality mattress protectors like the Bamboo Zippered Mattress Encasement or the Bamboo Mattress Protector. 
What's the difference between the two, you ask? A mattress encasement generally has a zipper and six sides that completely cover the mattress for extra protection. Mattress protectors generally have five sides that cover the mattress like a fitted sheet and are also known as mattress covers. It all boils down to what your individual mattress needs are, and we cater to them all!
And, unlike traditional protectors or encasements, our line of mattress protection includes features like:
Temperature regulation and moisture-wicking properties (all while being super breathable). 

Comfortably thin (seriously—they're so high quality they don't need to be thick or stiff to do the job well). 

100% waterproof properties with unique double-layer protection technology.

Stays snug all night long. 

Noise-free. 

Hypoallergenic blend to ensure protection against common non-living household allergens (that also means they stay cleaner, longer). 
We wanted to make sure cleaning your bedroom essentials is hassle-free, so both our Zippered Mattress Encasement and Bamboo Mattress Protector are also machine washable for your convenience. 
Say goodbye to your old, crinkly protector! Improve your sleep with our line of premium mattress protection. Click here to shop now!
We've gone ahead & enclosed a 10% off coupon below for you to use if you'd like to take the plunge and try out our sheets for yourself! To shop our collection & get 10% OFF Use the code 'BLOG10' at checkout.