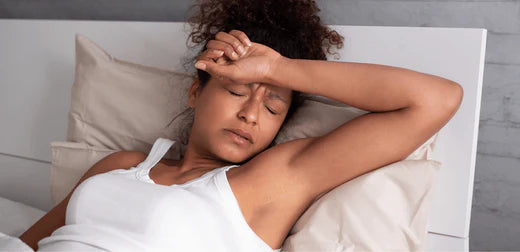 How to Choose the Best Duvet for Hot Sleepers
If you're a hot sleeper, you know the struggle of finding comfort at night. You may crank up the air conditioning or sleep with minimal bedding just so you can sleep with peace of mind you won't wake up in a pool of sweat.
But did you know there are bedding options out there made with hot sleepers in mind? If you're tired of losing sleep or getting poor quality sleep because you're too hot at night, you'll be happy to know that there are cosy, plush duvets out there made just for sleepers like you!
There are so many options out there, but don't fret—we've got you covered (literally and figuratively). Keep reading to find out how to choose the best duvet to keep you cool and comfortable all night, every night.
Factors to Consider When Choosing a Duvet
Not sure where to start? If you're a hot sleeper, there are a handful of factors that go into choosing the right duvet for you. Outside of softness and durability, there are a few extra features to consider as well. Here are a few to keep in mind when shopping for your ideal duvet:
Weight
The weight of a duvet plays a role in how it feels and how much heat it retains throughout the night. Heavier duvets are typically filled with an abundance of material, therefore, retaining more heat. Sometimes, that may not be the case, though. For example, a weighted blanket filled with glass beads like the Cosy House Luxury Bamboo Weighted Blanket allows for more airflow making it a good cooling option. 
Material
The external material and the filling material of a duvet play an important role in terms of cooling factors. Certain materials trap heat or aren't soft and lightweight. We'll dive more into the various fabric types below. 
Quality
Just because a duvet is expensive, doesn't mean it is the highest quality. Go with brands that use high-quality materials and craftsmanship. Higher quality materials mean the duvet will be softer, more durable, and long-lasting. Lower-quality materials usually result in the duvet falling apart quickly or losing its softness and comfort. 
Cooling Properties
Cooling properties can vary by duvet and brand. Look for duvets that are moisture-wicking and airy. Fabric that can wick away moisture helps remove sweat from the body and helps it dry quickly, which then creates a cool effect. 
For example, Cosy House's Luxury Bamboo Down Alternative Duvet adapts to your body temperature. It is crafted with bamboo viscose and a down alternative fill. Bamboo viscose is breathable, moisture-wicking, and helps circulate airflow between the sheets. Our ultra-soft Signature Baffle Box stitching pattern is designed to be crisp and airy enough to wick away moisture. Therefore, you stay cool and comfortable throughout the night. 
Best Materials to Keep You Cool
There are a variety of materials used to make different types of bedding. Here are the top five materials for duvets that help keep you cool at night:
Cotton
Cotton is an affordable option, therefore, making it one of the most popular choices. It's lightweight and breathable, perfect for hot sleepers. However, some cons come along with choosing this material.
First, cotton is super susceptible to wrinkling and sometimes takes time to soften up the way you want it to. Therefore, maintenance isn't always the easiest. Additionally, since it is so affordable, its quality can decrease over time and show its wear and tear. 
Linen
Linen is another breathable and lightweight material. As an added benefit, it possesses moisture-wicking properties to help rid you of sweat as you sleep. 
If you sleep with a top sheet, linen is a good choice. However, if you opt not to use one, linen tends to feel pretty rough. Therefore it may not be the most comfortable of these options. 
Down Alternative
One of our favourites. Down alternative is made from synthetic materials, like polyester microfiber fill (not to be confused with cheaper poly-fill), that mimic traditional down's natural softness. Since down alternatives use synthetic materials rather than animal-sourced materials, it is perfect for those with sensitive skin and noses since it is hypoallergenic. 
Bamboo Viscose
Another one of our favourites, and for good reason. Bamboo viscose offers a ton of benefits, all while being ultra-soft and comfortable. It's a breathable and lightweight material that also has moisture-wicking properties, which keeps you cool all night long. Bamboo viscose is also hypoallergenic and easy to clean, so it can stay fresher for longer.
Silk
This luxurious fabric is soft, cool, and airy. While it is great for hot sleepers and doesn't stick to the skin while you sleep, it has some cons. First, it is more expensive than most other fabrics. Additionally, silk requires more maintenance. 
Benefits of Temperature-Regulating duvets
Not sure if a cooling duvet is right for you? Check out some of the benefits of investing in a quality duvet that can help you at night:
Breathable & Lightweight
Lightweight and breathable duvets don't trap body heat between you and your bedding, but rather help it escape. If you add additional steps to keep you cool at night, like running a fan or sleeping in breathable loungewear, you'll experience an even cooler sleep at night. 
Moisture-Wicking & Temperature Regulating
If you're prone to night sweats, a duvet with cooling properties is definitely for you. Moisture-wicking material does just that—wicks the moisture (sweat) from your skin and allows it to evaporate. The result is a cooling sensation between your bedding and you. Your night sweats will be a thing of the past. 
Sleep Quality
It is almost impossible to get a good night's rest and be comfortable if you're too warm. One of the most important factors when it comes to our quality of sleep is our thermal environment. Research shows that a higher body temperature is linked to a decrease in sleep efficiency and a higher chance of waking up throughout the night.[1,2] 
Stay Cool with Cosy 
We pride ourselves on creating bedding that can help solve your sleep issues and improve your quality of sleep. 
The Cosy House Luxury Bamboo Down Alternative Duvet is a high-quality, yet wallet-friendly duvet that can help you stay cool and comfortable all night long. It is stuffed with a fluffy polyester fill that resembles the airy, cuddly-softness of traditional feather down.
Made of soft, breathable bamboo viscose and microfibre, our duvet helps wick away moisture and allows for plenty of airflow between you and your bedding, so you can say goodbye to unruly night sweats and discomfort. 
Ready to check it out for yourself? Click here to start shopping!
We've gone ahead & enclosed a 10% off coupon below for you to use if you'd like to take the plunge and try out our sheets for yourself! To shop our collection & get 10% OFF Use the code 'BLOG10' at checkout.
Resources:
Kräuchi K, Fattori E, Giordano A, Falbo M, Iadarola A, Aglì F, Tribolo A, Mutani R, Cicolin A. Sleep on a high heat capacity mattress increases conductive body heat loss and slow wave sleep. Physiol Behav. 2018 Mar 1;185:23-30. DOI: 10.1016/j.physbeh.2017.12.014. Epub 2017 Dec 13. PMID: 29247670.

McHill AW, Smith BJ, Wright KP Jr. Effects of caffeine on skin and core temperatures, alertness, and recovery sleep during circadian misalignment. J Biol Rhythms. 2014 Apr;29(2):131-43. DOI: 10.1177/0748730414523078. PMID: 24682207.