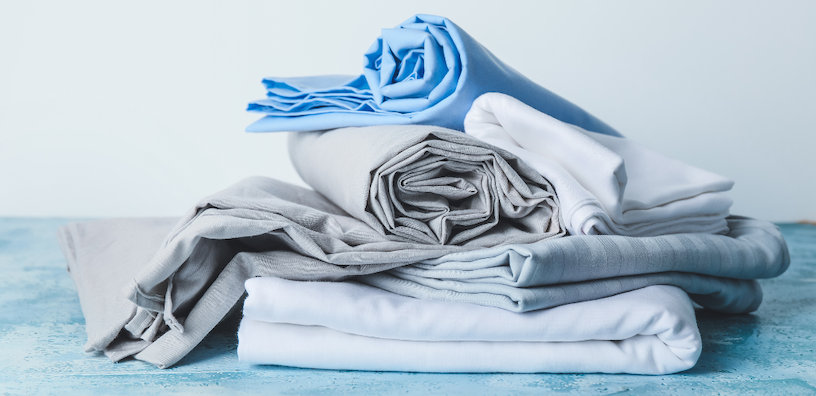 How to Avoid Getting Ripped Off When Buying Bed Sheets
When it comes to buying bed sheets, there are a lot of factors to consider. Thread count is one of the most common metrics used to measure quality, but it's not the only one. In fact, thread count can be a misleading indicator of quality. Yes, you read that right. 
With so many high-thread-count sheets on the market, it can be hard to know which ones are worth your money. So, how do you find the best bedsheets for you? Keep reading to learn how to spot high-quality bed sheets and find the perfect set for your budget.
Thread count is NOT the gold standard of bed sheet quality
What is thread count?
Thread count is the number of horizontal and vertical threads per square inch of fabric. A higher thread count simply means that there are more threads in the fabric (it doesn't mean it's softer, smoother, or more durable).
Ever seen thread counts over 300 for percale fabric or 600 for sateen fabric? That's a ply-ful of baloney! 
Thread counts above 300 or 600 are often inflated by manufacturers who use ply yarns. Ply yarns are made by twisting together two or more single threads, which artificially increases the thread count. For example, a 500-thread-count sheet made with two-ply yarns is actually only 250 single threads per square inch.
So, what should you look for instead? 
Enter: GSM. 
GSM is grams per square metre and another metric that can be used to measure the quality of bed sheets. GSM measures the weight of the fabric, which can give you an idea of its thickness and density. A higher GSM means that the sheets are heavier and more substantial, which can make them feel warmer and more luxurious.
Why is this a better indicator of quality than thread count? GSM is a more transparent measurement of fabric. You can use GSM to decide whether you want a lighter or denser fabric, depending on your personal preferences and sleeping needs.
Buying new bed sheets? Here's what you need to consider
In addition to thread count and GSM, there are a few other factors you should consider when buying bed sheets. These include:
The type of material

: Typical luxury sheets on the market are often cotton, percale, sateen, or other synthetic fabrics that boast "higher" thread counts at even higher prices. Don't let them dupe you. Instead, look for pure viscose from bamboo. This material is the mindful option and is popular for its lightweight breathability and silky softness.

The weave

: The weave of the fabric can also affect its softness and durability. A sateen weave is known for its smooth feel, while a percale weave is known for its crisp, cool feel. But, you'll want the best of both worlds, right (at a fraction of the cost)? Look for sheets woven to perform—with fibres woven so small thread count doesn't even need to come into play (

hint: bamboo viscose fabric

).

Your budget

: Bed sheets can range in price from a few dollars to hundreds of dollars. It's important to set a budget before you start shopping so that you don't overspend. 

The reviews

: Before you buy any bed sheets, be sure to read reviews from other customers. Don't spend your money with a company you can't trust! This can give you a good idea of the quality of the sheets and whether they're worth the price.
The Best Bed Sheets Out There
Buying your bedding can be a daunting task, but it shouldn't have to be. That's where Cosy House comes in.
If you're looking for a high-quality bed sheet set that will last for years to come, be sure to check out our selection of sheet sets! We offer a variety of styles and fabrics to choose from, so you're sure to find the perfect set for your bedroom. Plus, our sheets are backed by our satisfaction guarantee, so you can buy with confidence. 
What about bed sheet quality indicators, you ask? Great question. Our sheets offer you:
Premium bamboo viscose blends that are much softer and stronger than traditional Egyptian or Pima cotton sheets with high thread counts.

Higher GSMs than the majority of competitors on the market. 

Soft and smooth luxury that looks as good as it feels.

Wallet-friendly prices.

Temperature regulation to balance body heat and keep you cool all night.

Hypoallergenic properties to resist common household non-living allergens. 
Day or night, hot or cold. Our dreamy sheets are just what you need for your best sleep.
What do you think about GSM? What are your top tips for determining bed sheet quality? Let us know in the comments below! The Cosy community loves to hear from you.
We've gone ahead & enclosed a 10% off coupon below for you to use if you'd like to take the plunge and try out our sheets for yourself! To shop our collection & get 10% OFF Use the code 'BLOG10' at checkout.