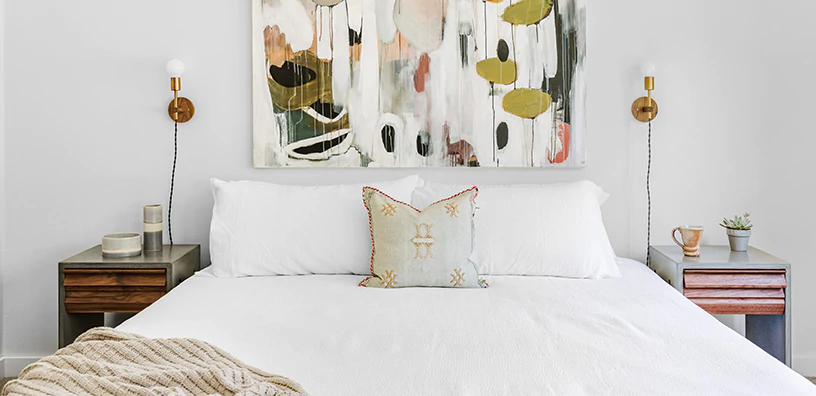 Choosing the Perfect Bedroom Colour Palette
A well-designed bedroom serves a bigger purpose than just looking good. It can promote better rest, success, happiness, and overall togetherness in your life. No pressure, right? 
It doesn't need to be overwhelming. If you're looking to spruce up your bedroom, or completely revamp it, the best way to start is to find a colour palette that speaks to you.
Colour has power. It's used to evoke emotions and moods and tell a story. The colours of your space reflect how you feel in that space. From clean neutrals to bold and beautiful colours, you can easily transform how you feel in your bedroom. 
Who knew colours could do so much?
Before You Start
Before you start throwing paint onto your walls and buying décor, there are a couple of things you should keep in mind when choosing your bedroom colour palette. 
Tip #1 - Choosing a Scheme
There are 3 different types of colour schemes you can choose from: Analogous, Complementary, and Monochromatic.
Analogous involves choosing 3 or more colours that are next to each other on the colour wheel. One of the colours will be the dominant hue, while the others work as secondary or accent colours. Think of it as a gradation of colour.
Complementary colours are opposites of each other on the colour wheel. Complementary colours allow you to play around with a variety of colours, while still making the room cohesive. The results are eye-popping and contrasting.
Monochromatic uses a single colour but in a variety of hues and tones. This creates a sophisticated and relaxing vibe. When using a single colour like this, playing with patterns and textures for décor can be fun and add personality to the space. 
Tip #2 - Work With Natural Light
When choosing the colours of your bedroom, working with the natural light coming in can help you choose between warm and cool.
Cool colours, such as blue, green, grey, and purple, absorb the light. This can make the room feel cooler and, in some cases, more spacious. If your bedroom is bright and sunny, choosing cool colours will balance the light. If your bedroom gets minimal natural light, it can give it a moody feel. Cool colours typically work best because they can create a relaxing and calming environment.
Warm colours, such as brown, beige, orange, etc. reflect light, making your room feel warmer and cosier. If your bedroom gets minimal natural light, warm colours can add life to your space. On the other hand, if your room gets a lot of natural light, it will make the room feel even brighter and uplifting. 
Tip #3 - 60-30-10 Rule
This rule can help guide you in deciding on room décor, as well as painting your space. The rule is very simple:
60% of the space will be the main colour (this is typically the more neutral colour of the palette)

30% of the space will be the secondary colour (the medium/bolder shade of the palette)

10% of the space will be the accent colour (the boldest shade of the palette)
This rule can especially be helpful if you are using dark colours in your bedroom palette. Dark colours can make your space feel cosier if it is a large space since dark colours typically make a space seem smaller and more intimate.  
Tip #4 - Forget What's Trending 
We know, this tip sounds crazy, but hear us out. If what colours are trending speak to you, then by all means choose those colours. However, it is always important to remember that this is YOUR bedroom and YOUR sanctuary.  
Choose a colour that you love and you can live with for a long time. If you're unsure, test the colours with either paint swatches or fabric samples. A colour you might like in the store may look completely different in your lighting at home.
So go bold, moody, or neutral — it is completely up to YOU!
Bedroom Colour Palette Inspiration 
Whether you're looking to paint your whole bedroom, an accent wall, or find the perfect sheets and décor, creating your bedroom oasis can be a fun process. The possibilities are endless!
There are SO many different palette options you can choose from, but we're going to outline a couple of our favourites. 
Neutrals
Neutrals are a great, safe choice since they are so versatile. Colours like white, beige, and tan bring balance to the room and don't have much of an impact on mood. This makes neutrals also a great option if you're decorating a guest room.
The Vibe: Light, Clean & Crisp, Calming — especially if there is a lot of natural light coming in.
Complementary Colours: Generally supports all colours
How to Make it Work: Decorate using textures and patterns to add a little bit of character to the room.
Sage Green
Classical, earthy, and minimalistic — sage green is becoming a very popular colour choice. It is a pop of colour that isn't too bold. It can tone down brighter accent colours or add life to some neutral colours. 
However, sage green is more than just aesthetically pleasing. It provides a calming effect and gives a room the feeling of space and relaxation. Think of it as how a house full of plants can relax you (but without the added maintenance).
The Vibe: Earthy, Serene, Spa-like 
Complementary colours: White and grey. A muted red. Yellow. Dusky pink.
How to Make it Work: Natural finishes, houseplants. Use it as an accent wall or as your main colour for your décor.
Burgundy
Red can be a difficult colour since it is stimulating and powerful. However, if you're wanting that bold look, a muted burgundy is the perfect colour to go with your bedroom. 
While burgundy is a great colour choice for a bedroom, it might be best to use the colour sparingly or complement it with more muted colours. This is due to the fact that any shade of red carries a lot of energy and can be overstimulating and cause irritability when trying to go to sleep. When used correctly, burgundy can make a room feel warm and cosy.
The Vibe: Comfort, Passionate, Powerful, Bold & Daring
Complementary colours: Neutrals, Black, Navy blue, Brown, Green, Gold
How to Make it Work: Use as an accent wall, or as an accent colour for décor.
Silver
Silver can be incorporated into a bedroom palette in a variety of ways. It adds just enough metallic and edge to give your bedroom a whole new feel. 
Since silver is in the grey family, no matter what colour you choose to accent the room, it'll still be eye-catching. It is also a great foundation colour if you're someone who loves to decorate per season or holiday.
The Vibe: Clean, Sophisticated, Modern
Complementary colours: Typically depends on the shade of silver, but generally silver supports all colours.
How to Make it Work: Mix and match elements and tones, use silver as décor and accent pieces, or find a fun silver wallpaper to add texture or patterns.
Dark Teal
This deep, blue-green shade can easily transform your bedroom into a relaxing oasis. Dark teal is a great bedroom colour because it is more versatile than you would think — it's modern, yet retro. Tropical, yet sophisticated. Relaxing, yet eclectic and edgy.
This also means you can transform your bedroom with either warm colours or cool colours. Dark teal can go with so many different colours and shades, so it is a colour you can have fun with when it comes to decorating your bedroom.
The Vibe: Calming, Lush, Moody, Unique
Complementary Colours: White, Black, Gray, Purple, and more — it all depends on if you want to go with a cool or warm bedroom. 
How to Make it Work: If your bedroom is smaller, go with dark teal and lighter colours so it seems more open. If you're looking to fill space, choose a darker shade to go along with the dark teal.
Chocolate
While many may think of chocolate brown as a colour for accent pieces and furniture, the colour can actually be a great choice for the main aesthetic of your bedroom. 
Your bedroom should feel relaxed and comfortable, and chocolate brown is a great colour to achieve that. Many many think chocolate brown is a boring colour, but since it is so versatile life can easily be added to what some consider a "lacklustre" colour.
The Vibe: Cosy, Romantic, Warmth, Rustic
Complementary Colours: Generally supports all colours
How to Make it Work: Add patterns and textures, decorate with neutral colours for a lighter feel or darker accent pieces for a moody, cosy feel.
Once you have nailed down what feeling or energy you want for your bedroom, use that colour as your starting point. Let it influence your choice of furniture, fabrics, paint, and accent pieces to create the atmosphere you desire most. 
You don't have to do a complete design overhaul to have the ideal ambience in your bedroom. Simply updating the colour of your linens, hanging plants, or adding new beddings and small décor pieces could be enough to do the trick!
If you're looking to incorporate your favourite colours more subtly, be sure to check out our Cosy House Luxury Bed Sheets. We offer them in 13 colours, including the colours mentioned above!
We've gone ahead & enclosed a 10% off coupon below for you to use if you'd like to take the plunge and try out our sheets for yourself! To shop our collection & get 10% OFF Use the code 'BLOG10' at checkout.