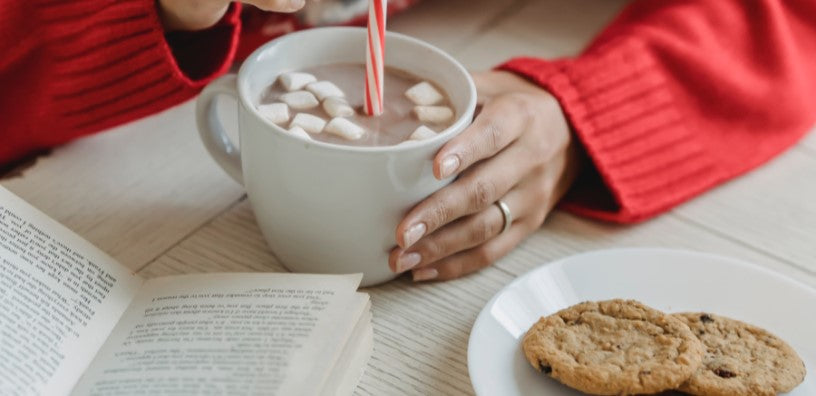 Best Ways to Enjoy Cold Winter Nights at Home
Curious to know how to not hate winter? It's all about the atmosphere. We're talking about that cosy, warm, and fuzzy feeling that is best associated with the colder weather. If you're finding yourself dreading the colder winter nights, it's time to learn how to embrace them. 
We've got several ways you can do just that. Keep reading!
Enjoy Winter in The Comfort of Your Home (Even If You Hate It)
You're not alone in the struggle that is the winter season. Shorter days and longer nights are a recipe for boredom, loneliness, and the inevitable 'winter blues.' Don't fret. We've got you covered with a few tips and tricks for really enjoying those cold winter nights at home. 
Grab Some Hot Cocoa (or Just Something Hot)
One of the easiest ways you can get into the cosy spirit that the winter season brings is by finding comfort in the sip of a warm beverage. You can keep it simple with a classic mug of hot cocoa with a few mini marshmallows on top, or get a little fancier with a hot toddy, an herbal tea flavoured to your liking, or even a hot cappuccino (add some foamed milk and a dash of cinnamon for a bit of 'zhoosh'). 
Cuddle Up & Calm Down
'Tis the season for bundling up … and getting some serious relaxation downtime. The Luxury Bamboo Weighted Blanket is calling your name. Our weighted blanket is crafted with unique deep-touch pressure stimulation technology that's created by thousands of tiny glass beads evenly distributed throughout the fabric which help promote calmness. Did we mention that it's also encased in our hypoallergenic Luxury Bamboo Viscose Cover, which is silky-soft, comfortable, and breathable? You'll stay cosy, relaxed, and bundled up in a big, warm hug. 
Take Time to Restart That Creative Pursuit 
Have you put aside your projects for the majority of this past year because of your hectic, busy schedule? Winter is the perfect time to finally sit down and get creative (you're stuck inside anyway!). Pull that project you put on the back burner out and get your creative juices flowing. Spend this time on your favourite hobbies and creative pursuits, whether it be scrapbooking, writing, sewing, painting, drawing, or even just making some homemade gifts for loved ones. 
Cook Some Seasonal Goodies
Winter is the season for indulging in those home-baked treats and hearty entrees. Canned applesauce, frozen berries, thick soups, sourdough bread, scones, pies, cookies, and homemade cakes are just a few of the seasonal, whole foods a lot of us look forward to all year long. But don't forget, healthy food can be comforting, too. Make sure you're still getting in your daily value of fruits and veggies this winter! 
Not sure where to start? Check out this easy recipe for Sweet Golden Dumplings with Ginger Sauce to warm up even on the coldest days:
INGREDIENTS
For the dough
350g plain flour

7g fast-action dried yeast

125ml whole milk

2 medium free-range eggs

3 tbsp caster sugar

1 tbsp rum

1 tsp vanilla bean paste

3 tbsp unsalted butter, melted, plus extra to brush and grease
For the sauce
300ml whole milk

3 medium free-range egg yolks

3 tbsp caster sugar

4 tsp plain flour

2 tsp vanilla bean paste

1 tsp ground ginger, or more to taste

Icing sugar to dust
You will also need
INSTRUCTIONS
In a mixing bowl or stand mixer fitted with a dough hook, combine all the dough ingredients apart from the butter and knead/work until they form a soft dough. Add the melted butter little by little, incorporating it well after each addition. Knead/work for about 5 minutes, then cover and leave to rise in a warm place for 1 hour.

Grease the round baking dish with butter. Tear off a 50g piece of dough and form it into a ball. Roll it briefly in a little more melted butter and put it in the dish. Repeat with the rest of the dough, circularly arranging the balls with one in the middle (you should get around 12 balls in total). Cover and leave in a warm place for 30 minutes until doubled in size. The balls will join together to form a tear-and-share loaf.

Meanwhile, heat the oven to 160°C fan/gas 4. Once the dough has doubled in size, bake for 25-30 minutes until golden brown on top. Remove from the oven and set aside while you make the sauce.

Put the milk in a pan and bring it to a gentle simmer. In a heatproof bowl, beat the yolks with the rest of the sauce ingredients (apart from the icing sugar) to a runny consistency. Slowly pour the milk over the yolk mixture, stirring constantly, then transfer the mixture back into the pan. Simmer over low heat, without boiling, until the sauce thickens slightly.

Lightly dust the warm buns with icing sugar. To serve, tear off 2 buns and put them in the centre of a plate, then pour the sauce around it.
Invest in Human Connection 
This winter, connect in a real person-to-person way. That means skipping out on emails or text messages and putting electronic devices down. Instead, invite friends and family over. You can host a soup swap, have a movie night, gather around the fireplace, play a board game, or even host a bake-a-thon.
You can also invest in human connection this winter through simple acts of kindness. Go through your closets and find old clothes, hats, or blankets that you can give as donations to local charities. Write letters to those in need (look into snail mail nonprofit organisations). Being kind is free and easy. 
Give in to the Urge to Hibernate 
Time to sleep! If you're feeling the urge to take that afternoon nap, go ahead and take it. Stay warm under a Cosy House Fleece Blanket when you heed the call to go to bed early or take a nap. Made with 100% microfiber polyester, our hypoallergenic blankets are designed with a fleece finish for superior softness and cleanliness. They can be used on beds or as a cuddly spare blanket for couch time and hosting guests.
It's perfectly normal to feel a little more tired during the winter months. If you're thinking of hitting the hay early, it's a good idea to invest in some Lux Bedding designed to circulate airflow and regulate your body temperature during frigid weather. Queue our hypoallergenic Luxury Down Alternative Duvet, which is made of a soft, breathable bamboo viscose and microfibre blend that repels common non-living household allergens, wicks away moisture, and will keep you comfortable all night long. Pair with our Luxury Bamboo Duvet Cover to upgrade your bedding and your sleep. Inspired by luxury and leisure, our Luxury Duvet Cover brings you bedtime zen while also protecting your duvet insert and adding flair to your bedroom for an even cosier aesthetic.
Dress up the House for the Season
Spruce your home up for the winter. Making some simple festive changes to each room of the house can bring in the warm, cosiness you're searching for. 
Living Room

: Get out the

cosy blankets

, throws, and furry cushions. Dress up your couch with lots of warm, inviting layers. If you want something big and fluffy for your space that can be used on the sofa or in bed, check out the

Luxury Bamboo Pillow

, which is super soft and indulgent.  

Bedroom

: If the winter chill is leaving you frozen, not only do you need a

thick duvet

, but you'll also need

Luxury Bamboo Bed Sheets

that are softer than cotton and carry thermal-regulating properties that balance your body's temperature as you sleep. 

Other Rooms

: If you're working from home and only using one room, keep it at a cosier temperature with a fire or extra heater. Improve your house's lighting with some scented candles or by opening up the shades on your windows. 
Want to get even cosier this winter? Click here to treat yourself to quality essentials, without breaking the budget.
We've gone ahead & enclosed a 10% off coupon below for you to use if you'd like to take the plunge and try out our sheets for yourself! To shop our collection & get 10% OFF Use the code 'BLOG10' at checkout.