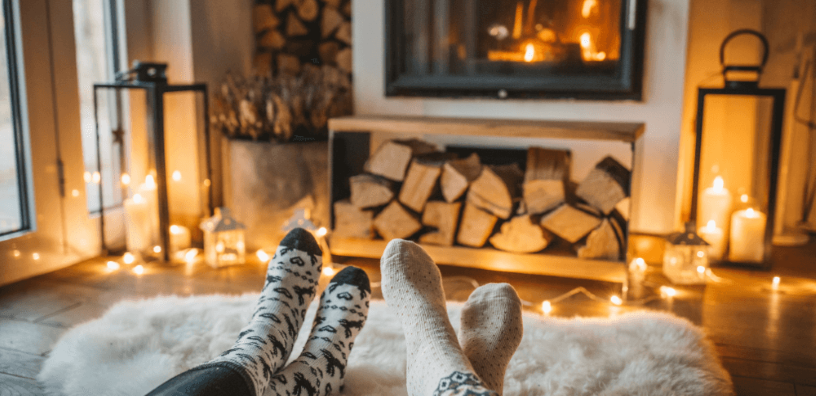 9 Ways to Cosy Up Your Home This Winter
Hygge / hygᐧge / noun
"A quality of cosiness and comfortable conviviality that engenders a feeling of contentment or well-being." 
The days are colder and darker, so chances are you are looking for ways to preserve that hygge feeling or make your home feel warm and cosy. Winter home goods don't all need to be full of neutrals, winter whites, and minimalistic décor. 
Here are Cosy House's tips to make your home feel extra warm and cosy this winter season: 
Choose a Warm Colour Palette
An easy way to amp up the cosiness of your space is to utilise warm colours. But instead of going with the classic holiday colours of red and green, try incorporating warm neutrals and saturated shades to your winter cool hues to create a warm, welcoming ambience that can actually work all year round. 
Utilise Lighting That Glows
Since the days are shorter, your home isn't getting the same amount of that wonderful natural light. Once the sun starts to set, you can create a warming feeling in your home with light fixtures that emit a soft, warm glow. Place floor and table lamps in the darker corners to brighten them up. Opt for warmer colour light bulbs or semi-opaque shades to diffuse light to create the ultimate cosy vibe in your home. 
Add Throw Blankets…Everywhere  
What better way to warm up than with the perfect cosy companion? Keep your favourite blankets out around the house for not only style, but convenience when you need them. Layer on your bed, throw over your sofa, keep one in your den…wherever! 
Cosy House's ultra-soft Everyday Fleece Blanket comes in 8 beautiful colours to match your home or add to your warm colour scheme. And as a bonus, they're super breathable and whisk away excess body heat to ensure maximum comfort not only in the winter, but all year round. 
Also, Add Piles of Pillows 
Add to the comfort of your cosy blankets by adding pillows to create an even more cosy and inviting environment. Fluffy pillows or pillows with texture enhance the look of your sofa or other furniture. 
For your bed, invest in pillows that are comfortable, supportive, and look plush. Cosy House's Luxury Bamboo Pillow is the perfect replacement for your old, lifeless pillows. They're more comfortable than solid memory foam pillows and far more supportive than traditional "premium" synthetic fill. They're also temperature-regulating, hypoallergenic, and perfect for any type of sleeper. 
Make Your Fireplace Your Centrepiece 
Who doesn't love gathering around a warm fire? Fireplaces naturally draw people in, so we suggest adding extra seating or rearranging your furniture so your fireplace is inviting and the centre of conversation. 
Layout Plush Rugs for Underfoot 
Soft, plush rugs are lifesavers for icy toes when your floors turn extra cold in the winter months. Faux sheepskin rugs are perfect for laying out during the winter and feel so irresistibly soft underfoot. Not only do they feel great, but they add to your winter decor and add a level of comfort you may not know you needed.
Hang Heavier Drapes 
Take down the light, airy drapes and opt for thicker fabrics for your windows. Heavier drapes during the winter time not only add a sense of lush elegance and comfort, but also help keep out cold drafts throughout the house. Here are a couple of tips for hanging drapes:
Hang from ceiling to floor instead of right at the top of the windows. This helps make the room look bigger, too.

Get the right size—drapes should hover just slightly above the floor. This helps to ward off dust and avoid tripping hazards. 
Put Out Accessories That Go With the Seasons
Adding seasonal accessories to your home is an inexpensive way to enhance your home. Think of small things like seasonal muted-toned towels, blankets, small area rugs, or simple décor pieces. 
Layer Your Bed with Luxury Cosy Bedding
Remember those pillows and blankets we discussed earlier? This is another place where they come into play. Layering your bed with quality linens is the perfect way to cosy up and stay warm after a long winter day. Luckily, you can layer with fabrics that are made for all seasons, so you don't have to worry about buying bedding that is only suitable for winter or summer. 
Cosy House's line of Luxury Bedding is ultra comfortable, temperature-regulating, and breathable—perfect for all seasons. Start with our Luxury Bamboo Bed Sheets, add our Luxury Bamboo Down Alternative Duvet paired with our Luxury Bamboo Duvet Cover, and layer with our Everyday Fleece Blanket or Weighted Blanket for extra warmth. Top off with our Luxury Pillows and Pillowcases. Now you have the perfect cosy bed to curl up in during winter.
How will you make your home cosy this winter? Let us know your tips and tricks in the comments!
Ready to start shopping for your cosy bedroom necessities? Click here to start shopping!
We've gone ahead & enclosed a 10% off coupon below for you to use if you'd like to take the plunge and try out our sheets for yourself! To shop our collection & get 10% OFF Use the code 'BLOG10' at checkout.