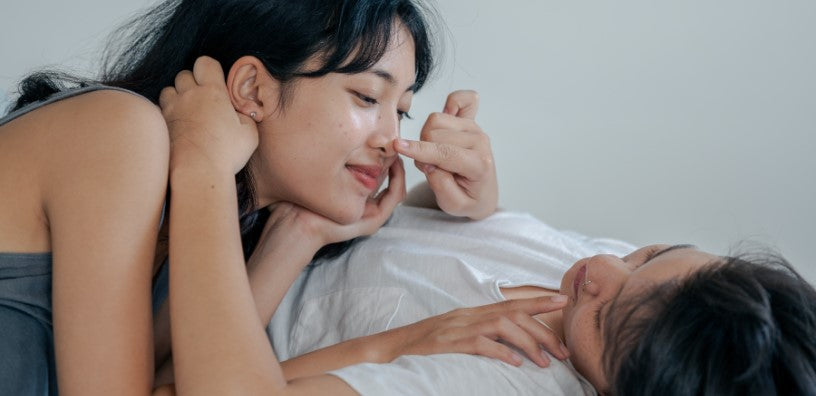 9 Quick & Easy Romantic Bedroom Ideas
For many people, day-to-day life can get hectic, and oftentimes, "true romance" can be forgotten or an afterthought. 
During this time of year, love is in the air and your bedroom wants in on the intimacy and romance. 
Even with the busiest of schedules, simple steps can transform your space. And we're here to help! Check out our list of 9 quick and easy ways to show your partner you care.
Put the Focus on the Bed
The bed is the focal point of your bedroom—make it grand and inviting. Nothing says romance like a four-poster bed or adding a canopy. A canopy gives a sense of opulence and an airy fairytale-like feel. If neither of these is your style, maybe opt for a statement headboard, like a velvet tufted bed.
Mood Lighting & Candles
The ideal lighting to create a romantic atmosphere is warm, soft, and inviting. Low lighting, specifically in warm tones, help create the feeling of intimacy and privacy. To enhance the calm, relaxed feeling, place your lights along the outside walls.[6]
In terms of candles, or even incense or essential oils, certain scents are deemed more romantic than others. Rosewood and patchouli are known as aphrodisiacs. Other romantic options include jasmine, lavender, or cherry blossom.[5] However, tread lightly with the sense of smell—overpowering scents can kind of ruin the mood. 
Unscented candles can be placed all around the room for added ambience. Use different heights and sizes to switch it up. 
Add a Mirror
Did you know that you could enhance your room by simply adding a large mirror? 
Place a mirror in your bedroom in a way that will reflect softened light. Mirrors amplify whatever it is reflecting, adding depth to your bedroom.  
Flowy Window Treatments/Curtains for Privacy
Soaking in natural light is great, and found to be beneficial for you.[4] But sometimes, you want to set the mood (and get some privacy).  
When choosing window treatments that are alluring, flowy, plush, and dark. These will help block out lights and help decrease external noise, all while levelling up the room a bit, too. 
Channel Your Favorite Holiday Destination 
Think of your favourite vacation destination. Is it where you honeymooned? A romantic getaway that you'll never forget? A secret spot that you dubbed "yours?" 
Bring elements of your favourite spot to your bedroom. These elements could be pieces of art, photographs, or even colours and textures that might trigger a memory. Find a candle that matches the trip—ocean breezes, campfire, nature scents, or anything similar. You'll be able to look at these elements and instantly bring up fond memories that take you and yours back.
Add Some Music
Music is good for the soul, and there are scientific studies to prove it. According to a McGill University study, music can cause a release of dopamine, the "feel-good chemical," in the brain. To add to it, singing can release oxytocin, the "cuddle hormone," adding to positive feelings associated with music.[1] 
To go further beyond hormonal effects, music possibly impacts the way you look at a loved one or how you emotionally feel. A study coming out of the University of London found music can play a role in the way one relates emotionally to another's face.[2] Additionally, another study states that once you create a relationship with a song or piece of music ("your song") it can consistently bring forth positive feelings for you.[3]
Convinced? If the answer is yes—consider adding a smart speaker or Bluetooth speaker to your bedroom. Create your personalised playlist with songs that make you happy or songs that are meaningful to you and your significant other. There's nothing better than playing "your song" and falling in love all over again.
Choose the Right Colours
What are the most romantic colours for a bedroom? The ones that make you and your significant other feel happier at home.
When creating your bedroom colour palette, follow this formula: Pick four or five colours for your bedroom. Two to three of these will be your base colours, with one or two being your accent colours.
While quieter and neutral colour palettes are trendy and airy, darker colours work well when creating a romantic space. This is because they create depth and a cosy, cocoon-like feel. However, both vibes work well when creating a romantic bedroom. Here are some colour ideas for you to try:
Jewel tones

: Black, grey, sapphire blue, emerald green, and deep purple.

Light and airy

: Ivory, white, beige, light pink, and gold.

Sophisticated

: Tan, grey, white, and navy blue.
Plush Elements

Soft textures, draping fabrics, lush and cosy elements—all of these things can add to the romantic feel of a bedroom. Here are some ways to enhance your romantic space:
Pillows:

Add a pile of pillows to make your bed look comfy and inviting. Our

Luxury Bamboo Pillows

are made to give your head and neck extra support, coolness, comfort, and cosiness. Plus, they are crafted with a bamboo viscose fabric for extra softness and breathability.

Plush Bedding:

Something about plush, cloud-like bedding is just so…romantic. Our

Luxury Bamboo Down Alternative Duvet

is the definition of cloud-like and can upgrade the vibe of your bed. Drape our

Everyday Fleece Blanket

to mix up textures and add another layer of cosiness.

Shag or Faux Fur Rug:

Imagine getting out of bed and feeling a super soft, lush rug under your feet. What better way to start the day? 
Splurge on Bedding

Your bedroom, especially your bed, should look inviting. So go all in on your bedding choices. Look for soft and cosy bedding, blankets, and pillowcases that make you want to dive into bed and stay awhile. 
If you want a resort-quality escape, we have you covered. Cosy House carries a line of luxury bedding you'll never want to leave. Our superior Luxury Bamboo Bed Sheets and Luxury Bamboo Pillowcases are crafted from silky soft bamboo viscose, making them lightweight and breathable. 
For extra cosiness, add our Luxury Bamboo Duvet Cover to our Down Alternative Duvet for some bedtime zen while also protecting your duvet insert and adding flair to your bedroom. For even more plushness and pampering, use two duvet inserts rather than just one. 
Ready to spice up your bedroom? Click here to start shopping!
How do you add romantic touches to your bedroom? Which of these ideas do you want to try? Let us know in the comments! We love hearing from our Cosy Community!
We've gone ahead & enclosed a 10% off coupon below for you to use if you'd like to take the plunge and try out our sheets for yourself! To shop our collection & get 10% OFF Use the code 'BLOG10' at checkout.
Resources:
Salimpoor, V., Benovoy, M., Larcher, K. et al. Anatomically distinct dopamine release during anticipation and experience of peak emotion to music. Nat Neurosci 14, 257–262 (2011).

https://doi.org/10.1038/nn.2726

Logeswaran N, Bhattacharya J. Crossmodal transfer of emotion by music. Neurosci Lett. 2009 May 15;455(2):129-33. doi: 10.1016/j.neulet.2009.03.044. Epub 2009 Mar 17. PMID: 19368861.

Pereira CS, Teixeira J, Figueiredo P, Xavier J, Castro SL, et al. (2011) Music and Emotions in the Brain: Familiarity Matters. PLOS ONE 6(11): e27241.

https://doi.org/10.1371/journal.pone.0027241

Garone, S. (2020, August 11). 11 things to know about natural light and your health. Healthline. Retrieved November 3, 2022, from

https://www.healthline.com/health/natural-light-benefits

 

National Candle Association. (2019, July 29). Love is in the air: The best candle scents & settings for Valentine's day. Love Is In The Air: The Best Candle Scents & Settings For Valentine's Day. Retrieved November 4, 2022, from

https://candles.org/love-is-in-the-air-the-best-candle-scents-settings-for-valentines-day/

 

TCP. (2017, December). The Psychological Impact of Light and Color. Aurora.