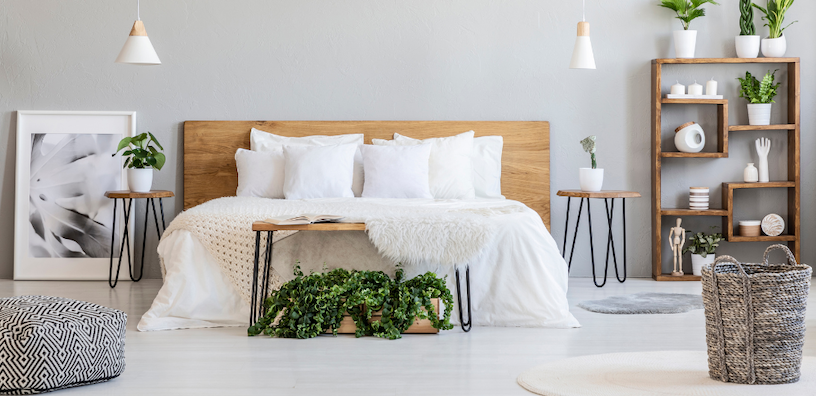 8 Affordable Ways to Improve Your Bedroom
Feeling uninspired by your surroundings? Sometimes the environment around us can affect our mood, following us throughout the day. Unfortunately, home makeovers are expensive, time-consuming, and did we say expensive? Yes, but this does not necessarily mean you can't work your way around and find a loophole. 
Need some ideas? We've created a list of affordable ways to improve your bedroom, while spending little to no money at all. Keep reading to find out these well-kept secrets!
Create Your Own Art
Your bedroom boredom may be caused by a lack of art in your surroundings. Whether it be on your walls or in picture frames, a piece of artwork can be the key to unlocking your inspiration. So how can you decorate your walls with a low budget? Make it yourself! 
Not only is art beautifully encouraging, but it is also a great way to unwind and let out your creativity. Who knows what kind of artwork can motivate you better than yourself? Here are some affordable ideas you can make come to life: 
Use paint and canvas to design a painting of your favourite song lyrics

Play with paint splotches on canvas

Print out images of the things you love to create a vision board

Find vintage movie posters at record stores

Paint frames from thrift stores
Find new ways to express yourself, while adding your own unique flare to your living space. And the best plus: it's affordable! 
Declutter
To make your bedroom organized without seeming boring, you could opt for the minimalist aesthetic with small accents. It is important to keep your room organized, seeing as messy living environments can lead to stress, anxiety, or even depression [1]. 
Decluttering your room could consist of getting rid of clothes you no longer wear, storing most objects inside cabinets and drawers, and asking yourself which items no longer serve a purpose for your daily life and letting them go. Decluttering can make you feel like your room is brand new, while spending no money at all.
Accent Details
Once you've decluttered your space, consider keeping your room basics to neutral colours. For instance, keep your drawers, curtains, and bedsheets in neutral colours. After the basics are established, you can add a pop of colour through small accent details around your space. Details in accent colours can include the following: 
Accent 

rug 

– the rug's colour is enough to bring excitement into the room but not enough to cause a distraction.

Accent lamp – bring light into your room with a pop of colour.

Bright-coloured artwork – as previously mentioned, express yourself through art and make your work stand out on your walls. 
By keeping your space neutral with a pop of colour, you may be able to let your mind rest while being inspired at the same time. 
Affordable Luxury Bedding
When it comes to bedding, people often forget how the material of their bed sheets may affect their sleep quality in the long run. By investing in affordable luxury bedding, not only will your room look great, but your sleep quality will make your room really feel like a place of rest and recharge. 
Cosy House offers a variety of products to improve your sleep quality and room style. Luxury Bamboo Bed Sheets have thermal-regulating properties to balance your body temperature during the night, avoiding those annoying body sweats. Additionally, their bamboo viscose blend makes them easy to clean, warding off common household non-living allergens. 
Comforters are an easy and affordable way to make your bed look like it came out of a movie set. With Cosy House's Luxury Bamboo Duvet, your bed will look as soft as a cloud, and it will feel like it too. And the best part, its hypoallergenic qualities will go easy on your sensitive skin and nose. To avoid neck pain in the morning, the Luxury Bamboo Pillow can keep your head in the proper placement for a full night's rest. Say goodbye to restless nights and hello to endless comfort! 
Click here to find out more!   
Natural Touch
When it comes to decorating, we often forget the refreshing touch that can be offered by plants. Adding an aspect of nature to your room can bring peace to the space, as well as adding a pop of green to the room. Popular plants to keep indoors include: 
Snake plant 

Golden Pothos

Aloe Vera

Heart Leaf Philodendron
These plants make for beautiful room decor, while also offering your space a breath of fresh air (literally). 
Rearrange Your Furniture 
A great way to amp up your room is to change its layout. You might be bored with the way your room looks, but with a change of place, your furniture will feel brand new. You can rearrange your furniture and determine which pieces you don't need anymore, making your room feel more open. You could try moving your bed from the corner of the room to the centre, switching dresser placements, and seeing which way your furniture looks best with your newly-made artwork. 
Decluttering your room before moving your furniture will make the process easier. Your drawers will be lighter to move and you can truly see which pieces of furniture hold no use anymore. 
Mirrors
Mirrors are a great way to enhance your room. They reflect the natural light, brightening your room throughout the day. Additionally, mirrors can trick the eye into seeing more space, making your room look bigger. 
A great way to find affordable mirrors is to look for them at your nearest thrift store or vintage store. This way, you can find a mirror at a reasonable price, while fixing up minimal details yourself. 
Lighting
The best source of light for your room is natural light. However, if windows are oddly placed, it may be difficult to allow for the light to liven up your room. But don't fret! There are simple, affordable ways to bring light into your space. 
Adding suspending bulbs to bring light inside is a stylish alternative. They are small yet chic, not causing distraction from the accent pieces around your room. Similarly, fairy lights have become a popular piece to add to the bedroom. They are small and delicate, but when arranged together, can bring a light and whimsical feeling to your room. And the best part, they are very affordable and easily available. 
It is important to feel comfortable and inspired in your living space. Avoid spending money on expensive decorations that may not have much meaning to you, and make your space truly your own through these inventive ideas. Let us know how you revamped your room in the comments! 
We've gone ahead & enclosed a 10% off coupon below for you to use if you'd like to take the plunge and try out our sheets for yourself! To shop our collection & get 10% OFF Use the code 'BLOG10' at checkout.
Sources: 
NASA. (n.d.). 
Interior landscape plants for indoor air pollution abatement - NASA technical reports server (NTRS)
. NASA. Retrieved from 
https://ntrs.nasa.gov/citations/19930073077