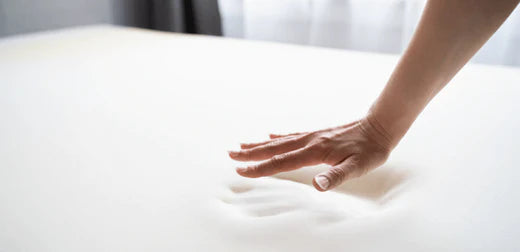 7 Tips to Make a Memory Foam Mattress Cooler
Memory foam mattresses are great for those looking for added support and love the comfortable cradle-like feeling they can provide. However, did you know that the same properties that make memory foam mattresses so comfortable, also tend to be their weakness? 
Memory foam is notorious for absorbing and trapping heat while you sleep. There's not much worse at night when you're so tired and ready for bed, only to crawl into a warm, heat-trapping bed. Talk about a buzz-kill.
If you have a memory foam mattress—or are considering one—you may want to read this!
Why Do Memory Foam Mattresses Get Hot?
Thanks to the density of memory foam mattresses, they tend to be less breathable than other materials. Its body-hugging properties also play a role, as it is more likely to absorb and contain your body heat. 
Want to experience the benefits of a memory foam mattress, but aren't into the idea of possibly sleeping warmer at night? No need to lose hope—there are steps you can take and bedding necessities you can get that make sleeping at night a little cooler for you.
7 Tips to Make a Memory Foam Mattress Cooler
1. Quality Foundation
To start things off, you need to take into consideration what your mattress sits on. If your mattress is on the ground or on a solid platform foundation, airflow can be constricted and can contribute to moisture retention and heating of the mattress. 
For a memory foam mattress, try a structural platform. It allows air to pass through your bed, which will keep you and your mattress breathing easily. To get your mattress off the ground and allow for even more airflow, add a bed frame.
2. Add a Mattress Topper or Mattress Protector
For an inexpensive fix, consider a mattress topper or mattress protector. They are typically thin enough that they won't change the overall comfort of your mattress but can add to comfort in terms of cooling qualities.
A good mattress protector is designed to wick away moisture, is breathable, and helps keep you cool. Cosy House's Bamboo Mattress Protector is temperature-regulating and has the added benefit of expanding the life of your mattress while improving your quality of sleep. 
3. Sleep with Cooling Linens
Your sheets and pillowcases may not be helping your cause when it comes to sleeping hot. Sheets are the buffer between you and your mattress, so the material and weave of the sheets can have a significant impact on how you're sleeping.
Cooling sheets are breathable and don't retain heat, so they can do wonders for your quality of sleep.
Cosy House's Luxury Bamboo Bed Sheets are made with hot sleepers in mind. They're made with an ultra-breathable and lightweight bamboo viscose blend. They carry thermal-regulating properties that wick away moisture and balance your body's temperature as you sleep. Enhance your sleep experience even more with matching Luxury Bamboo Pillowcases.
4. Use Cooling Pillows
Another accessory that may need to be replaced is your pillow. Pillows are just as important as mattresses when it comes to comfort levels. When your head gets hot, your body temperature will also rise to match. 
Our Luxury Bamboo Pillow helps regulate temperature while also truly enhancing your comfort. It's encased in our bamboo viscose blended fabric, which is breathable and moisture-wicking to help circulate airflow, wicking away excess body heat for a cooler sleep every time. 
5. Wear Cool & Comfortable Sleepwear
Another thing that can have a significant impact on your body temperature and sleep quality is the sleepwear that you choose to wear. If you sleep on the warmer side, ditch the flannel pj's and opt for more natural fibres.
For ultimate breathable comfort, choose lightweight clothing. We recommend loungewear designed to breathe rather than trap body heat. You'll want clothing that is moisture-wicking and able to give you a cooling night's rest so you can rest easy. 
6. Turn Off the Lights
A small thing you can do is keep your lights and electronics off when going to bed. Lamps, overhead lights, and other electronic devices can produce extra heat when they're on. Turning off all of your lights and electronics before bedtime can help in terms of the temperature of your room.
7. Set Up Your Sleep Environment for Success
Controlling various elements in your bedroom environment, such as airflow and temperature, can make a huge difference when it comes to cooling you down at night. 
We touched on the importance of airflow above, but how do you increase airflow in your space? To increase airflow, consider opening a window or setting up a small circulating fan. 
For increased cooling effects, keep your bed by air vents and keep your windows covered during the sunniest hours of the day. Additionally, the temperature of your room is one of the most important factors in getting quality sleep. Experts recommend keeping your sleeping environment around 18.3 degrees Celsius. [1,2,3]
Cosy Keeps You Cool
When you sleep well, you feel well. Cosy House's line of Luxury Bedding and accessories keep you cool and comfortable for true restful relaxation. 
Ready to take the steps to enhance your quality of sleep? Click here to start shopping!
We've gone ahead & enclosed a 10% off coupon below for you to use if you'd like to take the plunge and try out our sheets for yourself! To shop our collection & get 10% OFF Use the code 'BLOG10' at checkout.
Resources:
Obradovich N, Migliorini R, Mednick SC, Fowler JH. Nighttime temperature and human sleep loss in a changing climate. Sci Adv. 2017 May 26;3(5):e1601555. doi: 10.1126/sciadv.1601555. PMID: 28560320; PMCID: PMC5446217.

Okamoto-Mizuno K, Mizuno K. Effects of thermal environment on sleep and circadian rhythm. J Physiol Anthropol. 2012 May 31;31(1):14. DOI: 10.1186/1880-6805-31-14. PMID: 22738673; PMCID: PMC3427038.

The best temperature for sleep: Advice & tips. Sleep Foundation. (2022, September 29). Retrieved November 2, 2022, from https://www.sleepfoundation.org/bedroom-environment/best-temperature-for-sleep