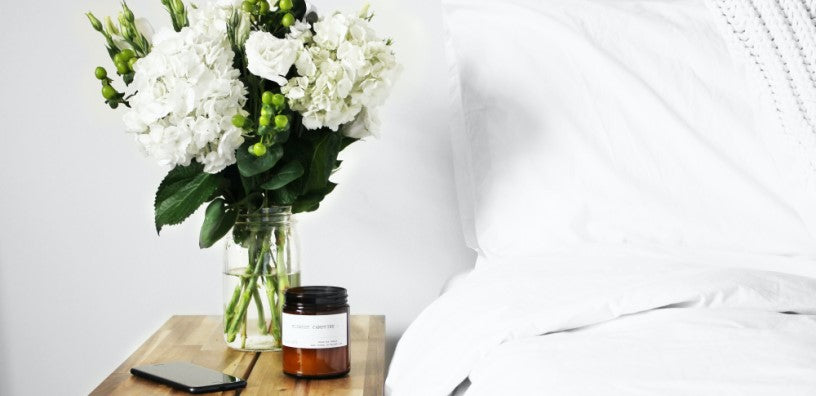 7 Tips for Getting Your Bedroom Ready for Spring
It's springtime. Think blooming daffodils. Think mowed grass. Think April showers and Easter. Think pool parties and sunshine and laughter. 
Now think about what you don't need in your bedroom. Why? Because it's time to transform your bedroom into a springtime sleep oasis, and that means decluttering!
Don't worry, it doesn't all have to be about spring cleaning. You can still think about those yellow daffodils, and you can even include them in getting your space ready for spring.
How? Keep reading to find out!
The Basics
Shedding the winter months means opting for lighter, more airy, breathable aesthetics. This might look like updating your colour palette with blush tones, blues, whites, and creams. To make it simple, you can try layering cheerful spring colours over icy neutral shades. 
Spring is all about new life. It's all about vibrancy. You can get started by checking out some new vibrant, airy bedding. 
Purple or blue luxe duvet covers, bright white duvets, or even a new sage green pillowcase could be the touch needed to transition your bedroom from winter into spring. 
The Seven Tips 
Decluttering
It's time for some good old-fashioned spring cleaning! Put away your winter coats. Store your heavy winter bedding in some storage boxes or baskets. Grab some window cleaning solution and spritz up your windows for more light. Optimise your space by making more space. This will open up your bedroom and make it feel lighter. 
Statement Pieces
For some simple spring decorum, think about a statement piece for the foot of your bed. A trunk or ottoman can add a little bit of fun and playful personality to your room, and even give you some extra storage for all that winter clutter. 
Lighten Up
Springtime means lighter colours, softer, more breathable fabrics, and some light decorating, too. Open up those windows. Take off the drapes and replace them with a thin, white linen curtain. Let the natural light shine in on you. Get a cuddly, cream fleece blanket to layer on top of your other bedding for an ultra-soft and smooth touch.
White Bedding is Your Friend
White coverlets can be a great foundation for new spring bedding, especially if you're looking to layer. You also won't need a heavy duvet anymore. If you're not sure where to start, check out this Luxury Bamboo Down Alternative Duvet. It's great for some bedtime zen and all-night-long temperature regulation due to its moisture-wicking properties. 
Lightweight and Feathery
If you're still clinging to those dreary dark and heavy covers from last winter, it's time to move on to something so much better. Consider some lighter fabrics, lighter textures, and lighter colours and patterns. Springtime is about breathing in that sweet spring breeze and exhaling all those winter blues. Why not try some alternative bedsheets to start? These sheets have a unique bamboo viscose blend that is one of the most breathable and lightweight fabrics on the market.  
Pillows, Pillows, Pillows
Decorative pillows can add a bit of springtime pazazz to your room. You can add lots of pillows for extra softness, plushness, and comfort. Think about what kinds of complementary colours and prints you'd like to add to your springtime space. Want to go for some solid colours? We recommend our Luxury Bamboo Pillow paired with our Luxury Bamboo Pillow Cases for some springtime pampering. These two options give extra support, coolness, and comfort to the head and neck. 
Spring Flowers 
Daffodils, tulips, hyacinths, primrose, pansies, and (a personal favourite) Lilies of the Valley all bloom during the spring. These kinds of flowers are in beautiful shades of yellows, oranges, blues, lavenders, whites, and pinks. 
We recommend finding a white vase or clear jar to maintain the lighter, airy aesthetic of your bedroom, and then picking a bouquet of your favourite spring flowers to place inside. It will add a pinch of vibrancy and colour to your space, and lighten up the room. 
If real flowers are too much of a hassle, don't worry. You can try faux blooms, too. 
Leave a comment below on which tip(s) worked best for you! The Cosy community would love to hear from you!
We've gone ahead & enclosed a 10% off coupon below for you to use if you'd like to take the plunge and try out our sheets for yourself! To shop our collection & get 10% OFF Use the code 'BLOG10' at checkout.