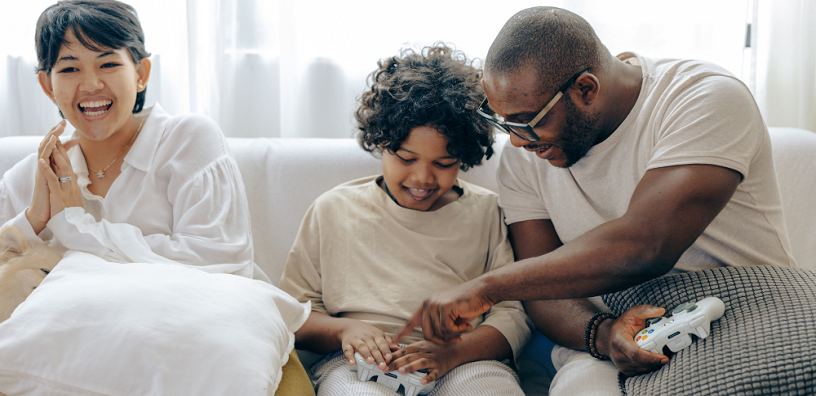 5 Indoor Activities for The Family to Beat The Heat
It's that time of year when things are starting to heat up outside. With it being this hot, it's easy to overheat or get sunburnt in the balmy sun. If you're worried about the heat rolling in, but you still want to have an exciting time with your family, you've come to the right blog. 
Wondering how you can beat the heat, but still keep it fun? Keep reading to learn about some enjoyable family activities to do right at home.
Treat Everyone To A Day of Luxury
A great way to beat the heat this season is to cool off indoors with an at-home spa day. You can pamper the entire family and make memories that will last a lifetime, too. Take a look at our ideas: 
Invitation: Invite your family members to the spa! This is a cute and fun way to create excitement around the day you will be spending together at home. You can create your own or use a template online. If you have some older adults in the family, tell them to wear some comfy loungewear so it feels like a real spa. You can even make a welcome sign and hang it over your bathroom or the room you'll be using as the "spa suite."
Atmosphere: To get everyone at home into the spa mood, turn on some relaxing music that sets the tone for zen. If you want to get really into it, close the blinds, turn on some flameless candles, and decorate the house with some fresh-smelling flowers. 
Stations: Now for the spa. Set up specific stations so people can mix and match, stick to one, or do all three in order. 
Facial Station

: You can create DIY facial masks or grab some from your local drugstore. Some DIY masks include oatmeal, honey, or avocado, so you can create these right at home! If you have cucumbers in the kitchen, slice some up to use over your facial masks to help rest the eyes. 

Bubble Bath Station

: Fill the tub with warm water, essential oils, scented bubbles, bath salts or bombs, or even flower petals for a full effect. When they're done soaking, bring the spa to your family with

Luxury Towels

so they can wrap themselves up in smooth, quick-drying, ultra-absorbance. Your family can enjoy the spa-quality softness, and you can enjoy the fact these towels didn't come with a hefty price tag.

Snack & Lounge Station

: When you're done with your facials and bubble baths, snuggle up together on the couch for some TV time, a board game, or read a book. You can offer spa-themed beverages like berry- or mint-infused water or iced teas, and set the coffee table with yummy finger sandwiches to snack on. Seal the spa-like atmosphere with a

Luxury Weighted Blanket

or an

Everyday Fleece Blanket

that everyone can cosy up underneath together. 
Movie Night (With A Twist)
Having a movie night at home may sound like a given when you're stuck inside, but why not make it a little more epic? 
Build A Fort
Get back to your playful roots and build a movie night fort with your family. To build the perfect indoor movie fort, you'll need lots of sheets, blankets, and pillows to make your fort extra comfy. You can get super creative with it and make the fort as big or small as your family wants. 
Simply tie your sheets and blankets off to chairs or sofas, making sure to drape them into a canopy shape. When the structure is complete, fill the inside of the fort with more blankets and pillows (or even a blow-up air mattress) so the whole family can snuggle together for a big movie marathon. We recommend using a Luxury Bamboo Down Alternative Duvet for the inside of your fort so that it's airy, cuddly-soft, and no one gets overheated. Don't forget the snacks!
Bond Over Baking
If you're all stuck inside now is the best time to finally put the oven to good use. Gather the whole family together for a big cook-along that can not only be a fun way to beat the heat, but a perfect opportunity to connect and bond with loved ones. 
No need to search for an easy-peasy baking recipe to do with your kids, because we've got one for you right here. Check out these Cookie Dough Mini Muffin Bites the whole family will love: 
INGREDIENTS
1 tube refrigerated chocolate chip cookie dough

Miniature marshmallows

Miniature semisweet chocolate chips

Sliced almonds, toasted
INSTRUCTIONS
Adults

: Preheat your oven to 180° Celsius. Grab the ingredients and lay them out on the counter so even your littlest ones can see. Ask them what they think each ingredient is and how you might use them in the recipe so they can get involved. 

The Whole Family

: Let everyone get in on the baking fun by letting each family member have a clump of dough to shape. Each dough ball should be about 2.5 cm in width. Let each family member take turns pressing their dough balls evenly into lightly greased mini-muffin cups.

Adults

: Once they're ready, place your Cookie Dough Mini Muffin Bites into the heated oven. Let them bake until golden (about 10 to 12 minutes). Family members can watch as the baking magic takes place through the oven window. 

Adults

: After about 10 to 12 minutes, use the back of a measuring teaspoon to make an indentation in each cup. You can let your kiddos sprinkle some marshmallows, chocolate chips, and almonds into each indentation, but proceed with caution! Return the bites to the oven, and bake for 1 minute longer. 

The Whole Family

: When the bites are done in the oven, let an adult take them out wearing protective oven mitts. Let them cool completely in pans on wire racks. While they're cooling, give each family member a kitchen towel to clean up the kitchen with. When the bites are soft and not too hot, everyone can dig in together! 
Pro tip: When you're done with your messy kitchen towels, toss them in the washing machine with All Natural Wool Dryer Balls instead of using fabric softeners. Sourced from humanely sheared New Zealand sheep, our Wool Dryer Balls are hand-felted, biodegradable, and free of dyes, chemicals, and fragrances. They reduce static, wrinkling, tangling, and drying time by 30%, making doing laundry a breeze!
Make Up A New Family Game

Family traditions can be super important for connection and bonding. A great way to invest in family connections is to create a made-up game together! For example:
Find The [Insert A Favorite Toy or Heirloom Here] Game
The Rules
As the name of the game suggests, you'll need a favourite stuffed toy or family heirloom. Does one of the kids have a favourite teddy bear? Or do you keep an old black-and-white photograph of some close family relatives on the shelf? Maybe someone owns a palm-sized figurine of someone or something? No matter what you choose, make sure it's not fragile.

Once your family picks what they want to use for this game, you're all then going to decide who the '

Hider

' will be for the first round. It doesn't matter how you decide, whether it be the oldest goes first or the tallest does or you draw straws. 

Once the '

Hider

' is chosen, they will take the chosen item/object and hide it somewhere in the house. Before they do so, they will ask everyone to sit criss-cross-apple-sauce on the floor in a circle, close their eyes, and count to 10 or 15 together. Make sure no one is peeking! 

After the '

Hider

' hides the item/object, they'll come back to the family circle on the floor, sit in the middle, and give everyone exactly 30 seconds to search for the hidden object. After 30 seconds, whoever finds the object is the winner and gets to be the next '

Hider

!' If no one finds it within 30 seconds, the same '

Hider

' hides it again. 
If this game isn't something your family might enjoy, that's no problem! You can use this quality time inside together as an opportunity to come up with your own game with your very own rules or play a classic board game. Or you can even enjoy a fun video game tournament together and offer exciting prizes to whoever wins!
Explore Your Creative Side
Making art with your family is another easy way to not just beat the heat, but the perfect excuse to get a little silly and playful, too. Collaborative art is art created by a group of people. It can be small and simple, or it can be big and elaborate. It's all up to you! Here's an idea for you to get started:
What You'll Need:
Finger paint

2 sheets of white paper

Red construction paper

Glue

Scissors

Clip art outline of your home country

Printer 
What You'll Do:
Each family member will choose a colour of paint to use, and then place their fingers into the paint. Then, using the white paper, each family member will take turns stamping their fingerprints onto the blank paper until the majority is covered. Once everyone gets a turn, let the paper air dry.

When the paper is dry, use the clip art as a stencil and cut out the shape of your home country from the finger-painted piece of paper. Next, use red construction paper and cut out a heart shape. Glue the red heart shape where your family's hometown is.

Glue the art piece onto another piece of white paper. Have each family member choose another colour of paint and stamp their fingerprints at the bottom of the new piece of white paper. Then, have them sign their name underneath their fingerprint.

Your masterpiece is done! You can frame it and hang it up in the house, or you can put it in a keepsake family photo album.
Looking for more ways to stay cool in warmer weather? Click here to find a huge selection of home good essentials to make your life, and your home, that much cosier.
We've gone ahead & enclosed a 10% off coupon below for you to use if you'd like to take the plunge and try out our sheets for yourself! To shop our collection & get 10% OFF Use the code 'BLOG10' at checkout.
What are your favourite indoor family activities to do to beat the heat? Let us know in the comments below. The Cosy community loves hearing from you.