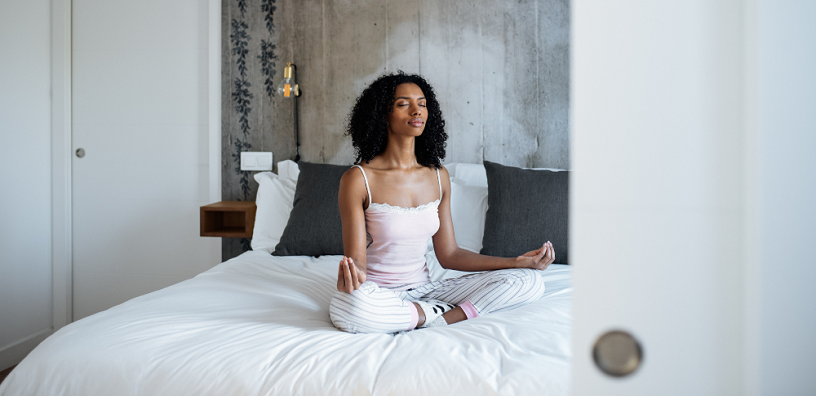 3 Easy Ways to Improve Your Mental Health
Here in the UK, Mental Health Awareness Week takes place in May. But awareness for mental health doesn't stop there—it should be an ongoing discussion. Your mental health is just as important as your physical health, and vice versa. 
When it comes to your psychological well-being, you should always consult a trusted healthcare professional first. But, there are also a few things you can do on your own that will boost your brain. Keep reading to find out!
Take Care Of Your Physical Health
As we mentioned, both your physical health and your mental health are just as important as one another. But, did you know they are connected? These may seem like givens, but it's always good to get a refresher. 
Let's take a look: 
Get active

. Regular exercise can do more than just get you in shape. Being physically active has been scientifically proven to reduce feelings of stress and depression and improve your mood. It's even been found to alleviate symptoms such as low self-esteem and social withdrawal.[

3

,

4

]

Eat healthy

. A nutrient-dense diet goes straight to your brain—in the best way possible. Your gut and your brain have a close-knit relationship known as the gut-brain axis. This connection is an intricate network of gut microbe colonies and neurotransmitters that regulate everything from sleep and appetite to mood and emotion. So, certain dietary patterns can help to alleviate symptoms of depression, anxiety, and mood.[

5

] Make sure you are eating a well-balanced diet daily to help not just your physical wellness, but also your mental wellness. 
Practice Relaxation Techniques
We all need to take a load off and relax once in a while. If you've been feeling stressed and anxious lately, you may need a breather. 
Here are a few simple suggestions to help you get started: 
Meditate

. Find a quiet place with little to no distractions. Place yourself in a comfortable posture, such as sitting, lying down, or walking. Focus your attention on something specific like your breathing, a prayer, or an object. Let your whole body ease in slowly.

Progressive Relaxation

. This type of relaxation technique involves tightening and relaxing different muscle groups. Using guided imagery or deep breathing exercises can also be helpful during this technique. It's up to you! Make sure you are doing what makes you feel the most comfortable. 

Guided Imagery

. Focus on positive images in your mind. You can incorporate deep breathing as well. This relaxation technique helps you to hone in on inner self-talk, imagination, and visualisation. Manifest the good vibes!

Deep Breathing

. Deep breathing can also fall under mindfulness meditation. Simply focus on taking slow, deep, even breaths until you feel calm and relaxed.
Improve Your Sleep
When you don't get enough shut-eye, your mental health can take a hit. Adults need about seven to nine hours of sleep each night to stay happy and healthy. 
Here are some super simple ways you can improve your sleep each night (your brain will thank you):
Invest in better sheets

. Yes, your bed sheets could be to blame for your poor sleep! Your stuffy, old cotton bedding loves to soak up moisture and retain heat, which can cause a stressful case of night sweats and tossing and turning. Don't let your sheets make you miss out on quality sleep. 
Cosy House's Luxury Bamboo Bed Sheets are moisture-wicking and temperature-regulating. Our bamboo viscose blended material is breathable and soft, helping to keep you cool and comfortable all night long. 
Create a sleep oasis

. It's not just your sheets you'll need to focus on—your overall sleep environment is a factor, too. Your bedroom should be comfortable, cosy, and welcoming. 
Make sure your room is nice and dark. Why? Because our circadian rhythms are based on light, darkness, and the release of melatonin (the "sleep" hormone).[2] That means curbing screen time as well—at least a half-hour before bedtime. 
Is your pillow comfortable? Make sure you have a pillow that is indulgent and cradles your head and neck for extra support, coolness, and comfort.
Curious to learn more about how your bedroom is affecting your mental health? Click here to read on.
Be consistent

. Sleep is a biological necessity. You

need

sleep to be your best you, and so does your mind. Consistency is the key to quality sleep. Stick to a sleep schedule—go to bed and wake up at the same time every day and every night. 

Don't fight it

. If you find that you are sleepless some nights and just can't get back to sleep, don't stay under the covers staring at the ceiling. Instead, get up and read a favourite book, listen to relaxing music, go on a short walk, make a cup of decaf tea, or find something to do that soothes your body and mind.

Deep-touch pressure stimulation

. This might sound complicated, but it's actually just the power of

weighted blankets.

A weighted blanket is a type of therapeutic blanket, typically weighing between 6 to 8 kilograms, that aids in stress relief and healthy sleeping habits. Deep pressure stimulation from weighted blankets relaxes the nervous system—replicating the feeling of being hugged—to alleviate both physical and emotional symptoms.[

6

] Give the

Luxury Bamboo Weighted Blanket

a try for the perfect end to a long day.
A Note On Prioritising Your Mental Health
If you or someone you know has a mental illness or is struggling emotionally, please reach out and seek help. There are many resources readily available to you. Here are just a few [1]: 
For immediate help in a crisis: Call 999 or 112 if you or someone you know is in immediate danger. Or use the

988 Suicide & Crisis Lifeline

: Call or text 988, or use the

Lifeline Chat

. 

NHS mental health services:

The

NHS

offers a range of mental health services, including talking therapies, medication, and support groups. You can access these services through your GP.

Charities and other organisations:

There are many charities and other organisations that offer mental health support, including

Mind

,

Rethink Mental Illness

, and

Samaritans

. These organisations offer a variety of services, such as counselling, support groups, and information and advice.

Online resources:

There are also many online resources available for people with mental health problems. These resources can provide information, advice, and support. Some of the most popular online resources include the

Mental Health Foundation

,

NHS

, and the

CALM

websites.

Find a Health Care Provider or Treatment

. Your primary care practitioner is a super helpful resource for your mental well-being. They can give you initial screenings and referrals to mental health specialists. Consider discussing your concerns with them for more resources.
Don't wait. You are never alone!
Searching for more goodies to help you stay cool, calm, and relaxed? Click here to find a huge selection of home essentials to make your life, and your home, that much cosier.
We've gone ahead & enclosed a 10% off coupon below for you to use if you'd like to take the plunge and try out our sheets for yourself! To shop our collection & get 10% OFF Use the code 'BLOG10' at checkout.
What are your favourite products from Cosy House? Let us know in the comments below. The Cosy community loves hearing from you. 
Resources:
U.S. Department of Health and Human Services. (n.d.). Help for mental illnesses. National Institute of Mental Health.

https://www.nimh.nih.gov/health/find-help

 

Better Sleep to maintain mental health. NAMI California. (2021, March 16).

https://namica.org/blog/better-sleep-to-maintain-mental-health/

 

U.S. National Library of Medicine. (n.d.). How to improve mental health. MedlinePlus.

https://medlineplus.gov/howtoimprovementalhealth.html

 

Sharma A, Madaan V, Petty FD. Exercise for mental health. Prim Care Companion J Clin Psychiatry. 2006;8(2):106. doi 10.4088/PCC.v08n0208a. PMID: 16862239; PMCID: PMC1470658. 

Snyder, C. (2022, June 29). Can your diet affect your mental health? Healthline.

https://www.healthline.com/nutrition/diet-and-mental-health-can-what-you-eat-affect-how-you-feel

 

Lockett, E. (2021, October 26). Weighted blankets: Benefits, do they work, and more. Healthline. Retrieved from

https://www.healthline.com/health/anxiety/do-weighted-blankets-work