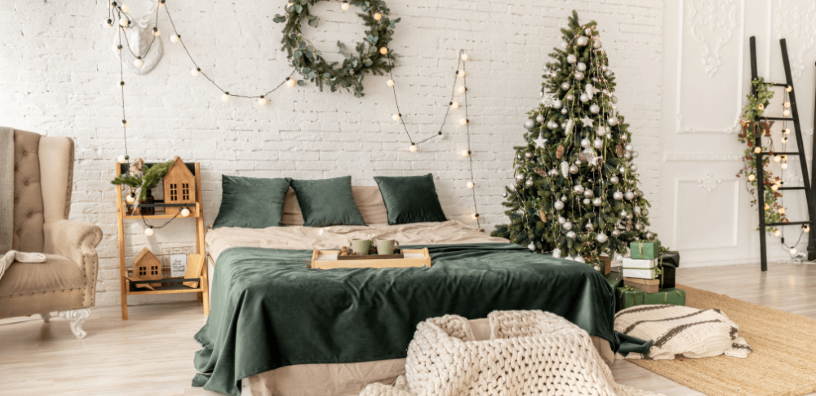 2022 Christmas Gift Guide
This one is dedicated to all the luxury lovers out there in search of the perfect Christmas gift—you're in for some seriously cosy goodness. Cosy House offers high-quality home essentials for comfort, cosiness, and calm, so you can sit in the lap of luxury without breaking the bank this holiday season.
Wondering where to get started on your holiday shopping? Check out our gift guide below for the best Christmas gift ideas this year.
Softer than your average blanket, these premium microfibre snuggle companions are blissfully smooth and seriously plush. From the living room couch to a college dorm, this blanket is a great addition to keep anyone cosy all year long.
Why else do these fleece blankets make the perfect gift? We're so glad you asked. 
Here are just a couple of reasons:
Cleaning Made Simple.

No need to stress about washing your blanket and it losing softness. Simply throw your blanket in the washing machine, wash in cold water with similar colours, and dry on a low heat setting. Did we mention they are also specially designed to stay fresh and resist stains, shrinking, and fading?

They'll Last You Way Past Christmas

. Perfect for every season, these blankets are more breathable than cotton and whisk away excess body heat to ensure maximum comfort. That means you can shop confidently knowing these blankets are built to last.  
We've even got you covered with 9 colourful options to choose from to cater to a perfect, customised bedroom or living space. Don't let your loved ones miss out on this easy-to-clean, ultra-soft blanket. 
If you're looking for something for someone who needs a little extra comfort and snugness this Christmas (because let's face it, this time of year is notorious for being extra stressful), look no further than our very own Luxury Bamboo Weighted Blanket. This weighted blanket offers numerous benefits, including:
Reduce Stress and Anxiety.

The square quilted pattern of our blanket's weighted insert provides an even distribution of premium-grade glass beads, designed to simulate the feeling of a hug to relax the nervous system. Reducing anxiety and promoting relaxation are the main goals of this weighted blanket, providing the perfect companion for the holidays!

Revolutionary Softness.

With this super soft weighted blanket, anxiety and sleep struggles are a thing of the past. Our scientifically proven deep-touch pressure stimulation technology is designed to lull you into tranquil, peaceful rest. 

Temperature Regulating.

Our included Luxury Bamboo Viscose Cover is more breathable than cotton, keeping you cosy and cool throughout the night. It's also hypoallergenic and fights irritants, meaning your blanket stays clean and free of common household non-living allergens much longer than standard bedding.
Why get your loved ones a gift they'll never use? Don't worry—we've got you covered there, too. Towels are a home essential and investing in the essentials is always a good idea. Enter: our Luxury Towel Set. Treat your friends and family to plush comfort with these luxurious cotton-bamboo blend towels. 
Wrap Yourself in Luxury

. Enjoy hotel-quality softness and absorption without the hefty price tag. Cosy House's Luxury Towels combine the best qualities of cotton and bamboo viscose to create an affordable, lavish bath towel.

Quick-Drying & Stays Fresh

. Unlike traditional towels, Cosy House's Luxury Towels dry quickly, ensuring your towels stay fresh and are ready when you need them.

Stay Clean & Healthy

. Our Luxury Towels are OEKO-TEX certified and repel common non-living household allergens and grime—keeping them smelling and feeling fresher for longer, without the added chemicals.
If your friends or family can't seem to get good rest at night, check out our Luxury Bamboo Bed Sheets to help them out. Made with our tried and true bamboo viscose blended fabric, these bed sheets are what you've been missing for quality snoozes. Check out just a few of the amazing features of these sheets: 
Silky Soft Sleep.

Have you ever noticed that you sleep better while on holiday? Well, we're the reason why—Indulge in our resort-quality Luxury Bamboo Bed Sheets and recover sleep you never even knew you were missing. When you sleep better, you feel better.

Sweat Less, Sleep Better.

Bamboo viscose's breathable and moisture-wicking properties help circulate air flow, whisking away excess body heat for a cooler sleep every time.

Say Goodbye to Stinky Sheets.

Avoid waking up stuffy. Bamboo viscose is naturally odour-resistant and hypoallergenic, keeping your sheets cleaner, for longer! Ward off common non-living allergens, enjoy better skin and wake up feeling refreshed every morning not just this Christmas, but every season after.
Our plush bamboo viscose Luxury Pillow is designed with your comfort in mind, so you can spoil yourself and your loved ones this Christmas. Let's take a look: 
Supportive and Comfortable.

Don't let your loved ones keep sleeping on an old, lifeless pillow. Our Luxury Pillow looks and feels like hotel quality, all at a price you can afford. Plus, it's more comfortable than a solid memory foam pillow, and far more supportive than your traditional "premium" synthetic fill. It's the Cosy Guarantee— sleep better, feel better.

Temperature Regulating.

Are you or your loved ones suffering from those pesky night sweats? Our bamboo viscose fabrics' breathable and moisture-wicking properties help circulate airflow, whisking away excess body heat for a cooler sleep every time.

Designed with You in Mind.

Our Luxury Pillow keeps your head and neck in the ideal position to stay asleep all night. Less tossing and turning at night means waking up more awake and refreshed. Whether you or your loved ones are side sleepers, stomach sleepers, back sleepers, or any combination of these, this pillow is perfect for giving your body the support it needs. 
Don't forget—you can get totally get these gifts for yourself, too. Treat you this holiday season, as well!
Looking for even more gift ideas? Click here for retail quality home goods at wholesale prices. What are your favourite Christmas gifts from our list? Let us know in the comments below. The Cosy community always loves hearing from each of you!
We've gone ahead & enclosed a 10% off coupon below for you to use if you'd like to take the plunge and try out our sheets for yourself! To shop our collection & get 10% OFF Use the code 'BLOG10' at checkout.