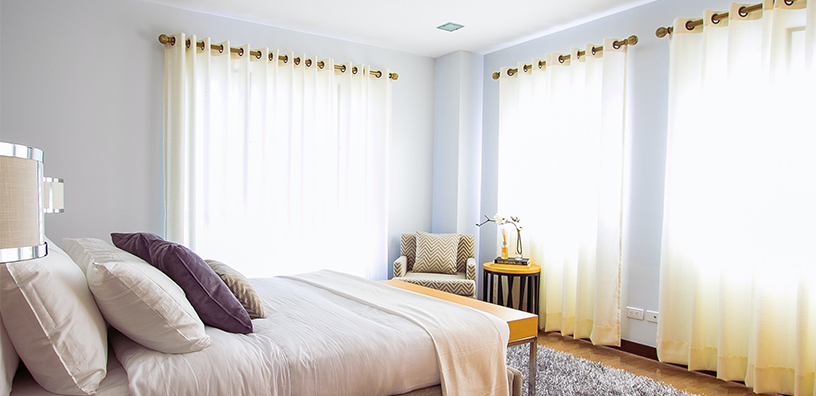 Your Do and Don't Guide to Hanging Curtains
A commonly overlooked important piece of decor, curtains are the easiest way to take a room from drab to fab. In addition to keeping out excess light and nosey neighbors, curtains can bring life to a room and even become a contrasting focal point. That's why we've put together your handy "do and don't" guide to hanging curtains!
Rod Placement
- Do 
The spot where you place your curtain rod has a huge impact on the look of your curtains, as well as the room itself. A good rule of thumb is to place the curtains between the top of the window casing and the ceiling. However, if your room has cathedral ceilings, 4 to 6 inches above the window is an acceptable height.  
- Don't
It's important to avoid placing the curtain rod immediately above the window. Not giving the curtains room to breathe can make the window look short. 
Curtain Length
- Do
There are three different length styles that you can choose from depending on the style of the room. Those styles are tailored, lived in, and romantic. 
Tailored curtains are long enough to just touch the floor, but won't extend further than that. Lived in curtains are a bit longer, with 1" of fabric spilling to the floor. Finally, romantic curtains extend up to 4" past the floor, creating a small puddle at the base of the curtains. 
- Don't
Curtains should never be shorter than tailored curtains. Again, this leads to a stunted look that won't do your room any favors. It's best to choose between the tailored, lived in, and romantic styles. 
Curtain Width
- Do
The ideal width for your curtains, no matter the size of your window, should be the combined width of double the window width. So, if you have two curtains, they should each be the equivalent of the width of the window. 
- Don't 
When hanging curtains, you should avoid placing just one curtain. At least two is ideal, but if you're looking for more fullness, don't be afraid to add additional curtains. 
Choosing Hardware
- Do
Matching your hardware to your decor is an absolute must when hanging curtains. Look around the room for any metal. Gold, silver, and bronze are the most common finishes when it comes to home decor. Use this to guide you in your selection process. 
- Don't
When it comes to hardware, less is more. Since this hardware will be mostly out of view, consider going with something simple and chic. Not only will this save you some money, but it will give your window dressing a clean look. 
Though it may seem like a more structure heavy task, properly hung curtains can transform the look and feel of a room. Utilize your design instincts and your existing decor to create a space all you own. 
Have any tips for choosing or hanging curtains? Let us know in the comments!
We've gone ahead & enclosed a 10% off coupon below for you to use if you'd like to take the plunge and try out our sheets for yourself! To shop our collection & get 10% OFF Use the code 'BLOG10' at checkout.