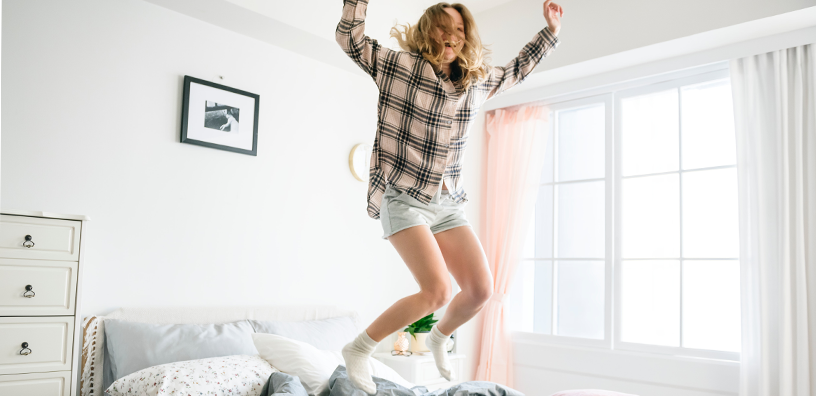 This is Why You Need a Mattress Protector
On average, we spend a third of our lives asleep. That means that the mattress you're sleeping on is one of the most important investments you can make. Think about it: your sleep quality affects your physical health, mental health, and quality of life.
That sounds like a pretty serious investment. An investment of that magnitude should be protected to ensure that it retains its quality for all the years it's in use. That's where a mattress protector comes in!
What is a mattress protector?
Mattress protectors are an often overlooked, but essential part of your bedding set. It's a type of cover that goes between your mattress and your fitted sheet, with several uses. Namely protecting your mattress from dust, stains, and bacteria.
There are two types of mattress protectors to choose from:
Encasement Style
This type of protector encases the entire mattress and zips shut. It's perfect for preventing bed bugs as it has a seal that is hard to penetrate.
Fitted Sheet Style
This is one of the more popular mattress protectors. Mimicking the style of a fitted sheet, the protector encases the top of the mattress and secures with a thick elastic that hugs the corners of the mattress. Though it is not as effective with bed bugs, it is useful for protecting against stains and general damage.
Why do I need one?
Accidents happen, but when it comes to your mattress, it's hard to anticipate what those accidents will be. That's what a mattress protector is for.
Cleanliness
Dirt, dust, and liquids ruining a mattress is by far the most likely scenario to happen to you. Utilizing a mattress protector is stopping this damage in its tracks and preserving the life of your mattress for years to come.
Prevent damage
Rips and tears can happen without warning, and sometimes they're hard to spot. Using a mattress protector can minimize the chance for tear. After all, wouldn't you rather rip a protector than your expensive mattress?
Prevent bugs
Bed bugs aren't just cheap motel pests. They're fairly common and often go unseen in the home until they become a harmful infestation. Taking the extra step to protect you and your family with mattress covers is one of the most important steps you can take to prevent this pest.
Where do I get one?
By now we've probably convinced you that a mattress protector is the best solution for extending the life of your brand new mattress. Now what? Where do you go to buy one?
Choosing the right mattress protector is just as important as buying one in the first place. First, decide whether you need encasement style or fitted sheet style. Once you've chosen, you can then hunt for the one to fit your needs.
Our favorite mattress protector is the Cosy House Bamboo Mattress Protector. It takes the soft and breathable bamboo fabric you love and combines it with the durability of a mattress protector. Most importantly, the material is quiet, so you won't be disturbed while in bed by noisy fabric. You can check out our mattress protector here!
Happy sleeping!
We've gone ahead & enclosed a 10% off coupon below for you to use if you'd like to take the plunge and try out our sheets for yourself! To shop our collection & get 10% OFF Use the code 'BLOG10' at checkout.