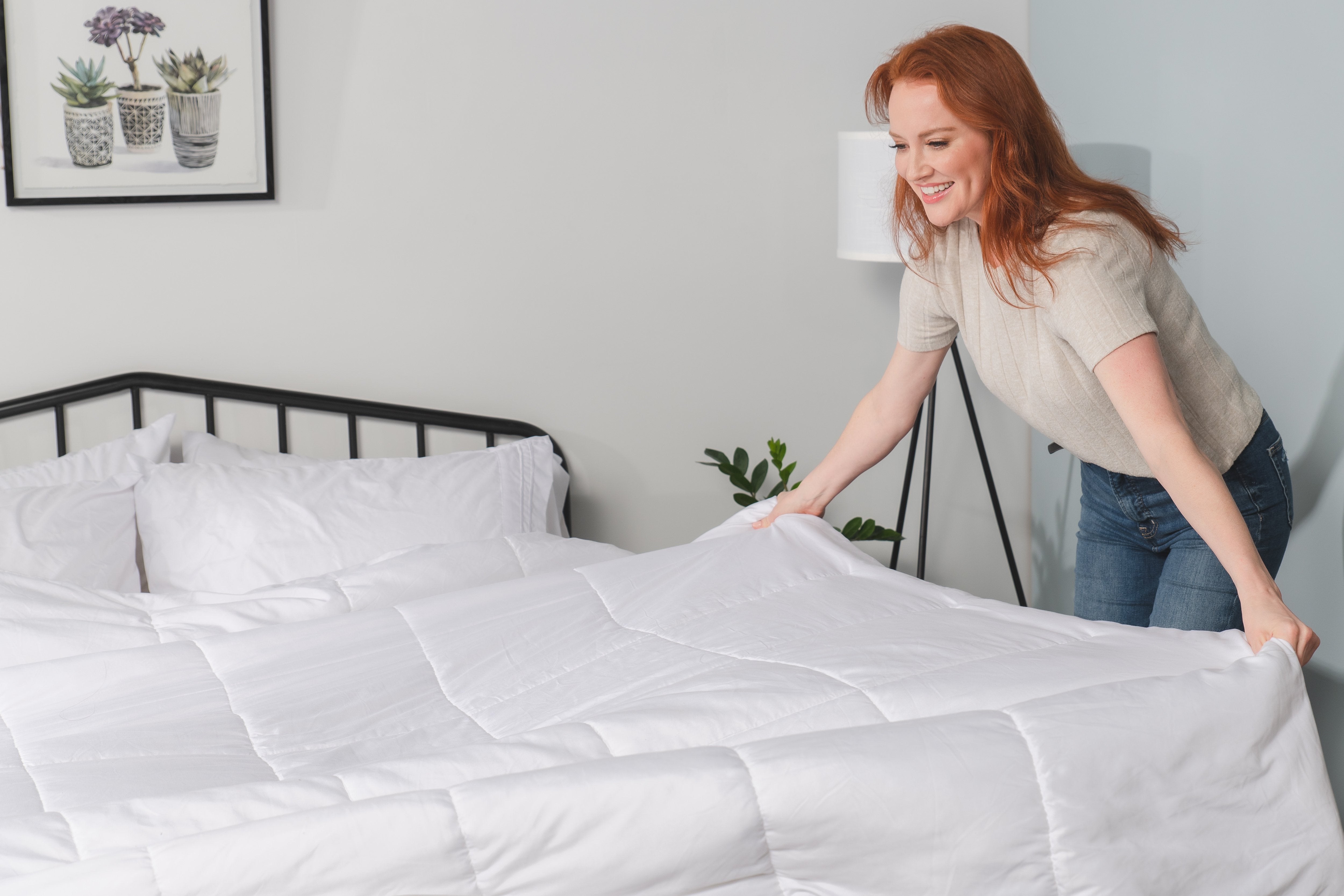 The Ultimate Guide for Caring for Your Bedding
For many their bed is one of the most relaxing spots in their home and therefore, caring for your bedding is key for everyone, and keeping your bed neat and clean should be of the utmost importance. 
After all, you spend 8-10 hours a night there, totaling nearly a third of your life. Unfortunately, caring for bedding is a task that is often overlooked, whether that be from pure neglect or a lack of cleaning knowledge. No matter the reason, we're here to help you get the freshest sheets yet. We'll also give you our recommendations for the best, easiest to care for bedding for your bedroom and your home! 
How to Care for Bed Sheets
A good set of bed sheets is a staple for sleeping and good sleep hygiene, but how often should you be cleaning your sheets? 
The general consensus is that sheets should be washed once every week or two weeks depending on personal preference and sleeping patterns. For instance, if you tend to sweat in bed, and throughout the summer months, you may consider washing them once a week. Every set is different so it's important to check the tag attached to your sheets for special care instructions. 
When washing, use cold or warm water. This will help preserve color and prevent the sheet fibers from shrinking as hot water tends to cause damage. It's good practice to remove makeup before bed to prevent staining, but if you must bleach, opt for an oxygenated bleach. Chlorine-based bleach can be extremely harsh on bedding fibers. Once the sheets are done washing, pop them in the dryer on medium heat to avoid pilling. To get wrinkle-free sheets, remove them from the dryer just before they're dry, and lay flat. When the sheets are completely dry, you can either place them on the bed or fold and store in a cool, dry environment. 
Our Recommendation
Your bedding has a huge impact on your sleep. When it comes to choosing your bedding, it can be a minefield. How do you know what's best? We're going to provide you with our recommendation for the best bedding so you can feel confident in your purchase. 
The best sheet material on the market today is bamboo, holding a few winning features that push it to the top of the list. First, bamboo has been proven to be cooler than cotton. This is a huge benefit if you find yourself waking up and feeling overheated in the middle of the night. The fabric allows air to pass seamlessly, regulating your body temperature and keeping you cool throughout the night. 
In addition to keeping you cool, bamboo sheets are also moisture-wicking. What does that mean? Well, the fibers of bamboo naturally repel water and moisture. So, when you sweat during the night, the sheets draw that dampness away from the body, leaving you dry and comfortable. 
If you're someone who hates doing laundry, bamboo sheets are the perfect solution for you. Bamboo is naturally hypoallergenic and antibacterial. It repels germs, bacteria, pollen, and dust mites, leaving your sheets cleaner for a longer period of time. You can enjoy less laundry and more sleeping. Check out our favorite bamboo sheets here!
How to Care for Pillows 
Did you know that washing your pillowcases isn't enough to keep your pillows clean? Sure, pillowcases are there to catch the dead skin, dust, dirt, and drool before it hits your pillow. Unfortunately, this doesn't mean your pillow is clean. You should be washing your pillowcases and sheets once a week. Your pillow should be washed every six months. To prolong this washing, add a pillow protector between your pillow and pillowcase. Remember to replace your pillow every 3-4 years or when you start to see signs of aging such as stains or flattening. 
To properly wash your pillow, first, check for any special instructions from the manufacturer on the tag. Wash in cold or warm water, doing an extra spin cycle with just water to thoroughly rinse out the soap. Next pop in the dryer on low heat. Be sure your pillows are dried through before placing them on the bed or storing them. This will prevent mold and mildew growth. 
Our Recommendations for Pillows
If the perks of bamboo sheets appeal to you, a bamboo pillow is a complementary product. It is cooling, moisture-wicking, hypoallergenic, and antibacterial. 
The pillow has the added bonus of being filled with adjustable memory foam. Whether you prefer a pillow that's soft as a cloud or hard as a stone, this pillow can be formed to your needs. By opening the bamboo cover and unzipping the casing, you can remove or add premium shredded memory foam to your liking. This is the only pillow you'll ever need - Check it out here!
How to Care for a Comforter or Duvet
A comforter or duvet is the perfect finishing touch to any bedding set. Though the terms are used interchangeably, a comforter and duvet are not the same things. A duvet is a thicker, fluffy blanket that is often a solid neutral color. This blanket is made to go inside and attach to a duvet cover, which is usually more ornately decorated. In contrast, a comforter comes in a variety of designs as it is made to sit alone on top of the bed. Both have the same functionality, so it's more user preference when it comes to choosing which to purchase. If well made, they can last 15 years, so it's important to invest in a solid blanket. 
The cleaning process for comforters and duvets is very similar. If you own a duvet, you can remove and wash the cover. We suggest washing monthly or weekly if you don't sleep with a top sheet. It's very important to follow the washing instructions on the tag. Different methods may need to be used depending on the filling of your blanket. 
Our Recommendations for Comforters and Duvets
The benefits of bamboo extend beyond just the sheets and pillows. You can now get a bamboo duvet and duvet cover set. What makes this duvet so unique is its lightweight, down-alternative fill. 
Down-alternative gives you the fluffy, cloud-like texture of down without the allergies and clumping of down feathers. Not to mention it's environmentally-friendly and free of animal products. This is the perfect duvet for keeping cool in summer, but warm in winter. Check it out here!
How to Care for a Mattress
We're sorry to break it to you, but your mattress is not nearly as clean as you think it is. Bedding experts suggest cleaning your mattress once or twice a year. It is also important to replace your mattress on time. In fact, if you can't remember when you last bought a mattress, it's probably time to replace your mattress. An expensive, well-constructed mattress is built to last 20 or more years. However, a more affordable mattress should only stay in your home for 10 years. 
Cleaning your mattress is incredibly easy. Remove everything off your mattress, including your mattress protector. If you can, throw the mattress protector in the wash. To clean, sprinkle baking soda over the entire mattress and let sit for a minimum of one hour. The baking soda will draw out stains and odor, leaving you a fresh mattress. Once your baking soda has set, vacuum it away and remake your bed. 
Our Recommendations for Mattresses
When it comes to mattresses, our recommendations are a little looser. Everyone's comfort level is different, so a one-size-fits-all suggestion won't work here. That being said, we have a few tips to keep in mind when picking out a mattress.
If you have a certain way you like to sleep (side, stomach, or back), this may influence the type of mattress you prefer. A firmer mattress is better for stomach sleepers, while a more form-fitting mattress is conducive to back sleeping. 

If you sleep with a partner, you may find an adjustable mattress to be a better fit in order to suit both sleepers' needs. 

Take into consideration your sleeping temperature. If you wake up hot and sweaty, a foam mattress that holds in heat might not give you the comfort you desire. Keep your sleep in mind!
Bonus Tips:
If your child sleeps with stuffed animals, it's important to keep them clean. Depending on how sensitive they are to dust and dirt, washing once a month is a good habit to start. Washing can be done more frequently if you notice the toys getting dirtier faster. 
Picking the right detergent
The tools you use to clean your linens may be doing more harm than good. Top detergent brands are chock full of chemicals like sodium lauryl sulfate, chlorine bleach, synthetic fragrances, and more. These chemicals are absorbed by your body and can cause irritation to the skin, decreased function of bodily systems like the immune and endocrine systems, and have even been linked to cancer. Investing in an all-natural detergent will keep your clothes clean without compromising your health!
Dry clothes with dryer balls
Wool dryer balls the latest and greatest way to dry your clothes faster. Add one or two dryer balls to your laundry and cut down drying time, reduce wrinkles, and eliminate static!
Incorporate a linen spray
There's nothing like the smell of fresh, clean laundry. Unfortunately, it seems like once taken out of the dryer, that smell is short-lived. Give your linens a boost of freshness with a
linen spray
! You can get the soothing scent you desire between washes, saving you time and money.
We've gone ahead & enclosed a 10% off coupon below for you to use if you'd like to take the plunge and try out our sheets for yourself! To shop our collection & get 10% OFF Use the code 'BLOG10' at checkout.