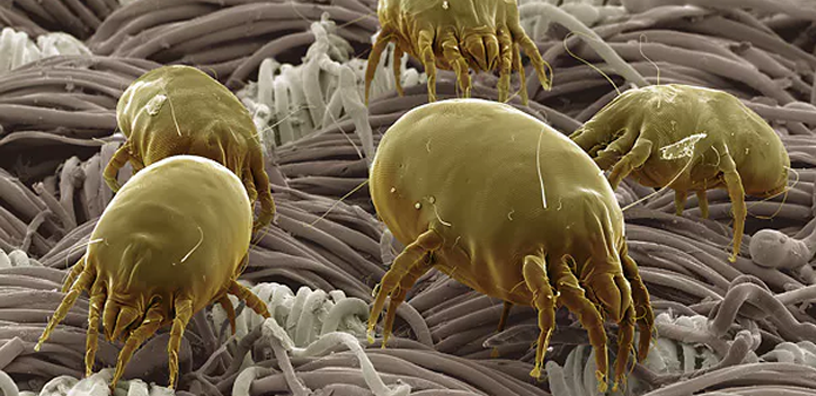 The Dirty Truth About Your Cotton Bed Sheets
When it's time for bed, there's nothing better than wriggling and writhing to your heart's desire in fresh, silky sheets. After a week of sleeping in cotton sheets, though, you'll notice that they look, smell, and feel quite grungy. All it takes is one nose-cringing whiff of mildew and the sad sight of wrinkles to steer your entire night downhill. Not to point the finger at cotton, but new research proves that this heat-trapping fabric may be the cause of your midnight misery.
Cotton has been used since 5000 BC, but has recently been recognized to have some serious pitfalls on human hygiene. The good news is that you can improve your quality of sleep by swapping cotton for a mindful, modern upgrade. Linen experts are raving about the 1500 Series Sheets from Cosy House, which are made from high quality micropolyester. To help you decide, here are the top five concerns you should know about cotton:
Cotton is extremely moisture-absorbent.
Did you know that your cotton sheets can absorb 27 times its weight in sweat (or water)? During the night, they soak up all of the sweat and cling on to it, becoming suffocatingly heavy overnight. When they're satiated, they also lose their ability to regulate your body temperature. So if you find yourself overheating overnight or waking up in sweat, your cotton sheets could be to blame.
If you think this doesn't affect you because you're not a Sweaty Betty (or Sweaty Teddy), think twice. According to a 2015 study, humans naturally produce 26 gallons of sweat in bed every year. This cringe-worthy combination of sweat, humidity, and moisture creates an ideal home for mildew and bacteria to grow. Aside from making you sick, mold and mildew smells and stains are nearly impossible to remove.
It's a breeding ground for bacteria and fungi.
When you crawl into bed at night, what you don't see are the millions of fungi and bacteria crawling right there with you. Dust mites also multiply where it's wet and warm, leaving debris and feces where you rest your head. It's no wonder 1 in 6 humans suffer from allergies! We spend nearly one third of our life in bed, so even if you don't have allergies, it's pertinent to your wellbeing  to inhale clean, bacteria-free as you sleep.
Cotton traps your body heat.
Have you ever wondered why people say cotton kills? This fabric can keep you cool in the summer and warm in the winter, but there's a catch: cotton is only able to regulate temperatures and insulate properly when it's dry. Once your sheets get sweaty or the slightest bit moist, you can bet that you'll either overheat or feel damp and chilly all night. Dr. Christopher Winter, sleep expert, says that if your body temperature is above 75 degrees or below 56 degrees, your sleep will be unhealthy,
It wrinkles, shrinks, pills and stains quickly!
For most, the aesthetics of the bed sheets are just as crucial as the cleanliness of them. Even Fung Shei experts attest that a cluttered home makes a cluttered mind. Cotton sheets are a weaker fabric, compared to micropolyester blends, and have low durability. This brings an abundance of annoyances,  like wrinkling, shrinking, fading and pilling, that make the bedroom look unkempt, even if the sheets are new. When sheets pill, it creates tiny, clinging balls on the surface of the sheet from the sheet rubbing against itself. This, in turn, makes the sheets feel scratchy and poor quality.
Whats the best Alternative to Cotton Sheets?
The best substitute for cotton bed sheets are, by far, high quality micropolyester blends. Just like cotton, it's important to be particular about quality to get luxuriously soft sheets. But unlike high quality cotton, high quality micropolyester blends are very affordable and they also resist wrinkling, bacteria, pilling, moisture, and more. Here are the most-adored features of premium micropolyester sheets, from top-rated brand Cosy House, that will convince you that cotton sheets belong in 5000 BC:
All season thermoregulation and insulation so you'll wake up feeling fresh yet cozy

Resort-style silkiness meets ultra-plush softness

Long-lasting durability, upholds in heavy washing cycles so there's no rips or tears

Wrinkle, stain, shrink, fade resistant so the bed always looks flawless

Hypoallergenic, wicks moisture instantly so bacteria, mold, and dust mites can't grow  

Extremely affordable and easy to care for
They even have an incredibly good rating on Amazon too!
There are many alternative options to cotton sheets, but there are few that offer the benefits of micropolyester blends. The best part about Cosy House is their lifetime warranty and satisfaction guarantee. If you try it and aren't a fan, they actually stick to their word and refund you with no questions asked. However, we've tried it and fell in love, so we think you will too.
If you have trouble sleeping or your sheets could use an upgrade (which they most likely can). Cosy House offer beautiful colors in Twin, Queen, King, California King, and Split King. I just ordered a second pair for my guest room and the whole site is 65% OFF! So head over to their site before they sell out!