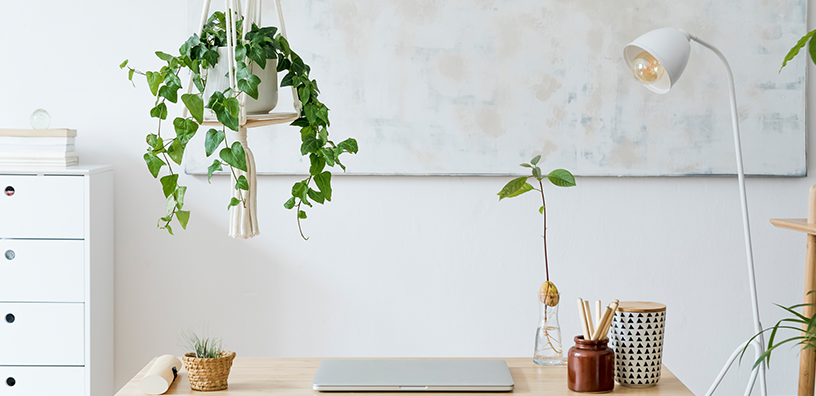 The 5 Best Indoor Hanging Plants
One of the best ways to spice up your living space is to add another living being. Plants have been used as decoration for centuries. However, plants don't always have to be in a garden, or even in a pot. Hanging plants are stunning additions to your home. But which ones should you buy? Here are our top 5 best indoor hanging plants!
String of Pearls
If you're looking for something more original than the standard leafy greens, String of Pearls is a great option. This plant features long vines with small green buds traveling down. When in bloom, the small white flowers have a cinnamon scent that will perforate through your home. 
Care Instructions
Light 
This plant loves bright, indirect light, so placement by a window is crucial. They burn easily, so be mindful of how much light is coming through. 
Temperature
In terms of temperature, String of Pearls love an average of 70 to 80 degrees Fahrenheit (21-26 degrees Celsius). During the winter, 55-60 degrees Fahrenheit (12-15 degrees Celsius) is fine.
Water
Watering can be tricky, as they are easy to overwater. 1 ounce every two weeks should suffice. 
Marble Pothos
The Marble Pothos is an absolutely stunning plant. Its large leaves are a gorgeous mix of light and dark greens and a white, cream color. The mix has a lonely marble effect, the source of its name. You'll find that this plant is incredibly easy to care for. 
Care Instructions
Light 
Marble Pothos require medium to bright indirect light. Similar to the string of pearls, burning in direct sun is a possibility, so keep them out of the light. 
Temperature
Marble Pothos cannot handle cold temperatures, so keep them at 65-85 degrees Fahrenheit (18-29 degrees Celsius). 
Water
For the most part, these plants love their dry soil. Once the soil has dried, water only the top few inches. You don't want to over-saturate the plant.
Orchids
Did you know that orchids could be hanging plants? Don't worry if you didn't, as they are most often depicted sitting in a pot. However, these can be hung to make lovely, living decorations. 
Care Instructions
Light 
Light depends on the specific orchid you have, but generally, south or east-facing windows provide adequate light. 
Temperature
Orchids should be kept at 65-75 degrees Fahrenheit (18-23 degrees Celsius). 
Water
Overwatering is the death of many orchids. As a rule of thumb, water your plant the day before the soil dries out. 
Staghorn Fern
The Staghorn Fern is an incredibly unique plant. Its name comes from its resemblance to elk or deer antlers. In fact, the look is completed by the fact that these plants grow mounted on a plaque or other substrate.
Care Instructions
Light 
Staghorns adore bright lights, diffused or indirect. If you've got a bright spot in your home that you need to be filled, this plant is the first one to fill it with. 
Temperature
The temperature to keep your plant at is a pretty wide range of 50-100 degrees Fahrenheit or 10-37 degrees Celsius. 
Water
Not only is this plant unique, but its watering technique is as well. First, Staghorn Ferns need misting. Using a misting bottle, mist the entire plant, with a special focus on the underside of the leaves. Next is the soaking stage. Soak your fern in water for 10-20 minutes. Allow your plant to drip dry before placing back on the plaque. You can do this once per week during the summer and every 2-3 weeks during the winter. 
Peperomia Hope
The Peperomia Hope is a very popular houseplant. It has small round leaves that are absolutely adorable. This vined plant is a stunning addition to any houseplant collection. 
Care Instructions
Light 
Peperomia Hope thrives in light, but be careful not to place it in direct sunlight as it can damage the plant. Indirect or shaded light is ideal. 
Temperature
The ideal temperature is 64 degrees Fahrenheit or 18 degrees Celsius.
Water
Watering is definitely not the most simple task with this plant. The routine is dependent on the soil, but the best rule of thumb is to perform a "touch test" every few days. If the soil is dry and crumbly, it's time to water. 
Whatever plant you choose to welcome into your home, we know that it will give you incredible benefits for years to come. If you're curious about what plants you should add to your bedroom, check out this article here!