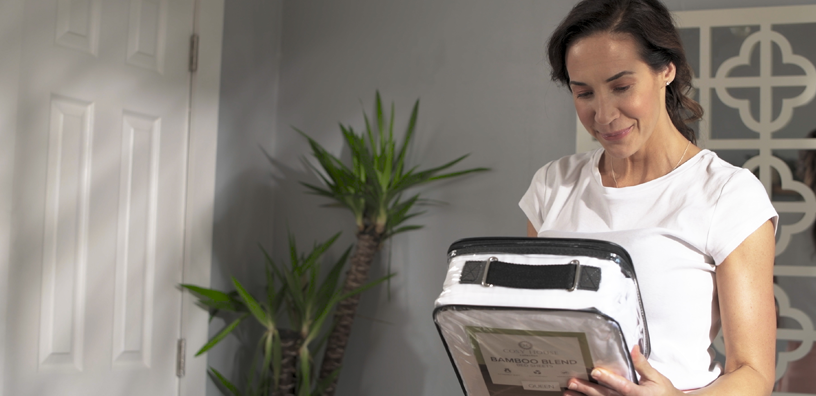 Spot the Difference: 1500 Series Sheets vs. Bamboo Sheets
If you've ever taken a look at Cosy House sheets, you'll notice that we have two main types of sheets. One is the 1500 Series and one is the Luxury Bamboo. It's easy to find yourself wondering, what's the difference? Today we're going to take you through all aspects of our 1500 Series and Luxury Bamboo sheets to help you make the best decision for you and your family. 
1500 Series Bed Sheets
The Cosy House 1500 Series bed sheets are made from premium double-brushed microfiber. This unique fabric is ultra-tight knit, making it stronger than cotton and providing extra strength. Not only are the sheets strong, but they're softer than silk, leading to a comfortable night's sleep. 
What's great about the 1500 sheets is their breathability. Hot sleepers can rest easy in these sheets knowing they won't overheat throughout the night. There's also no worry about staining and fade. Our sheets are stain and fade resistant, made to last a lifetime. Those with allergies are in the clear as well, since our material is hypo-allergenic. Check out our 26 colors and patterns to find your perfect fit!
Stain & Wrinkle resistant

Incredibly Soft
Anti-Bacterial
Hypo-Allergenic
Durable
26+ Colors to choose from
Luxury Bamboo Bed Sheets
By far our most popular sheet set is our Luxury Bamboo Bed Sheets. These sheets are made of a blend of bamboo rayon and polyester microfiber. This gives them the strength and durability expected from a bamboo product without compromising that soft, luxurious feeling. 
By far the most sought after feature of our bamboo sheets is their thermoregulating properties. These sheets are cooler than cotton, taking in your body heat and dispersing it, leaving you cool and relaxed. 
In addition to the thermoregulation, bamboo is naturally hypo-allergenic and antibacterial. You'll never have to worry about wrinkles, odor, staining, or pilling, since these bamboo sheets are resistant to normal wear and tear. Lightweight and breathable, the sheets are a no brainer!
Luxuriously Soft
Temperature Regulating
Moisture Wicking
Anti-Bacterial
Hypo-Allergenic
Eco-friendly
We've gone ahead & enclosed a 10% off coupon below for you to use if you'd like to take the plunge and try out our sheets for yourself! To shop our collection & get 10% OFF Use the code 'BLOG10' at checkout.