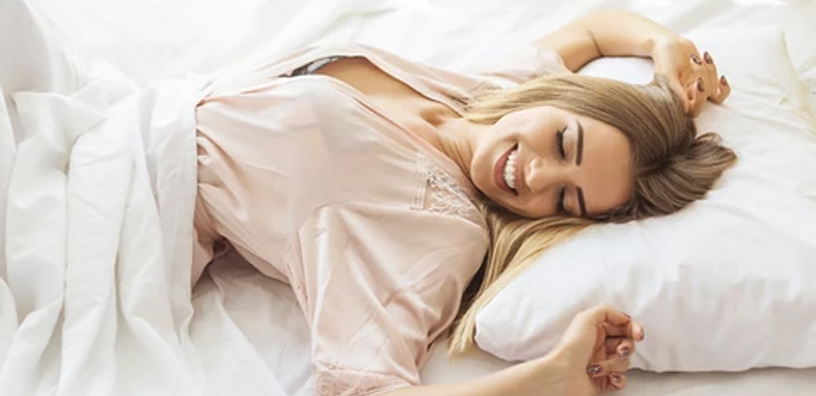 Don't Fall For These Microfiber Myths
When you hear "microfiber sheets", do you have a nightmarish flashback to your scratchy summer camp bunk bed? Or, maybe you've heard all the rumors and reasons of why you should despise (and never buy) microfiber bed sheets. But how much of what you've learned is really true? How much has changed due to modern fabric technology? If you're avoiding microfiber like the plague, you could be missing out on sleep-inducing benefits, like temperature control, longer freshness, and wrinkle-resistance. Let's take a look at the five biggest microfiber myths and factually debunk them:
Myth No. 1: All microfiber sheets are the same.
Just like with any fabric, there are high and low quality microfiber sheets on the market. We can obviously feel the difference between a set of Egyptian cotton and cheap cotton sheets- it's as drastic as the bedding from a 5-star resort versus a motel. Well, microfiber sheets also vary in quality and softness! It's measured by the denier (instead of thread) count, which is a measure of the fiber's density. Did you know it's possible for microfiber sheets to be made with super soft and luxurious fiber, that equate to the softness of 1500 thread count cotton? The best microfiber sheets, like ours, will have the proper weight, be finely brushed, and have the soft flowing drape of silk.
Myth No. 2: Microfiber soils & stains easily
Those cheap-o summer camp sheets might've been notorious for ungodly stains, soils, and smells, but good quality microfiber holds much more promise! Upscale microfiber fabrics offer modern and convenient benefits that old school fabrics, like cotton, simply can't. I'm talking wrinkle, stain, odor, and bacteria resistance. Since microfiber is a man-made fabric, companies can specially design their sheets to make life easier and sleeping more comfortable. You can guarantee good microfiber sheets to have increased durability, breath-ability, and longer-lasting freshness.
Myth No. 3: Microfiber makes you hot.
Outperforming the competition once again, good quality microfiber is actually a performance fabric because it's 3x breathable and has thermal-regulating technology. You might've used it previously in your athletic and outdoor wear. This temperature-balancing fabric offers the same smart technology when transformed into bed sheets. Woven in such a way that let's the air move freely through the fibers, moisture is continuously wicked away from the body so the sheets feel refreshing to the skin. It also fluctuates between cool and cozy, depending on your body temperature needs, for a consistently comfortable night's sleep.
Myth No. 4: Microfiber is not soft or luxurious.
As we learned from myth 1, to state that all microfiber sheets are one way would be false. If you compare your care labels, you'll see that there's 100% polyester, 80% polyester / 20% microfiber, etc. This illustrates that microfiber sheets come in a variety of blends. Just like how baking a cake uses the same ingredients, but using different mixtures will bring different results. There's no denying that low-grade sheets, whether they're microfiber or cotton, feel and look low quality. However, top-tier microfiber sheets have a silk-like quality that add a luxe vibe to every bedroom. If you love sheets that are buttery-smooth, super soft, and have a crisp, indulgent look, give microfiber a try.
Myth No. 5: Microfiber is a home for allergy-causing bacteria.
If you needed one more reason to fall in love, microfiber is hypoallergenic and repels dust mites and bed bugs. Unlike cotton sheets that trap allergens and bacteria, quality microfiber sheets have an extra fine weave that act as a barricade for those nasty amoebas and stop them from entering your sheets. This makes microfiber bedding the perfect choice for people with general concerns for their wellness and those with allergies/sensitive skin.
Why Microfiber Bedding Is Becoming The Top Choice
Extremely affordable price point
Stays fresher & lasts longer than cotton sheets
It won't rip, tear, or pile - even after machine wash/dry
Repels stains, wrinkles, odors, dust mites, & bacteria!
Thermal regulating - perfect for hot & cold sleepers
Healthier choice for all, but specially for those with allergies/sensitivities
How To Navigate Price Differences
You might be thinking: I bet all this fancy technology and next-level comfort costs a fortune! Well, I've got good news. There are plenty of affordable price points in the marketplace for high quality microfiber bedding. Sure, some companies sell luxury microfiber sheets with a hefty price tag to trick you into thinking it's better quality. But truth be told, you can get that same upscale fabric and softness at a very affordable price! That's why we're in this business to bring you seriously soft, beautiful bedding that lulls you to sleep with modern benefits (all without costing an arm and a leg).
We've gone ahead & enclosed a 10% off coupon below for you to use if you'd like to take the plunge and try out our sheets for yourself! To shop our collection & get 10% OFF Use the code 'BLOG10' at checkout & click here.