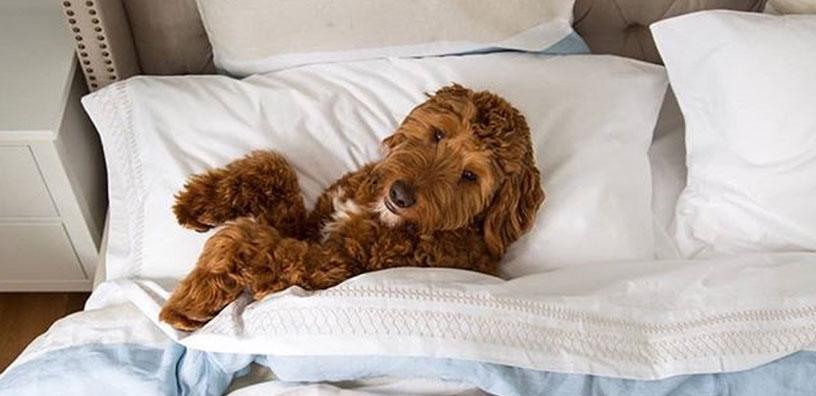 Don't buy Bed sheets till you read this!
"Why do I keep waking up so tired?" A tale as old as time, true as it can be; at least for the past few years that I've owned my own place.

If you're like me, and all you want is to actually cherish your precious time in bed, hear me out. After trying literally every single trick in the book (melatonin, sleep sounds, memory foam, you name it!) — there's only one person in the world whom I owe my gratitude to, a little girl from China named Bi Mengqi.

I recently read an article about a young student from China's own Hubei Province, where the outbreak of COVID-19 originated from. After having to attend online classes from home without easily accessible WiFi (I shudder at the thought), Bi's mother had no other choice but to get crafty with their situation. She found the best hot spot in the village for internet connection, and built her daughter a tiny hut to study in constructed from large plastic sheets and bamboo stalks. Bi's mom had a purpose: to protect and provide for her daughter. Little did I know, bamboo is a naturally antibacterial and sustainable resource that has been used for decades by farmers and innovators alike, to filter and prevent the growth of bad bacteria.


As the world blindly moved through the vaguely suggested precautions of CoronaVirus, this one act of resourcefulness had me thinking. If Bi could breathe easier and study with that kind peace of mind, is bamboo something that could benefit me as well? So, I did my research and stumbled across Cosy House Collection's Luxury Bamboo Bed Sheets.
Two words — Game. Changer. 

Some things are just not meant to stay traditional, including your sheets; TRUST ME! Say 'goodbye' to gross/sweaty/stuffy cotton sheets, and 'hello' to bamboo! After discovering the cool & comfy cleanliness of bamboo sheets, I am now the most well-rested that I have ever been and man, does it feel good. Are you ready for the best rest of your life? I got you covered (no pun intended).
Bamboo is one of those life-transforming miracles that have slipped into the bedding market and made a huge statement once people started to realize how EPIC the quality of value is. Not only are they surprisingly inexpensive, they are quite possibly the softest, coolest, and most breathable bed sheets I have ever laid in. I'm talking better than hotel-quality. You'll never go to the store for bedding again after trying these out… I'm serious. Even my dog refuses to leave the bed. 


What exactly do i love about them?
I'm obsessed with how crisp and clean these sheets feel when I wake up in the morning. If you know me, you also know that I am a big ol' wimp when it comes to germs and bacteria — and no, this pandemic is not helping my case! With my puppy constantly walking all over my bed, I can't help but think about all of the microscopic germs that come with it, yuck. But then, there's something about having bamboo bedding that leaves me feeling an unfamiliar yet alleviating sense of ease. Knowing that my sheets are naturally antibacterial, hypoallergenic, AND wrinkle-resistant is a total relief that I have never felt before. Less time spent on cleaning and maintenance = one happy girl!
Maximum Comfort
They're also suuuper soft. I bet that these sheets would exceed the average expectations of cotton, flannel, silk, as they actually get softer with every wash. Even my own mother, one who is very difficult to satisfy, asked me where I got them from. She was shocked when I told her that I bought them online, now ask me if I had to order a set for every single room in her house — thank the shipping-gods that these qualify for free delivery! Plus, my skin has never been better. The bamboo blend is a lot less harsh on my skin and hair follicles, believe it or not.

Would I consider passing up clear skin like this for another "premium" brand? I don't think so!


Temperature-Regulating
Lastly, I'm never too hot, or even too cold when I'm wrapped up beneath these glorious bed sheets. Early menopause runs deep in my family, and I am definitely feeling those terrible night sweats forthcoming. My age is approaching quickly, and I have no time to settle for less-than-quality sleep. Bamboo bedding exudes unique temperature regulating properties that have seriously solved my chronic tossing and turning. I've never experienced anything like it, I can't even remember the last time that I woke up feeling sweaty and aggravated. My next step includes strategically placing a bamboo plant in every room of my place if it means that I can feel this way, 24/7.
Conclusion
After sharing a brief word with the owners of Cosy House for this article, their business practices have also really sat well with me.
"We don't do retail and we don't pay middlemen to do our dirty work. We distribute everything ourselves, and we're putting the bulk of our money into ground-breaking quality products. Typically companies have this completely backwards, with cheap products and expensive retail/marketing, which unfortunately is why there are so many sub-par products out there. This is a competitive market. You cannot deceive trust, we strive to earn it".
If you're in need of better sleep, or your current sheets could stand an upgrade (and they probably can), take a gander at Cosy House Collection's Luxury Bamboo Sheets. They offer their bedding sets in Twin, Full, Queen, King, California King and even Split King for those difficult-to-shop-for, dual adjustable beds. 
You won't regret it! Sleepy girl tested, sleepy girl approved.