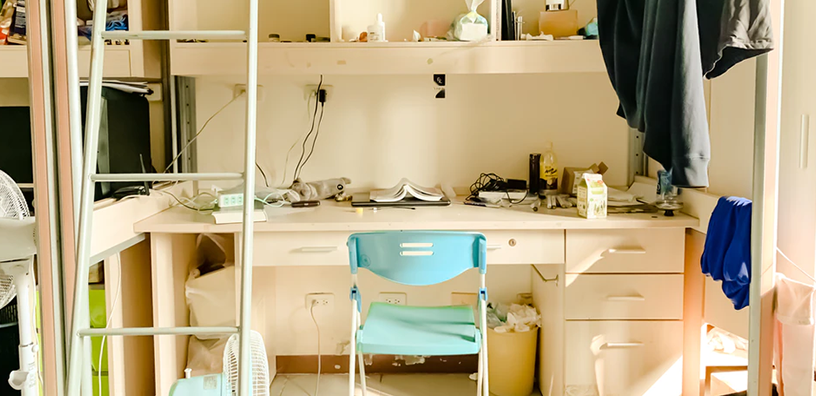 5 Dorm Room Gifts for Your University Student
For most young people, university is a new and exciting chapter in their life. While it's fun to meet new people and try new activities, the transition from living in a family household to sharing a small dorm room with a roommate can be overwhelming.
If you're a parent to a new university student, you may be worrying about how they're doing in their new environment. Odds are, they're probably loving the newfound freedom and social life—but they're probably also missing the comfort of home. A great way to get them accommodated to their new living situation is to send them gifts that will make their dorm room feel more like home.
1. A Cozy Weighted Blanket
If you or your student have ever been in a dorm, you should know that they're notoriously cold, especially during the snowy winter season. A weighted blanket is a perfect remedy for cold nights in the dorm room.
Weighted blankets have a variety of benefits along with keeping them warm. It goes without saying that university can be stressful and, if they are new to college life, the transition to a new lifestyle can be difficult. This Luxury Bamboo Weighted Blanket helps reduce feelings of anxiety and depression while promoting tranquility. Made of luxuriously soft bamboo, this blanket simulates the feeling of a warm hug through deep-touch pressure technology.
It's also antibacterial, hypoallergenic, and odor resistant. It stays cleaner for longer than other traditional plush weighted blankets, which means fewer laundry days! 
They will love curling up with this blanket while binge-watching movies and eating all those snacks you sent in their latest care package.
2. A Plush Pillow
What's a blanket without a pillow, right? All-nighters are just part of the university experience and, sometimes, a necessary evil. There's nothing better than laying your head down on your pillow after a long night of studying. 
A quality plush pillow is essential to a good night's sleep. Enter the Luxury Bamboo Pillow! The soft bamboo hypoallergenic material naturally resists germs, allergens, and dust mites, which can benefit people who struggle with allergies, acne, and clogged pores. 
Your student will likely be looking down at screens and homework more often than not. The Bamboo Pillow is created with high-density, adjustable shredded memory foam, offering instant pressure release while laying down. Also, it is super supportive, which is perfect for those who snore (no one wants to be "that'' roommate). 
Also, dorm beds are known for being uncomfortable, so this pillow makes those few hours of sleep that they do get even better. Support, coolness, and comfort — what more could your student want from a pillow?
3. Spa-Worthy Towels
Have you ever heard the saying, "A pair and a spare?" This is especially true in regards to towels for your university student. Doing laundry in the dorms can take some time — you have to wait for open washers and dryers, deal with broken machines, and keep an eye on your clothes while they're washing.
Hypoallergenic towels, like the Luxury Bamboo Towels, are designed so that they don't need frequent washes. The hypoallergenic material resists bacteria, germs, and dust mites, so they can limit laundry day to once a week.
Also, their plush feel can help make the community bathroom feel more like a spa experience. Talk about a huge bonus!
4. Skin-Friendly Detergent
No one likes lugging around those plastic, heavy detergent jugs. When using a communal laundry room, detergent pods are a must-have. Make sure you get them a detergent that's free of harsh chemicals, chlorine, phosphates, or dyes. 
Our Laundry Detergent Pacs make washing a no-mess breeze and are especially great for people who suffer with sensitive skin or allergies. Unlike bigger brand laundry pods, the detergent pacs don't leave a sticky residue behind in your clothes. They dissolve completely so that your student will have that fresh scent that smells like home.
5. Time-Saving Dryer Balls
While you're stocking up on laundry supplies for your student, ditch the one-time-use dryer sheets and get them dryer balls. Not a super common gift, but trust us on this one. 
Dryer sheets contain countless chemicals — artificial fragrance, toxins, animal fat, and other ingredients that aren't even listed on the box. When dryer sheets are used, all of those unwanted chemicals make their way onto clothes, towels, sheets, and then your skin. If absorbed into the bloodstream, you can become sick. No one wants that.
Better yet, these dryer balls are made from 100% organic wool sourced from humanely sheared New Zealand sheep.
Dryer balls will be your university student's new best friend on laundry days by leaving their clothes wrinkle, static, and tangle-free and reducing their drying time by 30% so they don't have to sit in the laundry room all night!
You can't be by your university student's side anymore, but hopefully, these gifts will give them a piece of home and help them to stay happy, healthy, comfortable, and most of all, clean. 
Ready to get shopping? Click here to browse our entire Cosy House Collection and find the perfect gifts for your university student!
We've gone ahead & enclosed a 10% off coupon below for you to use if you'd like to take the plunge and try out our sheets for yourself! To shop our collection & get 10% OFF Use the code 'BLOG10' at checkout.