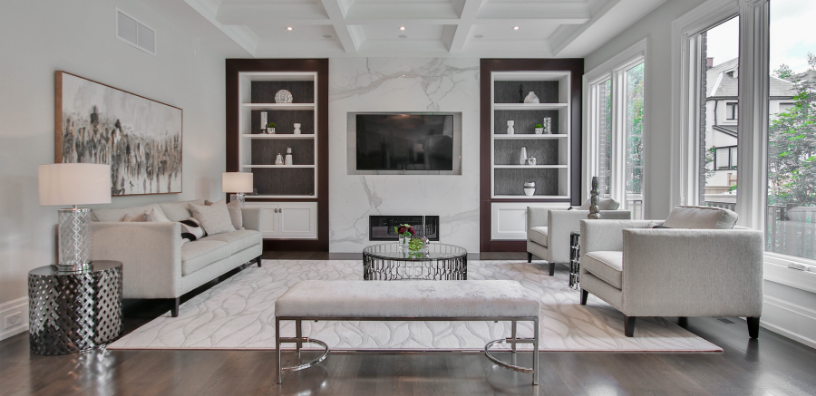 12 Design Secrets Interior Decorators Don't Want You to Know
Going through a redesign phase or decorating a new place? If you don't have a natural eye for design, it can be really difficult to place furniture, décor, and colours in the right area.
There's a world of difference between a home decorated by a regular person and one designed by a professional interior decorator. Luckily, we've got some insider tips to take your home to the next level. Read on to learn some secrets straight from the pros to help you create the home of your dreams.
Use the Whole Room
The most common mistake people make when furnishing a room is lining their furniture up along the walls. While it may create more space to push your couch against the wall, bringing the sofa into the center of the space can create a cozier atmosphere for socializing. If your room is too small to do that, still keep your sofa against the wall and place a couple of accent chairs angled toward it to get the same vibe.
Stop at 6 Pillows
Another mistake people make when decorating their bed is overdoing their pillow arrangements. There's a lot of conflicting advice when it comes to accent pillows, but one rule that most interior designers can agree on is to only put 6 pillows on the bed. This includes two long pillows, two shorter pillows, and two large square accent pillows. The small and flimsy accent pillows aren't very useful and can be irritating to throw off the bed every night.
Balance Your Colour Scheme
A great colour scheme typically includes 3 colours—a dominant colour, a secondary colour, and an accent colour. As a rule of thumb, stick to proportioning 60% of the room as your dominant colour, 30% as your secondary colour, and 10% as your accent colour.
Style Bookshelves Right
Bookshelves are meant to hold just that: books! Aim for using two-thirds of the space for books and one-third of the space for accessories. Make sure not to overcrowd the space by grouping books and accessories of the same colour together in odd numbers without filling up the whole shelf. Another way to add a touch of elegance is by including plants or flowers—trailing plants like philodendrons are a great choice for adding greenery.
Take Advantage of Natural Light
Natural light is the key to making a room appear larger and more welcoming. At the same time, we understand that most people don't have large, floor-to-ceiling windows that let in light. Whatever windows you do have, make sure to keep your blinds open during the day to let in as much light as possible. On top of that, adding mirrors into your bedroom and living room can create more light when it bounces off of the reflection.
Play With Bedding Colours
The bed is the focal point of the bedroom, so keep it looking fresh and showcasing your personal style! Play with bedding to include your favorite colours and patterns that showcase your personality. Look for quality bedding that you can easily layer to create your ideal look.
Add Pops of Colour
Adding bright colours to a room is another great way to create a lively space. If you're scared of going bold, create a room with mainly neutral colours and add small pops of colour in the accent pillows, artwork, and other components. If you're trying to do this to your bedroom, colourful sheets and pillowcases paired with a neutral comforter look fun but still classy.
Welcome Negative Space
When it comes to interior design, clutter and overcrowding should be avoided in most cases. Try to leave some wall space free of décor to gain some breathing room. This will make the room appear larger and less crowded.
Go Monochrome
Monochrome is trending in fashion and interior decorating! This includes using different shades of the same colour to decorate a room. Make sure to use mainly one shade of the colour and then place little pieces around the room in different shades to add another dimension to the monochrome theme. You can't go wrong using a darker colour as the primary shade and lighter colours as the accents.
Incorporate Plants
Plants don't just look great in a room, they also filter the air in your home! Try to place plants throughout your home to add a bit of life to each room. Whether the theme is monochrome or bright and bubbly, there's likely a plant that'll style perfectly into it.
Change Colours to Reflect the Season
Every season has different colours that pair nicely with the outside temperatures. In Summer, it's bright and citrusy colours, while in Fall, it's darker autumn leaf hues. Depending on the time of year, there are certain colours you can play with to match the outdoor scenery by changing your bedding or accent pillows on your couch.
Layer Soft Textures
On beds and couches, combining different types of fabric is a great way to create depth and make the area look more inviting. For example, a neutral colour palette on a bed looks great when you combine different types of wool, cotton, and other fabrics. Adding a throw blanket is a must.
As you enter the world of interior design, the endless decor options and colour combinations can be quite intimidating, but we hope these tips help you to create decor themes that match your style. 
While it may take a while to repaint walls and buy new furniture, take a look at Cosy House Collection's bedding and sheet sets to get started on your bedroom theme. Monochrome, neutral, or vibrantly patterned, we have a large collection of colours to make your bedroom uniquely you. Click here to shop now!
We've gone ahead & enclosed a 10% off coupon below for you to use if you'd like to take the plunge and try out our sheets for yourself! To shop our collection & get 10% OFF Use the code 'BLOG10' at checkout.