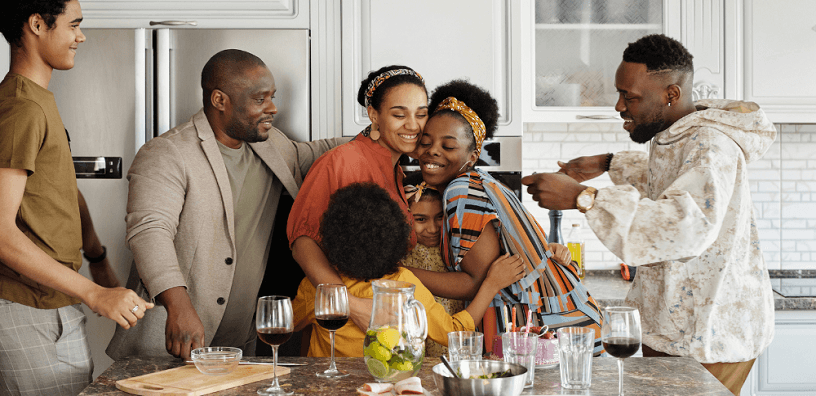 How to Get Your Home Ready for a Great First Impression
Spring is in the air and April is upon us, which means National Decorating Month is upon us, too. It's the perfect time to start prepping for friends and family to come over after a long winter hiatus. Family gatherings or just-because events are something everyone is probably looking forward to. You want your guests to feel right at home when they come over, so where do you start?
No need to fret—we've compiled a list of items that will be sure to impress your guests. Check it out!
The Guest Room
To make your guests feel welcome and comfortable in your home, the room where they'll be sleeping and spending lots of time is a great place to start. You'll want to make sure they have everything they need to feel like they're staying at a five-star resort. 
Here's what you'll need to accomplish just that (get ready to hear lots of "Where on earth did you get your bedding? I never want to leave the bed!"):
What: A breathable, moisture-wicking luxe pillow that's more comfortable than a solid memory foam pillow, and far more supportive than traditional "premium" synthetic fill.
Why: The Luxury Pillow cradles the head and neck just right, to promote spinal alignment and to create a better breathing path for all kinds of sleepers. Our soft bamboo viscose material is hypoallergenic, and naturally repels common household non-living allergens, which can benefit those with sensitive noses and skin. 
How: Our indulgent, super soft pillow is made to give your head and neck extra support, coolness, and cosiness. The pillow cover is crafted with ultra-soft and breathable 100% bamboo viscose, and the incredibly soft, yet supportive fill is 100% polyester. 
What: These sheets are made with a unique bamboo viscose blend that is one of the most breathable and lightweight fabrics on the market. They're thermal-regulating, resist wrinkling, stains, and pilling, and are crafted with elastic corner straps for extra security.
Why: Old traditional cotton sheets are a thing of the past! Bamboo viscose bed sheets are seriously snuggly, hypoallergenic, cooling, and the more conscious choice. Why? It's because of the three C's - Care, Comfort, and Cost. If you're still curious, read more about it right here.
How: Sheets made from bamboo viscose are safe for sensitive skin and noses because they can naturally ward off common household non-living allergens. Plus, the naturally feathery-soft texture of bamboo viscose fabric makes it feel like silk to the touch.
Pro tip: After your guests leave, wash then dry these luxe bed sheets with hand-felted wool dryer balls to keep them looking and feeling brand new for your next guests. No need for one-time-use fabric softeners!
What: Crafted with silky soft bamboo viscose blended fabric, this down alternative duvet will make your guests want to hit the snooze button and stay awhile. 
Why: This luxe duvet set is softer than cotton, breathable and ultra-comfortable, and its plush and airy appearance can enhance the look and feel of your guest room. 
How: The moisture-wicking finish keeps guests cosy, with soft-as-a-cloud craftsmanship that feels as good as it looks. Additionally, bamboo viscose is naturally hypoallergenic, allowing the bedding to stay fresher for longer while keeping guests feeling rejuvenated every morning.
Pro tip: Pair with our equally cosy Luxury Bamboo Duvet Cover (complete with matching pillow shams). Not only will this help add a pop of colour and enhance the duvet's overall comfort, but a duvet cover is much easier to clean. So once your guests leave, you can simply remove the cover and throw it in the wash.
The Living Room
The living room is just as important as the guest room when it comes to great first impressions. To give your space the upgrade it needs, take a look at the items listed below:
What: These versatile 100% microfiber polyester blankets keep everyone cosy and warm no matter where they are in the house. They can be used on beds or even as a cuddly spare blanket for couch time and hosting guests.
Why: These hypoallergenic blankets are designed with a fleece finish for superior softness and cleanliness, which makes them softer than your average blanket and easier to care for, too. 
How: The premium microfibre material of these blankets helps repel common household non-living allergens, and because it's made with a unique fabric blend, it can wick away excess body heat to ensure maximum comfort.
What: The Cosy Luxury Weighted Blanket is designed with several layers for optimal comfort. It includes a bamboo viscose cover, a premium brushed microfiber blanket topper, and quality glass beads kept secure inside rip- and tear-resistant protective pockets.
Why: The comforting feeling that the Cosy Weighted Blanket provides is unmatched. It weighs in at your choice of 6 kg or 8 kg so it feels like a big, warm hug, and helps to reduce feelings of stress and anxiety for some serious relaxation. 
How: Deep-touch pressure stimulation technology created by thousands of tiny glass beads, evenly distributed throughout the fabric, helps to simulate the feeling of a hug to relax the nervous system. The material's natural ventilation also allows for a cooling effect to prevent overheating. 
The Bath Room
Ah, the "throne" room. To stay on brand with your resort-themed first impressions, you should make sure the bathroom really does feel like a "throne" room that's fit for royalty. 
Here's what you'll need to make your guest bathroom fit for a King or Queen:
What: Your guests can enjoy hotel-quality softness, and you can enjoy the fact these towels didn't come with a hefty price tag. Cosy House's Luxury Towels combine the best qualities of cotton and bamboo viscose to create an affordable, lavish bath towel.
Why: Your guests are at your home, so they can't get to the spa—why not bring the spa to them? With these bamboo viscose towels, they'll be able to wrap themselves in true luxury after a bath or shower with these smooth, quick-drying, and ultra-absorbent towels. 
How: This Luxury Towel Set is crafted with our coveted bamboo viscose material. Weighing in at 650 GSM, Cosy House Luxury Towels are tightly woven to deliver ultimate absorption and warmth right when your guests need them. 
Searching for more goodies to spruce the house up? Click here to find a huge selection of home good essentials to make your life, and your home, that much cosier.
We've gone ahead & enclosed a 10% off coupon below for you to use if you'd like to take the plunge and try out our sheets for yourself! To shop our collection & get 10% OFF Use the code 'BLOG10' at checkout.