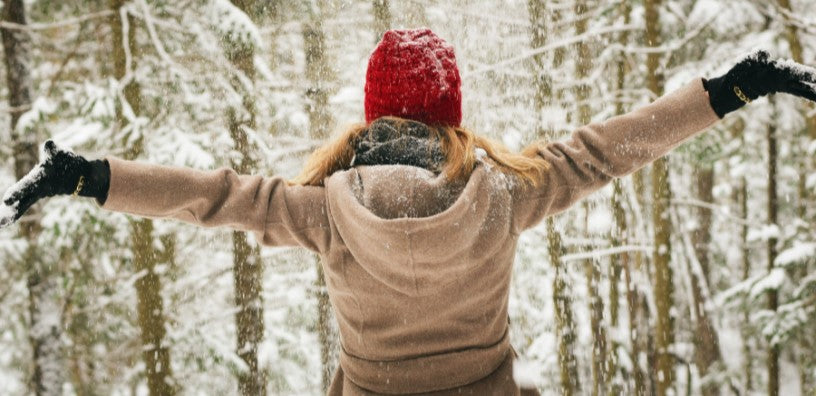 5 Tips for Sleeping Great During Winter
Some of us may be getting ready to go into full hibernation mode this winter season, while others are getting ready to start their annual struggle of trying to get even a wink of sleep.
Here's some good news for those who struggle—there are ways to prepare for the effects the new change in the weather can have on our sleep quality and quantity. 
Wondering how? Keep reading to find out!
Why Does My Sleep Get Affected By The Cold?
When it gets colder, your ability to get quality sleep might dwindle. Maybe you struggle to wake up more often, perhaps you struggle to get comfortable, or maybe you are sleeping far too much. 
Why does that happen? Let's take a look at some of the common possible factors. 
When winter arrives with its chilly weather, the days become shorter and the nights are longer. As a result, there is less sunlight, meaning the circadian rhythms that help us sleep peacefully have to adjust. You might feel a little more tired than usual, and waking up early in the morning can be more difficult. 

Cooler weather means colder nights—if you're prone to night sweats, this can be helpful. However, for those who are

always

cold and can never seem to warm up, your ability to get a restful night's sleep is extremely hard when the weather fluctuates. 

Seasonal Affective Disorder (SAD), also commonly known as Seasonal Depression, can lead to excessive sleeping [

1

]. This can also make waking up harder, or getting to sleep at a reasonable hour more difficult. 

The winter season can bring an onslaught of hypersensitivities—stuffy noses, colds, coughing, sneezing, sniffling, itchy eyes, etc. It might be harder to sleep when winter rolls around if you have a sensitive nose.  

5 Tips to Get Better Sleep This Winter 
For every problem, there's a solution. Don't worry! We've got you covered this winter season. Check out our researched tricks and tips for getting better sleep this winter.
Let's Warm Up
If you're one of the many who grapple with keeping warm at night during the colder seasons, it might be time to start looking for new luxury bedding solutions. It's the season for bundling up after all! 
Here are some high-quality, wallet-friendly options to get you started:
Luxury Bamboo Down Alternative Duvet:

Made of soft, breathable bamboo viscose and microfibre, our hypoallergenic

Luxury Duvet

repels common non-living household allergens, whisks away moisture, and is ultra plush for some seriously snuggly winter snoozes. 

Everyday Fleece Blanket:

Another great option for the winter chills—these

blankets

are made with 100% microfiber polyester, are hypoallergenic and are designed with a fleece finish for superior softness and cleanliness. Perfect for snuggling up watching holiday movies or sitting by a fire.

Luxury Bamboo Bed Sheets:

Be comfortable when you hit the hay this winter. A great place to start is your

bed sheets

. Quality bedding is the key to getting and staying comfortable at night. Our unique fabric is one of the most breathable and lightweight fabrics on the market. It stays cooler than cotton and carries thermal-regulating properties that balance your body's temperature as you sleep. You'll wake up feeling refreshed and clean in sheets that also resist wrinkling, stains, and bobbles! 
The Winter Blues
If the shorter winter days get you down, the Luxury Bamboo Weighted Blanket is calling your name. 
Deep-touch pressure stimulation technology is created by thousands of tiny glass beads evenly distributed throughout the fabric and feels like a big hug. It's designed to help promote calmness and tranquillity, helping reduce feelings of anxiety and depression. 
Not only beat the winter blues, but also beat the winter chill. This weighted blanket is encased in a hypoallergenic Luxury Bamboo Viscose Cover, which is ultra-soft, comfortable, and still breathable. So you can stay cosy and relaxed without worrying about being too warm. 
Rising With The Sun 
If the shorter days are making it more difficult to wake up each morning, you can try some of the following tricks: 
Set an earlier bedtime

Unplug at least 30 minutes before bed (that means no laptop, tv, or cell phone)

Avoid late-night snacking

Avoid caffeine later in the day or sugary drinks before bed

Put your phone on silent mode

Move your alarm clock across the room so you can't hit snooze
More Natural Light 
With shorter days, longer nights, and less sunlight, some natural light when it is available will be your new best buddy this winter. Studies show that exposure to light can affect your sleep and circadian rhythm [2]. Try getting more natural light exposure earlier in the day, and you might notice an alleviation in the midday slump we all dread.
Sensitive Noses
If you suffer from a sensitive nose when the winter season comes around, check out these suggestions:
Change your sheets weekly

Prop your head up to get some extra air into your stuffy airways with a

Luxury Bamboo Pillow

, which is designed to give extra support, coolness, and comfort to the head and neck (as a bonus, it is also hypoallergenic!)

Wear a nasal strip while you sleep

Run an air purifier and/or humidifier before you fall asleep

Drink plenty of water and avoid alcohol at night (and in general)
What is your favourite thing about the winter season? Do you sleep better or worse? Let us know in the comments below. The Cosy community would love to hear from you!
As we said before, great bedding is the key to a successful and quality night's sleep. While our bedding stays soft after multiple washes, drying your bedding with dryer balls is a great hack to ensure that they last. Not only is our Premium New Zealand Wool Dryer Ball Set sourced from humanely sheared New Zealand sheep, but they're also hand-felted and biodegradable. Since our Wool Dryer Balls are free of the nasties that typical dryer sheets have (dyes, chemicals, and fragrances), they won't compromise the fabrics of your bedding, keeping your bedroom essentials gentle and seriously soft. Our dryer balls even reduce static, wrinkling, tangling, and drying time by 30%, making doing laundry a breeze!
Happy Holidays! 
We've gone ahead & enclosed a 10% off coupon below for you to use if you'd like to take the plunge and try out our sheets for yourself! To shop our collection & get 10% OFF Use the code 'BLOG10' at checkout.
Resources: 
Anderson, J. L., Rosen, L. N., Mendelson, W. B., Jacobsen, F. M., Skwerer, R. G., Joseph-Vanderpool, J. R., Duncan, C. C., Wehr, T. A., & Rosenthal, N. E. (1994). Sleep in fall/winter seasonal affective disorder: effects of light and changing seasons. Journal of psychosomatic research, 38(4), 323–337.

https://doi.org/10.1016/0022-3999(94)90037-x

  

Marie Dumont, Catherine Beaulieu, Light exposure in the natural environment: Relevance to mood and sleep disorders, Sleep Medicine, Volume 8, Issue 6, 2007, Pages 557-565, ISSN 1389-9457,

https://doi.org/10.1016/j.sleep.2006.11.008

.