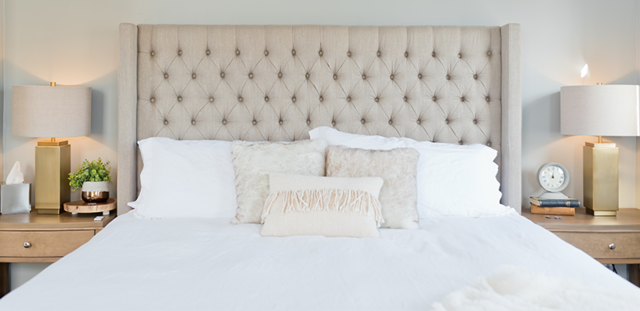 The Cosy Bedding Style Guide
Are you redesigning your bedroom and not sure where to begin? The easiest place to start is the focal point of the bedroom, which is—you guessed it—the bed! A bedroom is nothing without a cozy and clean bedding scheme.
Your bedroom should be more than just a place to sleep. It should showcase your unique aesthetic, and your bedding is no exception! You can mix colors and arrange throw blankets and pillows differently to make the space uniquely yours.
What You Need
To make the most of the space, there are several items you'll need.
A sheet set (or two!)

A

sheet set

typically consists of a fitted sheet, a flat sheet, and two pillowcases. Choose sheets that you feel would match the aesthetic of your room. Make sure you have two separate sheet sets so you can have a backup set for

laundry days.
Comfy pillows

are essential to a cozy bed. Years of wear can cause pillows to flatten and not look as nice in a clean bedding scheme—try to buy fuller

pillows

so that they sit nicely when your bed is made.
A comforter

that pairs nicely with the color of your sheets. We'll go over color pairing so you can choose the best color combo for you. A cozy

comforter

can make all the difference not only in appearance but in your quality of sleep, as well.
A throw blanket.

You can't go wrong with a fuzzy

throw blanket

to bring the color scheme together and make your bed look even more inviting.
Throw pillows

that showcase your style. Get creative here—you can play with colors, patterns, and even different shaped pillows!
Color Pairing
When it comes to color pairing, the color wheel is your best friend. This is a universal chart that shows which colors pair best with each other.
On the other hand, some people like to keep it simple and use different shades of the same color. It's totally up to you, but here are a few bedding looks that are popular at the moment:
Monochromatic
Layering different shades of the same color makes a bed look very clean and modern. Try pairing lighter sheets with a darker shade comforter and patterned throw pillows to top it all off.
Earthy Neutrals
Earthy colors are trending in clothing and interior design! Tans, browns, and sage green can be combined in various ways to create a comfy, down-to-earth look.
Soft Pastels
Especially during warmer months, pastels are a great way to brighten the mood in any room. Since pastels are subtle, you can combine any hue of pastel to achieve that low-key look. We suggest pairing pastel yellow, lavender, and pastel blue!
Layering
Layering is the key to making your bed look photoshoot-worthy. This includes layering sheets, blankets, and pillows. 
When making your bed, place your flat sheet wrong side up, leaving plenty of room to fold it over the comforter so the finished side will be exposed—this will give the bed more volume. If you're sticking with a solid color comforter, try out a subtly patterned sheet set to give some texture to the bed.
To add height to the bed, make sure your pillows are plush and fluffed out to their fullest volume. Adding in large patterned throw pillows is also a great way to layer in texture. After that, top it all off with a fuzzy throw blanket and you're good to go!
Pillow Placement
Typically, you'll want to match your pillows to the comforter and sheets. The most common way to do this is placing two pillows that match your comforter or duvet cover against your headboard and then placing two sheet-colored pillows in front of those. After that, you can go crazy with different shapes and patterns of throw pillows.
There's no magic number when it comes to throw pillows, but the most common is two or three. You can choose three different colors, two matching pillows with a smaller one in front, or even just one long body pillow in front.
Follow these easy tips and you'll be closer to the bed of your dreams! In the meantime, prepare for the big makeover by taking a look at our Cosy House Collection luxury bedding. No matter your style, we're sure you'll find something you love!
We've gone ahead & enclosed a 10% off coupon below for you to use if you'd like to take the plunge and try out our sheets for yourself! To shop our collection & get 10% OFF Use the code 'BLOG10' at checkout.