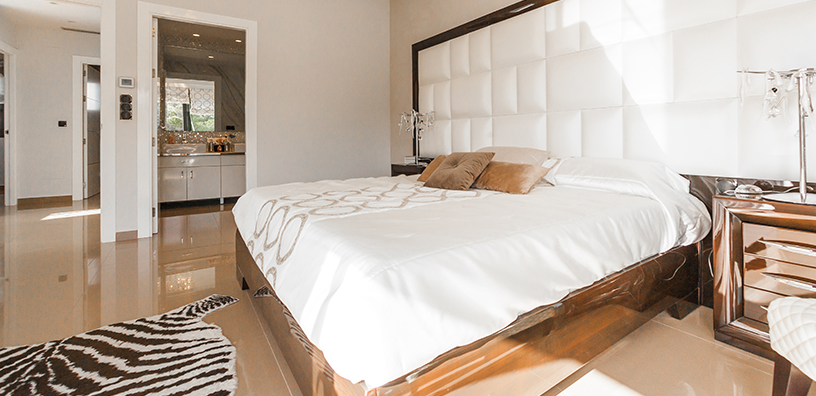 Spring Bedding Trends You NEED to Try
Believe it or not, humans spend a third of their life sleeping. With the average life span being 72 years, that's a whopping 24 years spent asleep! With all that sleep, it's no surprise that the design of the bedroom has become increasingly important, not only for comfort but for the eye as well. 
Bedroom design, just like fashion, goes through trends. However, design can be incredibly overwhelming, especially if you have little to no knowledge of where to start. That's where we come in. We're going to share 4 of this Spring's most captivating bedding trends. 
Bedding Colors
When it comes to choosing colors for your bedding, it's not just about what you like. To create a truly eye-catching and unique room, it's vital to match your bedding to your decor and the overall design of the room in question. There are three color tones sweeping the bedding design world: Grey, Navy, and Neutral tones. 
You might be thinking to yourself that those colors sound a bit dull. Though they may not be the hot pink or banana yellow you were expecting, they serve a great purpose when it comes to design. These colors allow you to bring more color into the bedroom without becoming overwhelming. 
For instance, if you purchased a lime green bedspread, finding a complementary wall decoration, bedframe, or sheet set might be a challenge. Utilizing the enormous shade range of these three Spring colors, you can create the bedroom of your dreams with ease. 
Statement Pieces
Do you remember what we said about opting for neutral bedding? This next trend is where it will come in handy. Spring is all about statement pieces! What is a statement piece? It is a piece that is the main-eye catching focal point of a space. 
Choosing a neutral color palette allows you more freedom to customize other areas of your bedroom. The easiest and most effective way to create a statement in the bedroom is with your sheets. There are a plethora of colors when it comes to bedding. Whether you prefer bright colors, muted hues, or rich jewel tones, there is bedding that will help you make a statement. 
Eco-Friendly and Sustainable Bedding
With the globe taking massive measures to reverse global warming and save the planet, it's no surprise that the bedding industry has followed suit. This Spring is all about sustainability. Finding products that last, while also being eco-friendly is the name of the game. Luckily, the bedding industry has the perfect solution: bamboo. 
Bamboo has been utilized as a material for centuries but has quickly gained popularity due to its many attractive features. First, bamboo bedding is naturally cooling. It's soft, yet durable fibers allow air to pass through easily, regulating body temperature and wicking away moisture. This a lifesaver for anyone who becomes overheated easily or experiences hot flashes during sleep. 
Next, bamboo is hypoallergenic and antibacterial. It naturally repels dirt, dust mites, and bacteria. Not only does this eliminate potential allergens, but you'll save time and money with less washing. 
Last and certainly not least, bamboo is an incredibly sustainable resource. Believe it or not, bamboo doesn't just grow in China. In fact, there are 1,718 species of bamboo that grow on all continents except Europe and Antarctica. Not only is bamboo in abundance worldwide, but it grows very quickly, some species growing 1 meter per day. This natural resource can be easily collected without damaging the earth or wildlife that depends on it.   
Keeping Your Bedding Simple
Ditch the 10 decorative pillows, because Spring is a time for simplicity. The materialism of the 2010s has come to a close as people opt for a "less is more" minimalistic approach to decorating. Invest in classic pieces constructed to last a lifetime and keep your bedding simple for a timeless, elegant look. 
Conclusion
However you choose to decorate your bedroom, pick bedding that fits your aesthetic. Invest in pieces that last in a style you enjoy. Your bedroom is your safe haven, so it's important that no matter the trend, you decorate in a way that makes you happy. 
We've gone ahead & enclosed a 10% off coupon below for you to use if you'd like to take the plunge and try out our sheets for yourself! To shop our collection & get 10% OFF Use the code 'BLOG10' at checkout.