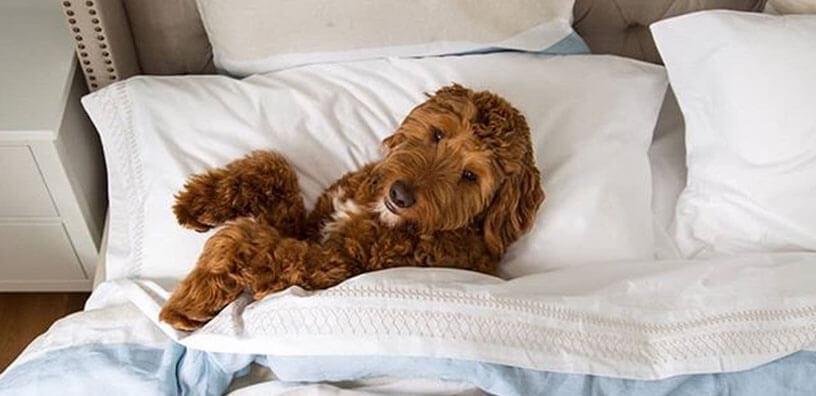 5 Reasons To Change Your Sheets
Did you know that the human body needs 7-9 hours a night of quality rest to upkeep our physical and mental health? You might be surprised to learn that weight gain, hormone imbalances, and brain dysfunction are all symptoms of getting too-little sleep! But how many times have you gotten in bed early (with the best of intentions) only to find yourself staring at the ceiling or tossing and turning for hours? What you need are the proper tools to coax the mind and body into a state of relaxation, like a comfortable bed outfitted with divine sheets that keep you asleep all night! Surprisingly, there's a lot of things to look out for when picking bedding that can really mess with your quality of sleep.
Doctors say that we get the deepest, healthiest sleep when our bodies are cool, comfortable, and able to breathe. Now, You'll want a set of sheets that will keep your body temperature regulated! I love Egyptian cotton as much as the next person, but cotton tends to hang on to moisture and make you hot. (Ahem: Night-sweats anyone?) They also are costly to produce, which is what gives them such a high price tag. Finally – you'll want some sheets which are Hypoallergenic & Anti-bacterial. Cotton isn't very good at being either of these things & tends to hold pollen, allergens & bacteria until it's washed! Unless your bedding is being washed daily, you're likely suffering (from allergens) while you sleep and you just don't know it.
As a woman with expensive taste but an average person's amount of money, finding a set of sheets that felt heavenly was a journey. But on my quest, I found a company on the Amazon's Top 100 Sellers list called Cosy House Collection. I've become extremely fond of their bed sheets because they look and feel softer than Egyptian cotton but are insanely affordable ($47)! I also found that I'm actually sleeping through the night now and my body is feeling so much healthier, thanks to these sheets.
I ordered the 1500 Series sheets in white and they are so buttery smooth that they feel creamy, but also cool to the touch! Can I tell you the best part? They actually get SOFTER with every wash. I used to be a "Sweaty Betty" throughout the night – and then I'd wake up for work, needing to shower immediately. But with these sheets, I rise feeling fresh and so clean! I also recommend these sheets because they hardly ever wrinkle, even after a week of being slept in.
Waking up feeling clean and well-rested has changed everything for me. And, I've also noticed that my chronic migraines have ceased. The Cosy House website says their hypoallergenic sheets are designed to wick moisture to eliminate 100% of bacteria and germs – so I guess bacteria in my previous set of sheets is what was causing my head pain in the first place. It's amazing what changing your sheets can do for your well-being – if I had known that my bed sheets were sucking the life from my health and happiness, I would've made the switch years ago!
It's been a little over a month since I first purchased these sheets, and I can confidently say that they're the best bed sheets I've ever put on my bed. I'm also confident to say that I'll be a customer for life – I just ordered a second set in warming winter colors to match my decor for the upcoming season! They have so many great colors to choose from, it was hard to choose. And they're only $47, so somebody should probably stop me from buying a set in every color!
The Cosy House website highlights these features as the top selling points for their 1500 series:
1. Resists Stains, Odor, & Wrinkles
Our silky soft sheets are woven with advanced lab technology and are designed to repel stains and wrinkles.
2. Crisp & Cozy
Thermal-regulated microfibers keep body temperature in balance, no matter the season.
3. Hypoallergenic & Antibacterial
They prevent bacteria, germs, dust mites, and allergens from growing to keep your skin and sinuses clear.
4. Long Lifespan
They resist ripping, piling, and tearing with sheets made to last the long haul. We don't compromise durability for softness, though.
5. Luxurious Look & Feel
Premium double-brushed microfiber is designed to feel and look sleek and smooth like Egyptian cotton.
Conclusion
Honestly, their sheets felt like they should cost more than they did – but I'm not complaining! I contacted Cosy House to see how they're able to sell their sheets for such a reasonable price because I'm "nosey". Their sweet customer service representative got back to me just minutes later and relayed their whole mission:
They're able to make and sell beautiful home essentials at a wholesale level price by cutting out the costly middlemen. Did you know that the average retail markup is 4x more expensive than the product's really worth? Cosy House decided to skip those crazy costs like wholesale, storefront, and designer licensing fees, to guarantee that all of their asking prices are going towards the quality of the products and nothing else.
Consider me sold! I also learned that their sheets are designed and shipped from Clearwater, Florida by the company themselves. They're a family-owned and operated company who's been crafting luxurious bedding for decades and now only use Amazon and their online store to sell their products. I highly recommend trying Cosy House for sheets that will give you a better night's rest, improve your health, and make you feel like you're sleeping in more expensive sheets than you are! Their whole site is 65% OFF right now and they do sell out fast – so hurry, if you're wanting to get them in your preferred size & color! I hope changing your sheets helps you as much as it did me.